Dating evolved from the initial concept of the house calling as a way of courtship to traditional dating. What's more? Dating evolved further after the inception of internet technology and computer — that is when cyber dating was born.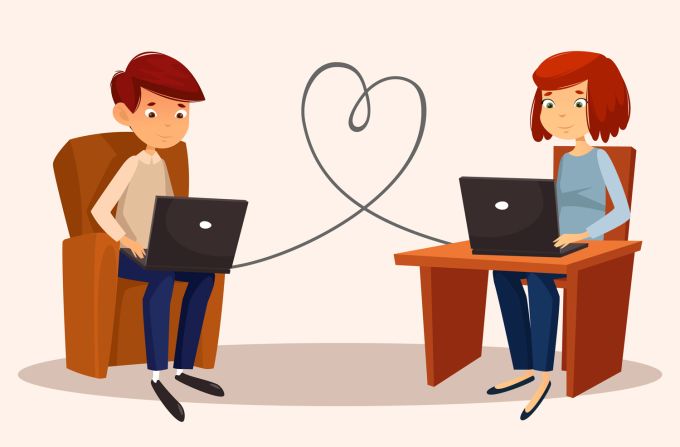 Cyberdating differs from the traditional method of dating.
Unlike traditional dating, the first interaction occurs online. Online dating has the advantage of safety and vast opportunity in meeting suitable partners.
You get many options within a short time, and all you have to do is click or swipe right and hope for a connection. Also, it gives people with a crazy work schedule an opportunity to jump into the dating scene.
For these reasons, the popularity of cyberdating is increasing every day.
However, just like meeting someone in public, you have to be cautious with those you meet online. Let's unravel the mystery of dating in a cyber-world and the five main rules of keeping safe online.
Safety Measures Technologies That Dating Sites Use
Dating sites have implemented technologies that protect you while within the cyber world. They include:
Video Calls
The one way to verify that the person is who they are is to do a live video call.
People looking for real encounters at IGetNaughty use the video chat feature to check if their potential partner is genuine.
The site introduced this tool to allow users to verify if someone is who they say they are before meeting them in person.
Use of Digital Identification Services –Jumio Authentication Technology
Jumio is an app that does an online identity verification process to prevent identity fraud and theft by using biometrics. It requires one to submit a government-issued I.D. and verifies if the I.D. submitted is legit. The one setting an account also presents a selfie.
Yoti
Allows peer-to-peer verification. Those interested in dating each other can swap personal information such as driver's licenses to verify their identity. Trust is the key element when using the app.
5 Main Rules of Keeping Safe Online
1. Do not share your personal information online. Your home and work address, credit card details, and social security number must remain private at all times. When setting up your profile, use a username that is not yours in real life. You can create a new email address for anonymity.
2. Keep conversations within the site. Do not go to emails or phone calls if you haven't met the person and known them personally. Most dating sites have applications to detect scammers and con artists.
3. Don't give out money and gifts or anything valuable, including nude photographs of yourself. Reject such proposals and report the person to the dating site admin.
4. Do a background check on all potential suitors. Carefully check out the photos and every detail of who they claim to be. Check out their social media sites and images. Before meeting them in person, do a video chat. Make sure nothing in the background will give away any of your personal information.
5. Meet in a safe, public place. Once you are ready to meet in person, select a neutral public space for a meet. Inform someone close where you will be, charge your phone thoroughly and have some spare cash in case of an emergency. If you feel uncomfortable and the date is not going your direction, cut it short and leave.
Future Technology to be Used in Dating Sites and Their Effect on Online Dating
There are plans in the pipeline to use the following in dating sites:
Facial Recognition
There are efforts by various companies to make apps that will recognize photos that are uploaded on the dating sites and verify if they are indeed for the person who claims them.
The facial recognition will help keep off "catfishers," those who use other people's identities and photos when dating in a cyber-world.
Use of Humans and A.I
Some dating sites plan to use experts in setting up perfect profiles for online daters. Essentially, they will use a mix of human expertise and A. I to help find the best fits among couples. The service will cost extra, and more sites may go in this direction.
Use of DNA
Science-based dating sites are trying to use genetic information to find perfect matches. There are claims that genetic compatibility will increase higher sexual satisfaction and healthier children. You want to get it right with a partner you chose, whether online or otherwise.
Conclusion
Dating in the cyber world has grown popular, having around 40 million users in the USA. Among these users, you'll also find kidnappers and fraudsters looming.
It is essential to take safety precautions while in the cyber world. If you are cautious enough, online can be safer and easier to prevent such encounters. Whichever site you use, keep safe and resolve the mystery of dating in a cyber world. If you want to find out more about tech we suggest you check out other blogs.