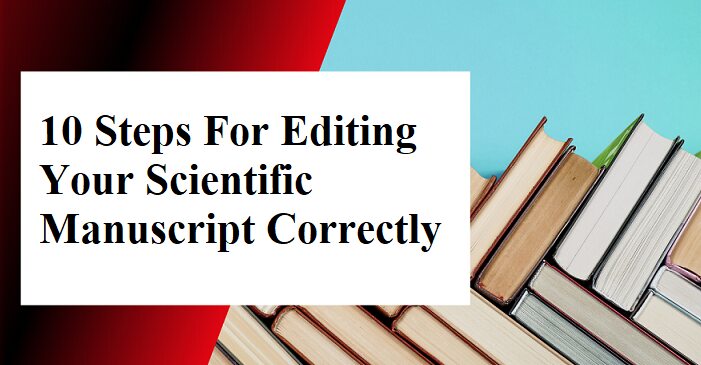 Preparing a manuscript for publication is an endeavor that challenges the best minds. A scientific manuscript is the original work of research that an author submits to an editor, agent, or publisher. It contains original ideas and discoveries that a researcher wishes to share with the scientific community and the general population. The manuscript must be thorough, factual, and logically presented before publishing. Thus, you must edit every text before submitting it for publication.
The scientific editing process goes beyond mere proofreading. Most scholars make the mistake of either scheduling edits for the night before the deadline or even skipping it. Yet, editing a manuscript is an intensive and mentally tasking process that requires time and attention. If done correctly, editing enhances the overall legibility of your scientific research and increases the chances of publication.
Ideally, editing follows a systematic process that ensures you make all necessary edits. Read on to discover the steps you can follow to edit your scientific manuscript with greater efficiency and get it ready for submission and publication.
Importance of Scientific Editing
Scientific editing aims to enhance the language, clarity, flow, and quality of scientific content presented in manuscripts. Before publication, editors check manuscripts keenly to ensure that the writer presents the findings in a way that will be easy and quick for the reader to extract relevant information. Thus, the language used must be simple, concise, and lucid. Editing also eliminates grammatical, spelling, and punctuation errors that you might have overlooked. Similar to a journal review, scientific editing has to critically analyze the study and suggest improvements to make writing impactful. A well-edited scientific manuscript is more likely to be published compared to an unpolished one full of errors.
6 Ways for Writing a Good Essay
Step-By-Step Guide on How to Edit your Scientific Manuscript Correctly
1. Prepare to Edit
It's advisable to take some time after completing the writing process so that you can approach the editing process with fresh eyes. When you're ready to start, begin by printing a hard copy of the paper. Seeing your work on a printed page reads differently from a computer screen, making it easy to spot errors. Then, you give the manuscript a dry read without making any changes to get an overall impression of the work. However, you can note the sections with poorly-written content to help you focus your attention when you review the manuscript.
2. Revise Content
In this step, you analyze the content thoroughly to identify areas that do not make sense. For a scientific manuscript, you want to check whether the science supports the conclusions in a way that would make sense to a reader. The information in each part of your manuscript must address all questions for the specific section. For example, the content in the abstract of a medical manuscript must highlight the main takeaways of your research and explain why your study is important.
3. Check the Structure
The structure is one of the most important parts of a manuscript, and requires special attention during scientific editing. Remember that the audience is used to reading the manuscript in a specific style and format that flows logically from the introduction to the conclusion sections. When working on the structure, check whether your work has an abstract, introduction, materials and methods, result, conclusion, and references. Also, check each page of the manuscript to ensure there are transitions that guide the reader from one paragraph to the next.
4. Check the Grammar, Spelling, and Sentence Structure
Avoid common English mistakes that make your manuscript look unprofessional. You will need to check your paper for grammatical errors, inconsistent flow of ideas, misspellings, odd capitalization, lack of logical flow, and tonal inconsistencies. Also, remove any contractions, run-on sentences, crutch words, and unnecessary filler lines. Still, it can be difficult to spot errors in your own work. One of the easiest scientific editing tips for improving the chances of your manuscript getting published is to enlist scientific manuscript editing services. The companies have experts who will perform those stubborn edits on your behalf in the fastest time possible.
5. Follow the Requested Formatting Guidelines
Always check the publisher's website for the desired formatting guidelines. Most publishers include guidelines on font size, spacing, margin, indentations, page breaks, and page numbers. Ensure your paper follows the established formatting guidelines. Every scholarly manuscript should also have proper citations and bibliographies. Check keenly if your work follows the style guide, whether MLA, APA, Harvard, or Chicago. Ensure your work sticks to one particular style religiously and literary.
Professional and Highly Qualified Essay Writing
6. Look For Plagiarism
Plagiarism is viewed as unethical and can lead to the rejection of scientific papers. You must acknowledge and cite any content developed from another author's work. Even with proper citation, there could be accidental plagiarism. Use plagiarism software to identify plagiarized passages in your scientific manuscript. Turnitin and Copyscape are some of the trusted plagiarism check services used by scientific researchers and PhD students to make sure papers are 100% original. Also, double-check your references to confirm that they match up correctly, have the correct name, and are in the right order.
7. Proofread
The proofreading phase looks for errors previously missed before publishing. You need to confirm again that your scientific manuscript is completely free of errors and polished to a high standard. This step is especially crucial if you didn't enlist the help of professional scientific editing services. You don't want a publisher to disregard your scientific research due to grammatical or spelling issues. Thus, look carefully for errors that could have been missed in the previous check and make changes.
8. Read Your Work Out Loud
Now that you have made changes to the content, structure, sentences, and formatting, read through your scientific manuscript again. Read your work aloud to help you hear the word instead of simply seeing them. This strategy slows you down and makes it easy to catch inconsistencies and errors in your academic writing. You will notice significant improvements in the manuscript, but try not to get carried away by how much better it is. Instead, check for places that may require further revisions and focus on polishing them.
9. Ask For Outside Feedback
If you feel comfortable sharing your work, seek the proofreading service of a trusted friend or family member. Having fresh eyes from an unbiased reader can give useful and thoughtful feedback on what needs further editing. Let the reader know that you want an honest and thorough assessment. Some parts of the scientific manuscript could make sense to you in your head but turn out to be confusing, unlikable, or unclear to an outsider. If you find the feedback valid, make the necessary changes to your manuscript.
10. Submit Your Work
It is normal for a scientific manuscript to undergo numerous extensive edits or to seek help from scientific editing services. When you are confident that your manuscript is well-polished and complete, it's time to submit it. If you have an editor, you may want to submit your manuscript to them first. If you are required to send it to the publisher directly, confirm if they are currently accepting new scientific manuscripts. Always include a letter of thanks to appreciate the publisher/editor/agent for their interest and time.
Conclusion
If you follow the helpful guide in this post, your scientific manuscript will flow well, and the reader will understand the meat of the research. The process will also streamline your submission process. If you have difficulties editing your own work or are an ESL writer, enlist the help of freelance professional editors who will help you to remain on track and level the playing field. Remember that each step in the editing process, from fact-checking to sentence editing, is important to the overall success of your scientific manuscript.