The drone is a high-quality flying robot that does not require any man or staff and is commonly called crewless aircraft.
Therefore, it is controlled by remote ground control systems (GCS). The Drone industry has revolutionized aerial photography.
This device is best for the professional photographer because it will give you aerial perspective photos and video without any complication.
Let's compare this device with traditional cameras. We can easily determine that this is the easiest way of taking perfect pictures of any location without risking human life.
Best Drones in the World
The Racing drone uses various aspects, such as surveillance, traffic monitoring, and controlling, whether monitoring, photography and videography.
Many drones are used from all over the world. However, but some of them are best listed below.
DJI Air 2S
It is one of the best autonomous drones from all over the world. DJI Air 2s has a unique quality and lots of features. The Air 2s is similar to the Air 2 that came in 2020 but with some upgradation.
Having 1- inch camera sensors in the DJI Air 2S with noteworthy image quality and effective range, 5.4k vides. Looks stunning in both images and videos. However, there are many automated flying modes with long flight times, and sensors of all sides become easy for shooting pictorial clicks.
DJI Mavic Air 2
The DJI Mavic Air 2 consists of many features like a time-of-flight camera along with a long-life battery. After that, the camera can shoot a 4K video at an affordable cost which less than $1,000. It can sense and avoid obstacles from its all-surrounding front and back.
Even it can hold position easily, even in moderate winds. Having more features such as Active track that permits to follow the drone without any external support.
The battery timing is 34 minutes; that's why people don't have to worry about landing for the battery swap as they do in competition. So you do not have to worry it will go with you anywhere where you want.
DJI Mavic 2 Zoom
Indeed, it is the best drone from over the world because it has a zoom feature. Moreover, DJI Mavic 2 Zoom is the best choice for Ariel photographers and videographers.
You can shoot every kind of video, whether it is a child soccer match or wildlife. However, you have to shoot at 1080p instead of 4K for shooting more than 2x zoom.
It has the same features, such as DJI's obstacle avoidance, smart flight mode tech, and 31- minute battery timing with flexible body and lightweight. It is relatively identical to the Mavic 2 Pro expects its crucial camera system.
DJI spark
Spark is a mini drone that constitutes all of the DJI's signature technologies. That permits you to capture the moments that you want to.
Spark drone allows you to explore your world by having the features of intelligent flight control options, a mechanical gimbal, and an effective camera having incredible image quality.
Spark takes off from your hand by acknowledging your face with a quick launch face. However, by aerial exploration, you can find an amazing image.
Without any remote controller, you can take amazing aerial photography by using just hand gestures.
DJI FPV Combo
There is no doubt that DJI's drones are endearing for the imaging industry. DJI FPV Combo has definitive hardware, good quality cameras, and is easy to use.
It comprises powerful safety features that explore the world of Aerial photography. The newest drone, the FPV Combo, is entirely different from others.
It has been built for high-speed performance and first-person flight, satisfying thrill-seekers and drone racing enthusiasts over Ariel photographers. Having an amazing and capable camera, however, it has a back seat for the flight experience.
DJI Mavic Pro Drone
The DJI Mavic Pro is a powerful drone with having a small size that will capture your precious moments and make every moment meaningful.
The compact size of the DJI Mavic Pro drone conceals a high degree of complexity that eventually makes it a more sophisticated flying camera.
It has many unique features that make it more ultra-modern for instance, fly for miles means it can fly up to 22mph easily to see hurdles before 49ft in front by using flight autonomy.
Similarly, photo with altitude, as everyone would love to click good snap. However, the Mavic's has a 12-mega pixel camera with Adobe DNG Raw support that is always ready to click on whether you love to take a snap or build up a portfolio. All in one it is the best customer choice ever.
DJI Mavic 2 Pro
The DJI Mavic 2 Pro is one of the best options that you can buy at a cost-effective. You don't have to worry about its premium quality features such as amazing video and images, the ability to travel and track objects about 45 miles per hour.
The obstacle avoidance from all sides will remain the drone away from the trees.Having 25- minutes of flying time, you can rest upward for some interval of period.
DJI Mavic Mini
DJI Mavic Mini is a perfect choice for you in the drone industry if you want to purchase a cheap drone. It is available in the market easily.
It has an amazing quality video and easily covers in your hand like an apple. When it compares to its relatives, you can determine a wide range of differences between them.
Therefore Mavic mini is very competitive and still more successful than others drones about its weight from all over the globe.
Similarly, as the Mini 2, there is also an absence of an active track, object tracking, or follow me function. When it comes to aerial photography and videography so, it is an outstanding option ever
DJI Mini 2
It is the best choice for you if you want a small size drone. DJI Mini 2 has lightweight and size. Its weight is less than 249g as it covers in your hand. However, it is small in size but very powerful.
DJI Mini 2 can easily manage all kinds of situations, whether shooting on a deserted beach or clicking the moments with your family. It seems very small but has dozens of power packs along with maximum battery life. Although Mini 2 holds up to 10km of HD video channeling.
Further, it has remarkable anti-interference capacities that will give you the ability to fly beyond and see clearly. From this, you can explore your world without limitation.
Mini 2 can easily record your videos professional level so that you can share them with social media. Incredibly it has soundtracks and filters that eventually help you to make good results.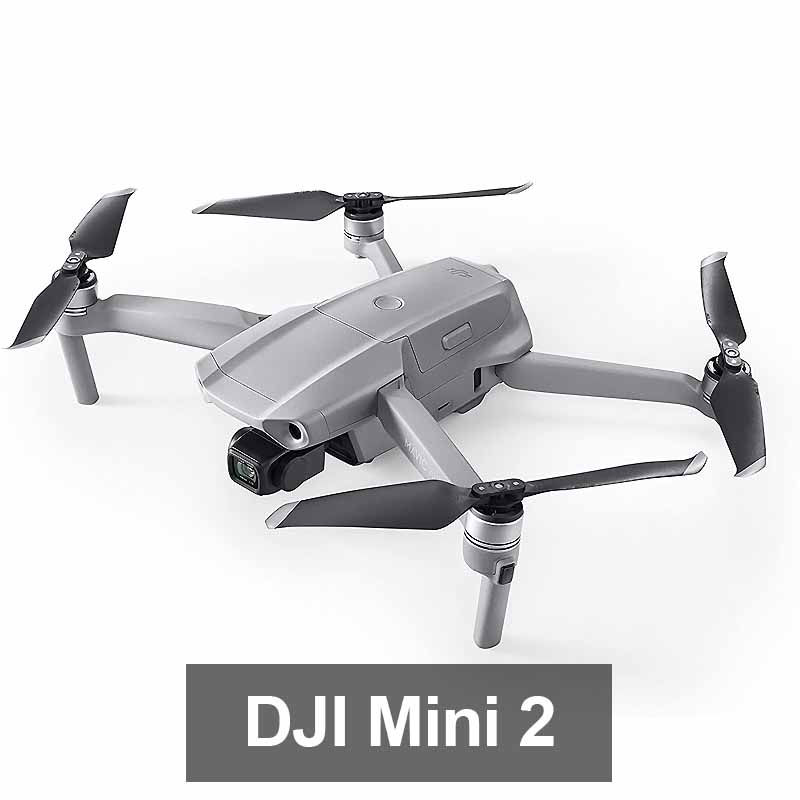 DJI Phantom 4
DJI Phantom 4 is at is top of the list in the market now. Some drone services are amazing you can see, such as its camera quality, speed and flight time, and modes, and this must become the best choice for those who want to perfect the camera.
Incredibly, it is the best option for whom choice is the perfect cam for perfect photography and videography. Moreover, you can record videos up to 4K, 2.7K, 1080p, and 720p.
It consists of 12.MP camera that will complete your desire picture. The best part of this drone is that it comes with auto takeoff and auto return home with GPS and is easy to use. it also used for fly zones.
Ryze Tello
It is an inexpensive flying drone for all those looking for a simple way to learn the ropes. You don't have to worry about its cost because it is easily affordable and easy to use without taking any risk. It must be stable for new ones.
You have enough powers to fly outward but not in high winds. It also provides a handful of preprogrammed flight patterns for 13 minutes per charge. the simple is best and good enough for shooting video and have a 5-megapixel camera
Who Builds the World's Most Popular Drones?
No Doubt in the contemporary world, China's products are everywhere, and China made most of the non-military drones. Most of them have been built by one company DJI.
China has observed that there are almost 70,000 small players that make drones, components, and software. However, Chinese companies made commercial drones all over the world above 80%.
What to look for when Evaluating Drones
For a quality drone, you have to look for some issues regarding it. There are two main components of all drones for considering, flight test and video, and imaging.
Which is the best Drone in the World
Although all the drones are made best, one is the best of them, The DJI Mavic 2 pro. Mavic 2 Pro is indeed the most powerful drone produced ever from all over the world.
Which Drone is best to Buy?
If you are looking for a cost-effective drone and a newbie, DJI Mini 2 can be the best choice for you. it is compact and easy to use for beginners
What to Look out for in a Drone?
For a quality drone, you have to look for some issues regarding it. There are two main components of all drones for considering, flight test, video, and imaging.
What is the Best Drone 2021?
The best drone pilot, particularly camera drones, only one brand name stands out from the rest of all that is DJI in 2021. And it has filled many positions from all over the world
Should you buy DJI Drones?
The best drone is the DJI Mavic Air 2s because it has good performance and portability between them. No doubt, it is a foldable drone that is easy to use and compactable.
It can click impressive 4K footage from its 1-inch sensor, specifically with automated minutes of flight time and intelligent flight modes.
Quad air drone
Quad air drone consists of lots of built-in features that ensuring its effective results. When it comes to video quality and the highest image sensor, it is incredible the best product.
It takes 30 minutes to operate and then captures the aerial photo's special moments like a photography drone. Having reasonable size and cost, it has good features.
What Are the Best Brands of Drones?
Incredibly, the best brand of drones worldwide is DJI's made by Chinese companies.
Best Drones with Camera
It can simply determine that all the drones are best with a camera, but if we are talking specifically about some drones, these names can be mentioned there.
The best drone in 2021:
DJI Air 2S. The best drone for most people.
DJI Mavic Air 2. Still offers great value for hobbyist fliers.
DJI Mini 2. The best drone for beginners, now with 4K powers.
DJI Mavic 2 Pro.
DJI Mavic 2 Zoom.
DJI Mavic Mini.
Ryze Tello.
DJI Phantom 4 Pro V2.
Final Words about Best Drones in the World
In the final verdict of this article, you can easily determine there are bundles of drones from all over the world. However, some are the best and cheap drones, and almost any of them are Chinese.
No doubt China is the biggest player from all over the globe that made effective drones the earlier, combat drones were popular and used for military purposes. Still, the non-military drones that built china are more popular now. The image courtesy and image sensor are important parts of the drones.
However, people used to find the max range and max speed over them. The maximum speed will let you know how your drones can be effective and get good results according to your desire.
However, the drone industry is ultimately for the un pilot aircraft, and the image credit considers the source for published photographs especially.