When you make a purchase at a retail store, you can get cash back if you need a little extra money in your pocket. So, you might be curious about Walmart's cash back policy. Keep reading to know all about getting cash back at Walmart.
How Much Cash Back Can You Get At Walmart?
Typically, Walmart allows customers to receive cash back in $20 increments. The maximum cash back you can get is $120 in multiple transactions.
The chosen payment type determines the cash back limit. You can receive up to $100 cash back using a debit card at both traditional cash registers and self-checkout registers.
Is There A Cash Back Limit At Walmart?
There is a limit on the amount of cash back you can get for each purchase made at Walmart because each cash register has a finite amount of money.
The kind of payment method you choose also has an impact on how much cash back you receive. For instance, the $100 cash back limit applies to debit card purchases. For transactions made using checks, the cashback limit is $20.
Walmart often offers cash back in increments of $20. So you may potentially receive $20, $40, $60, $80, or $100 every transaction. Walmart requires you to utilize the ATM or conduct several transactions at various registers if you want more than $100 in cash back.
Does Walmart Charge Fees For Cash Back?
Walmart does not impose a fee for cash withdrawals made in conjunction with payments. They only charge for the products you purchase. For instance, if you used a $50 bill to pay for $10 worth of goods, the cashier would offer you $40 in change without any additional taxes.
At the check-out register, credit cards are accepted. This method of cash withdrawal is quite efficient because it saves time, and the shop doesn't charge a fee!
How Do You Get Cash Back At Walmart?
At Walmart, getting cash back is easy and only involves a few simple steps. Whether you use a self-checkout or a traditional checkout, you can receive cash back.
First, ring up your purchases at the register as usual. Make sure you complete the transaction as a debit after inserting your card. You might be unable to obtain cash back if you choose credit on the machine and use a debit card to pay.
The device will ask you if you wish to proceed with the transaction or request cash back. Choose your preferred amount and click "Yes" to accept cash back. Finally, use your PIN to validate your transaction. The value of your purchase plus the amount of cash back you choose will be charged to the card you use for the transaction.
Can You Get Cash Back At Walmart With A Credit Card?
Most credit cards cannot obtain cash back at Walmart while making a purchase. However, the transaction will be seen as a cash advance if your credit card is eligible for cash back. Like other credit card transactions, cash advances are subject to fees, and interest accumulates immediately.
The Discover Card offers a "cash over" program. It is one sort of credit card that always permits cash back. There are no fees when using the Discover Card to make a cash-back purchase. However, confirming potential fees and other terms and conditions with your credit card provider is best.
How Do You Get Cash Back When Paying With A Personal Check At Walmart?
The variety of accepted forms of payment, including personal checks, is one facet of Walmart that draws many customers. Tell the cashier you are paying with a check and would prefer cash back when you are at the register and ready to pay.
Using a check, you must present a legitimate government-issued photo ID to pay for items at Walmart. Make a check out for the full purchase plus $20 for cash back. The cashier will scan your check using a verification service to prevent fraud.
What is Walmart's Cash Back Limit?
The cashback limit depends on the card you use and the total cost of your purchases. Typically, Walmart allows customers to receive cash back in $20 increments, up to a maximum of $120 in reward transactions. The chosen form of payment determines the limit.
You can receive up to $100 cash back using a debit card at both traditional cash registers and self-checkout registers.
Only $20 in cash can be refunded if you pay with personal checks, which must come from a typical cash register.
Last but not least, Walmart takes part in the Discover cashback program. You can receive up to $120 in cash back from traditional and self-checkout registers if you pay with Discover.
Can You Get Walmart Cashback Rewards When Shopping Online?
Walmart not only owns grocery shops across the US. It also runs an official website named Walmart.com and a mobile app. Whether you use the website or the Walmart app to access it, both will provide you the chance to shop at Walmart and ultimately reward you with cashback.
It's vital to understand that if you shop online, you can only receive cashback on purchases made on Walmart.com or through the Walmart app. It's also crucial to be aware that, unless processed via Walmart.com or the Walmart app, most credit cards with a Walmart rewards program won't pay you cash back for any transactions or sales made outside these platforms.
The Best Methods for Getting Walmart Cashback Rewards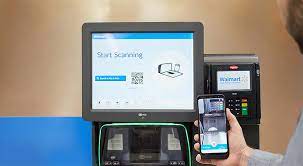 Using a debit card is the fastest way to get cash back. You can receive up to $100 in cash back with a debit card, which is $80 more than you can with a check.
If you try to use your card more than once in a short period of time and want more than $100 in cash back but don't want to use an ATM, your card can be detected for fraud. How Can I Check Walmart Points?
Conclusion:
Walmart allows you to get cash back at both the self-checkout stations and the regular checkout lines as long as you pay with a debit card or a check. Besides the Discover Card, most credit cards include a fee to obtain cash back. Does Walmart Sell Stamps?
Additionally, Walmart offers free in-store ATMs that consumers can use to withdraw cash and cash checks.