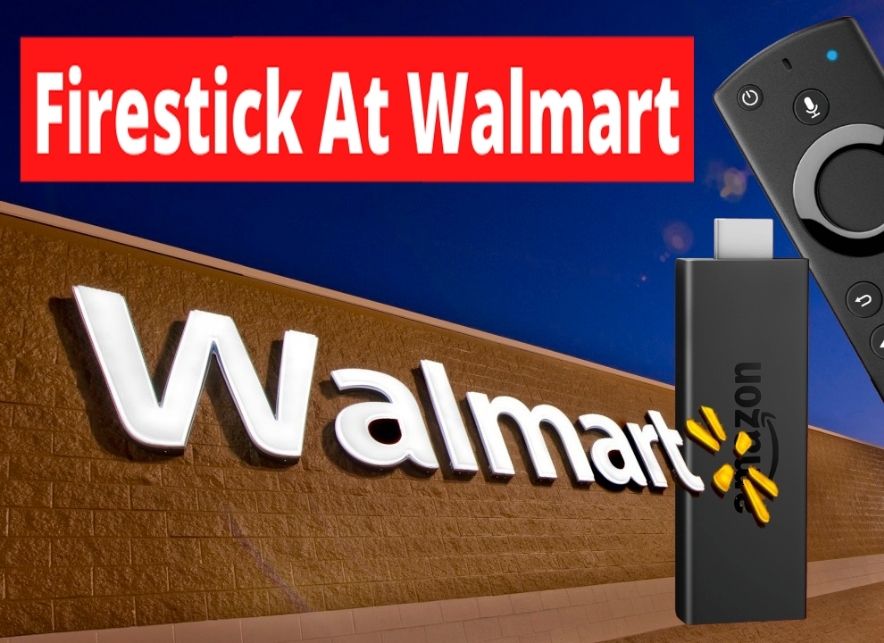 You may stream content from your favorite applications on a portable streaming gadget known as Amazon Fire Stick. Like a Chromecast, it offers capabilities that let you connect to your TV and stream movies, TV shows, music, sports, and other content. Amazon Prime Video, which offers free access to thousands of movies and TV series, is also compatible with the gadget.
Even premium content like HBO and Showtime can be obtained with an extra fee. It is a great tool for cord-cutters who want to stream their favorite shows to save money.
You may wonder whether Walmart sells Amazon Fire Sticks. Keep reading to learn about the Fire Sticks at Walmart.
Do Walmart Sell Fire Sticks In 2022?
Unfortunately, Walmart is not selling Amazon Fire Sticks or Fire TVs in 2022. Walmart no longer sold streaming gadgets in 2017 due to greater competition from Amazon. However, Walmart offers alternative media streamers like Roku, Google Chromecast, Apple TV, and NVIDIA.
Why Doesn't Walmart Sell Fire Sticks?
Walmart stopped offering Fire TV and related products like the Fire Stick in-person and online in 2017. Walmart did not issue a press release or provide an official justification for this action. Still, it is obvious that the two brands (Amazon and Walmart) are fiercely competitive.
Walmart sees Amazon as a big threat to its move into the online retail market as more and more merchants are coming online. Additionally, it was said that Walmart was creating a streaming service of its own to compete with Amazon Prime. In addition, Walmart no longer sells Kindle readers and Amazon gift cards for the same reason.
Does Walmart Sell Roku Devices?
Walmart offers a variety of Roku models at various price points. The Roku Express, the most entry-level Roku streaming device, costs $29.
The Roku Streaming Stick costs $49. The cost of the Roku Ultra is $60.94, while the Roku Ultra 2020 is $99. Your streaming demands will determine the cost.
Does Walmart Sell Google Chrome Casts?
Three different Chromecast devices are available at Walmart. The 3rd Gen model costs $29.98. The total cost of the Google Smart TV kit is $64.00, while the Chromecast with Google TV model is $49.98. Chromecast and Google Home Mini are included in the Google Smart TV kit. Only Walmart is offering this price.
When you shop online at Walmart, you can price match numerous things with Amazon.com. Although this is true for streaming gadgets, you can apply it to countless other goods!
Does Walmart Sell Apple TVs?
Apple TV is offered by Walmart. After ending the sale of fire sticks, Walmart takes satisfaction in selling Apple TV.
You might be able to find the same streaming media player with excellent specs in both 4th and 5th-generation Apple TVs. The website for Walmart provides straightforward instructions on how to get and utilize the Apple TV.
All specifications are well explained to provide every consumer a wonderful experience while purchasing their Apple TV.
Does Walmart Have Its Own Streaming Service?
In an effort to lessen the impact of the decreasing DVD business, Walmart acquired Vudu in 2010. Vudu was created with the intention of releasing digital DVDs.
In contrast, Vudu changed its strategy in 2019 and began producing its original material for a subscription service similar to Netflix or Hulu. In 2020, they sold Vudu to the movie ticket provider Fandango.
Is Vudu Available On Roku Streaming Devices?
When using a Roku streaming device, Vudu is free. There is no monthly subscription fee. You can pick from thousands of movie options, including oldies and recent blockbusters.
Vudu is a pay-as-you-go streaming service even though there isn't a subscription. You will need to pay for each movie separately, but unlike Netflix, streaming services are not obligated to wait six months before making new movies available online. New releases are available on Vudu more quickly than on any other streaming service. 
How much are fire sticks at Walmart
The fire stick remote costs vary depending on the type of media streaming equipment. Some are inexpensive, while others are expensive. The names and costs of a few fire stick remotes are shown below:
Amazon Fire Stick's new remote replacement CV98LM costs $11.43.
Binpure remote control costs $7.94
Second Generation L5B83H 2AN7U-5463 New Remote Control costs $39.99
AUST Voice Remote Replacement Remote Controller PE59CV costs $25.98, while the New CV98LM Remote Control replacement for Amazon Fire TV Stick costs $11.43.
Basic Replacement Remote for Insignia Fire TV Edition costs $10.99.
New CV98LM Replaced Remote Control Clicker Player for Amazon Fire TV Stick costs $11.43.
Why Did Walmart Sell Vudu?
The most likely reason Walmart sold Vudu was so that it could divert its attention from the oversaturated internet streaming business to something else.
Vudu initially intended to compete with services like Netflix and Amazon. When this didn't happen, Walmart felt it would be preferable to concentrate on cutting-edge technologies for pickup and delivery services. Does Walmart Pay Weekly?
Conclusion:
Amazon Fire Sticks are not sold by Walmart in stores or online. It is most likely a result of the two brands' increased competition due to shifting consumer behavior.
Brands like Walmart will probably suffer from the increased market competition as more consumers choose to select online shopping and rely on Amazon for all of their needs.
While Walmart no longer carries Amazon items, you may still choose from various streaming services. Although Roku, Apple, and Google also make popular streaming devices and services, Amazon Firesticks are a terrific alternative.
You can therefore be guaranteed to get a fantastic streaming device while shopping at a Walmart store, regardless of your preferences and financial constraints. Why is Walmart Receipt Lookup not Working?