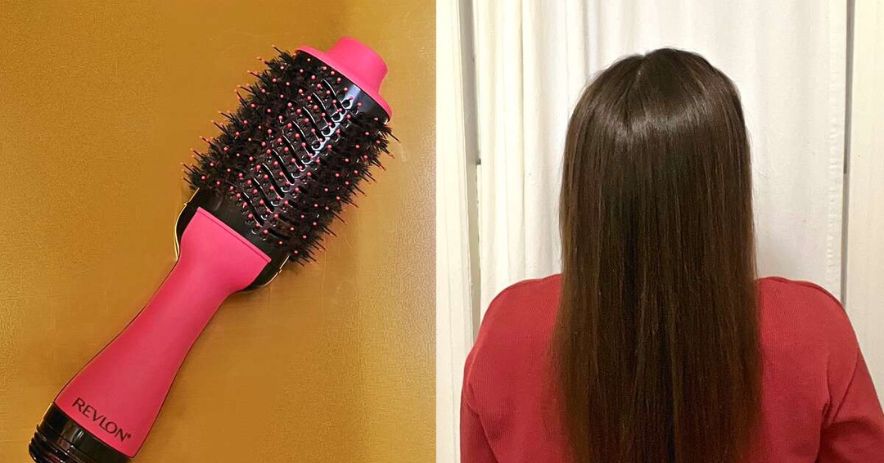 Revlon hair dryer brush is a hair styler and blows dry brush. It easily styles and dries your brush. And one more thing this dryer brush contains a heated ceramic barrel that keeps your hair lustrous, strengthen, shiny, and frizz-free.
This is a very advanced technology and a popular product for those women who have long hair. It has a reasonable price. You can choose the ideal drier for your hair by using a Revlon brush because they are made for different hair types.
It is originated in China and manufactured by Helen of Troy Limited. Cleaning your Revlon hair dryer is necessary because dust in the dryer may damage your hair and lightens your hair. So if you are wondering how to clean the Revlon hair dryer brush. So this is a great platform for you. Keep reading to learn more about the Revlon dryer brush.
How to clean Revlon hair Dryer Brush
In order to clean the Revlon hair dryer styles, you have to take some steps.
Assemble the necessary Items for cleaning Revlon Hair Dryer BrushFirst, you may need a pair of scissors to easily tangled your hair. You can easily snip your hair with scissors. In addition, You may use your fingers but it is very hard.
Second, an old toothbrush which you no longer need. It easily cleans the spaces between the bristles of the brushes.
Third detergent or soap is very necessary for the process of cleaning.
A piece of cloth that may help to clean and wipe the dryer.
And water that is a must for the cleaning process.
Remove the tangled hair
After preparing the necessary item then you have to remove the tangled hair from the dryer brush. This can be done with scissors. Take the scissors and start removing the hair by moving the scissor horizontally and vertically. Also, you can be done it with your fingers but it is a little bit hard. And also remove very carefully because a little bit of cut on bristles may damage the working of the dryer.
Remove the dust and dirt from the dryer
The removal of all hair strands may leave your dryer dusty or greasy. We have observed that it might be challenging to clean the sticky dirt. First, take a detergent and mix it with water. Put the mixture in a spray bottle for simple device application. On a barrel of a dryer, spray the mixture. Avoid getting it too wet since that will harm the motor. Now use an old toothbrush to clearly clean the dryer. Make a toothbrush up and down that cleans the surface.
Wipe with water Clean with a towel
Rinse your brush with fresh water once the filth has been removed. Rinse the top portion alone; do not touch the electronic components. These are located where the motor sits in the center. Use a soft cloth that has been well soaked to wipe the bottom.
Wipe again and again until no apparent soap residue or dirt is left. Additionally, you want to get rid of as much water as you can.
Wait for the brush to dry
The only thing left to do when your brush is spotlessly clean is to allow it to dry. Now Place your brush upright and support it so that it can stand alone.
Sometimes a little bit of water remains behind in your dryer, first it can be dry, and then use it. It is an electrical component that may short circuit and damage not only your hair but also another loss. 
Why we must clean our Revlon hair dryer.
The main reasons for cleaning Revlon hair dryer are as follows:
To stop the growth of germs: If you cannot clean your brush timely it may infect your scalps because it results in bacteria in your hairs.
To prevent product accumulation: The accumulation of products may make your hair appear oily and lifeless. Your hair will look its finest if you clean it frequently.
In order to make your brush last longer: A well-managed and clean brush may long its life. It may work well for many years.
Can heated brushes harm hair?
Yes, it may sometimes harm your hair. When used on relatively dry hair, a hot brush is faster than a regular straightener.
However, because this tool just creates heat and lacks a device for adding moisture to your hair like a diffusion found on other styling products, you should only use the hot brush on dry or slightly damp hair.
Before utilizing any heat styling products, such as a hairdryer, it's also wise to invest in a heat protection spray.
Why is routine cleaning of the hair dryer necessary?
It is very necessary because an unclean, clogged hair dryer is quite dangerous. Many different types of debris, such as hair, dust, dirt, heat protectants, and sticky hair sprays, can clog the vents.
How you can use the Revlon hair dryer?
Then there is the matter of cleaning the Revlon hair dryer brush. To begin, you will require the following steps to use it.
After shampooing, pat your hair dry with a towel to remove extra moisture.
Divide the hair into many pieces and blow-dry it.
Lay the brush close to the hairline and roll it all the way to the tip to blow dry. Comb the roots for some seconds
Before turning the brush to curl and increase volume, put the hair on the curved edge and hold for 2 to 3 seconds. Now your hairs are curled. 
How should a natural bristle brush be cleaned?
You may either use a brush cleanser or soap and water to clean a natural bristle brush. Follow the instructions on the bottle if you use a brush cleaning. When using soap and water, moisten the brush's bristles and sprinkle some soap on top. Now rinse it with water. 
Also Read These Articles
Conclusion:
Hair dryer brushes are the weakness of the girls' generation because they want their hair beautiful and shiny. Hopefully, the above steps for cleaning a hair dryer will help you to clean the dryer.