Thanks to the widespread development of mobile devices and high-speed mobile Internet, the social media revolution dominates the world.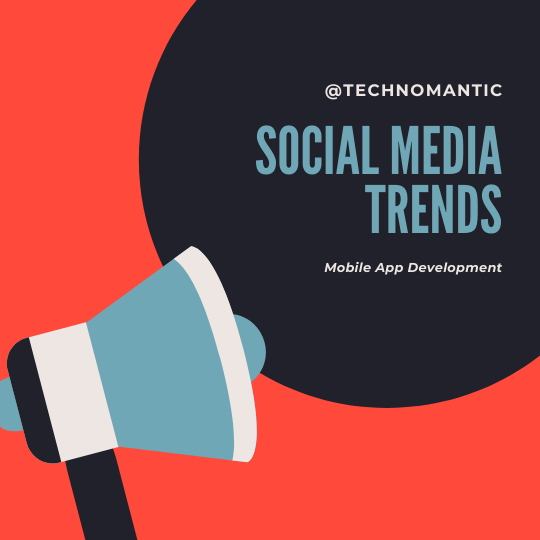 According to Statista, the number of mobile app downloads worldwide has increased constantly from 2016 onward, surpassing 200 billion in 2019. Consumers downloaded 230 billion mobile apps to their connected devices in the most recently measured year, up by more than 63 percent from 140.7 billion app downloads in 2016.
Smartphone owners worldwide actively use social networking applications, keep in touch with friends and distant relatives, build their professional network, search for their soul mate, and exchange all kinds of information and experiences.
Social networks continue to feature prominently in our daily lives; it is worth looking at how they have evolved, their impact, and how current trends in the development of applications for social networks will affect their recent development.
The fact that we are now experiencing a boom in the development of social networks is not surprising. Humans have always been social beings. We are drawn to communication and welcome any of its ways. Communication apps and social networks have become another way to communicate.
Social media apps are an integral part of our world. Thanks to them, we interact with people from anywhere in the world. Social networks are the ability to communicate via the Internet and/or mobile technologies.
Today, many companies order custom mobile app development to keep up with the trend and get their piece of the social world. With the help of social networks, you can create content for the site, conduct joint projects, develop your magazines and Internet forums, maintain microblogs or blogs with a socially significant context. Thanks to social networks, you can even create entire virtual game worlds or grow to crowdfund.
It is a fact that new social applications appear every day, and hundreds and thousands of people download them to their smartphones. We do not stop at one Facebook or Instagram – we constantly need something new. Users love innovation and new features. And also,
users tend to stay loyal to an app that can effectively combine the features they want and expect. Most popular social networking apps have available features and more advanced ones designed to address the app's primary purpose or specific user needs.
To understand how to create your social communication application, it is essential to understand a few things that your application should have:
have a simple user interface;
short, catchy name
personalized user profile;
real-time notifications and updates;
message exchange;
the ability to attach different files;
the ability to leave comments and likes;
the ability to upload content;
the ability to create groups and communities;
the ability to edit the user profile;
sharing opportunities associated with other social channels;
emoticons and stickers;
the ability to send invitations;
the ability to add or remove friends/relations.
Social Media Trends for Mobile App Development
Knowing trends before they go mainstream can allow companies to level up and capitalize on trends as they become popular, Forbes notes. Being ahead of the curve gives marketers an edge when it comes to preparing communication tools and utilities to take advantage of these trends.
The following social media trends will be relevant in the coming year:
Augmented reality technology
Augmented reality is the number 1 trend in social networks. Agree that augmented reality, which is on the border of real and virtual experience, can attract new users. Such social media can give users an immersive experience more accurate than ever format.
Currently, 3D content is gradually replacing 2D content on several social networks. Take Snapchat as an example; the platform allows users to turn every video into a unique augmented reality game. Users can truly see their practice of magic on the screens of their smartphones with a friendly interface.
The live application of augmented reality technology provides a natural feeling of being at home for viewers without actually experiencing them. In addition, customers could approach their orders to book and purchase items. For example, if you want to check your booking visually, you can experience every corner of your upcoming room with an AR video provided by the hotel of your choice.
Gamification
How to attract younger users of social networks? Of course, more gaming application models. On typical social media platforms, you can see that companies have developed at least a separate section for users to play games.
Gamification is the most appropriate way to engage users, which is usually one of the most important goals of a social media application. In addition, social media trends and gamification have proven their position in mobile app development trends. It expectedly reduces the cost of acquiring new users and retaining existing users. According to M2research, adding games to mobile apps increases engagement by about 150%.
Social media application as a commercial platform
This trend began when Facebook offered to create a giant e-commerce platform based on its social network. Since then, many companies worldwide have focused more on how to take advantage of social media applications to sell products. Shopping on a social networking site brings convenience and time savings for most social networking applications.
In addition, the trend of social media as a commercial platform greatly supports personal business and mobile payments. This type of business brings additional income to users who expect to build their independent careers with little investment.
When a cyberattack tends to be a silent killer that kills several social media app companies, the use of artificial intelligence and machine learning can combat identity fraud and malicious links.
In addition, AI authorism can help prevent social media leaks. Machine learning would be more suitable for protecting against data leakage for processing a vast amount of data. In practice, to pass the current regulation to reduce data breaches on the Internet, the social media business usually requires the addition of AI and machine learning as a typical feature of a mobile application.
Quick video messages
The concept of a short video seems insufficient for social media trends. Self-destructing videos are currently gaining attention as these posts are usually only available on social media platforms during a selected period. It is expected to protect the privacy of users, which is causing controversy about the security of social networks around the world. Somehow self-destructing content adds more credibility to appease users.
Automation is the future of mobile app development, and social media app messaging is no exception. The trends have come about because users need an instant response when using social messaging. About 31% of respondents to the social media app survey confirmed that they liked a meaningful response to a message within 30 minutes.
Interestingly, WhatsApp, Viber, and Facebook Messenger have gained more users than social media apps. In particular, WhatsApp delivers an average of 55 billion messages daily containing a considerable amount of valuable information. Laws and regulations against business apply to private messages. However, possessing massive data gives application owners a huge advantage.
Live broadcasts
Due to the pandemic, we have experienced a digital transformation boom. Meetings turned into Zoom calls, and live concerts were streamed live. Therefore, the use of live broadcasts on social networks has naturally increased. There were twice as many live sessions on Facebook and Instagram in a week!
By 2021, people have become so accustomed to these situations that they have begun interacting with brands live, feeling blessed to stay at home. However, live streaming and social media entertainment will continue to gain popularity this year. Plus, adding this feature to your social media marketing strategy can be a boon!
User-generated content
Podcasts, blogs, social networks, digital videos, wikis, reviews, and other types of content posted by users are user-generated content. Recent research shows that user-generated content is popular on social media. More and more users participate in giveaways by sharing posts from their favorite brands to win a prize! Coca-Cola successfully implemented this trend in 2011. The marketing team came up with a "Share a Coca-Cola" campaign to increase brand awareness among consumers. The company printed 150 popular names on the bottles and asked users to share them on social media. "Share a Coca-Cola" went viral in over 80 countries worldwide.
The main reason user-generated content is gaining traction is its ability to build trust between consumers and brands. As such, marketers need to follow these simple steps to establish a solid connection between brands and their target audience:
Run a contest to attract your customers;
Conduct market research to better understand the preferences of your target audience;
Create "shareworthy" content.
"'Tight-Knit'" groups
Quality comes first in modern social networks. The feeling of "being part of the same community" with common interests, hobbies, and concerns explains why "cohesive" groups demand today. The principle of "less is more" leads to successful cases in social networks, such as creating a loyal audience of customers and promoting a brand in the market. For this reason, mobile app developers should not ignore "cohesive" groups.
Want to discuss a movie, book, or theater scene? If you do, join any group you are interested in on Facebook, Twitter, Instagram, or any other social network! Reddit, a social community network, has subreddits, small communities that share the same interests. Communities such as subreddits or Facebook groups create an intimate environment for social media users to express their opinions about their favorite things.
Final Thoughts
Social media is changing. It is connected with the normal development of any product or phenomenon. And this is also because technology and the world around us are rapidly evolving.
More people are starting to use social media every day: opening apps to call a taxi to work, order food, chat with friends or make new ones, write in a group with similar interests, listen to music, and hundreds of other options. Social media apps are in demand in a world where you start and end your day with your smartphone in hand.
In this article, we've discussed some of the biggest social media trends to look out for when you're thinking about building a social media app. Augmented and virtual reality technologies, user-generated content (UGC), "cohesive" groups, and more – this is what will improve the interaction and quality of new applications in the near future.
If you also want to create your own social media platform, you can visit https://mlsdev.com/blog/devops-services for advice and unique solutions for your social media application.
Also have a look on: