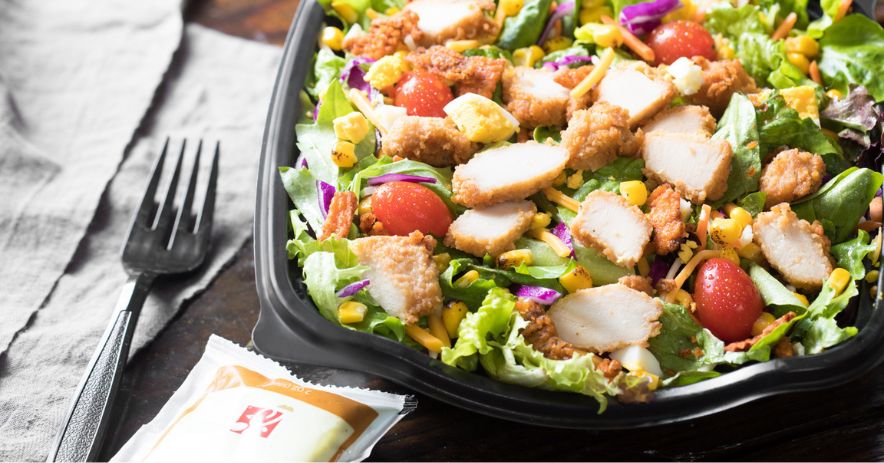 Chick-Fil-A is a well-known fast-food restaurant in the US. It offers sandwiches, sauces, snacks, salads, and many other food items.
The Chick-Fil-A salad dressings are one of the restaurant's mouthwatering menu items. This article is all about the Chick-Fil-A salad dressing. So, continue reading!
What salad dressings will Chick-Fil-A offer in 2022?
In 2022, Chick-Fil-A offers a range of salad dressings. These dressings are often coupled with various salad servings. The dressings contain nutritive ingredients which benefit the customers in a variety of ways. The restaurant offers different kinds of dressings, including Creamy Salsa, Avocado Lime Ranch, Zesty Apple Cider Vinaigrette, and others.
Which Salad Dressing Varieties Do Chick-Fil-A Offer?
They offer the following salad dressings to the customers:
Avocado Lime Ranch Dressing
The Cobb salad from Chick-fil-A goes best with the avocado lime ranch dressing. The main components of this dressing are lime juice, avocados, buttermilk, and mayo. But, you need to combine creamy avocado with cumin, dill, and a little tang to give the dressing its distinctive flavor.
Nutritional components in two tablespoons of this dressing are:
32g fat
3g carbs
310 calories
1g proteins
2g sugar
You can replace mayo with Greek yogurt. You can also use your preferred keto sweetener instead of a half teaspoon of sugar.
Is Brisket Beef or Pork or Lamb?
Creamy Salsa Dressing
Creamy salsa dressing is suitable for the spicy southwest salad. It contains cumin, dairy products, lime juice, and cilantro. The jalapeno, seeds of cayenne pepper, and ancho chili powder give the creamy salsa dressing some zing for its distinctive flavor.
Nutritional components in two tablespoons of this dressing are:
31g fat
2g carbs
290 calories
1g protein
1g sugar
However, if someone is following a ketogenic diet, they can skip the sugar and use their preferred sweetener. Greek yogurt is another dairy alternative.
Chili Lime Vinaigrette
Chick-Fil-A has stopped serving Chili Lime Vinaigrette. But it can be prepared easily as a substitute for the Spicy Southwest Salad. Honey, lime zest, raw garlic, and lime juice are the main components of this dressing. Due to the chipotle Chile powder, chili powder, and cayenne pepper, Chili Lime Vinaigrette has a spicy flavor. The salad has a light flavor of fresh garlic and a smoky taste.
Nutritional components in two tablespoons of this dressing are:
3g fat
9g carbs
155 calories
4g protein
9g sugar
Zesty Apple Cider Vinaigrette
It was specially made for the market salad. The main components are lime juice, cayenne pepper, honey, and apple cider vinegar. The dressing also has a taste of ACV, oil, and a touch of honey.
Nutritional components in two tablespoons of this dressing are:
19g fat
16g carbs
230 calories
0g proteins
14g sugar
How to Exactly Tell if Eggs are Good or Bad
Lemon Caesar Vinaigrette
The lemon Caesar vinaigrette is the best choice for lemon kale Caesar salad. The main ingredients in this dressing are lemon zest, frozen lemon concentrate, and lemon and lime juice. It also contains herbs, vivid citrus, and a lemony flavor.
Every two teaspoons of the dressing have the following nutrients:
13g fat
6g carbs
140 calories
0 g protein
5g sugar
Honey Sesame Dressing
The honey sesame dressing goes best with Asian Chicken salad. But it is no longer available. Fresh ginger, Sesame oil, sesame seeds, and soy sauce are the main components of the dressing. The Asian blend of sesame, ginger, and soy is combined with honey in the dressing's flavor.
There are no exact nutritional statistics for the dressing because the Asian Chicken Salad has been discontinued, but comparable dressings have the following ingredients per 2 tablespoons:
7g fat
8 g carbs
159 calories
6g proteins
7 g sugar
Apple Dijon Dressing
This dressing was made for the Kale crunch salad. The key components of the Apple Dijon dressing are lemon juice, maple syrup, Dijon mustard, and ACV. Lemon and Dijon are combined with vinegar, oil, and other flavors to create the dressing's flavor.
The nutritional information for the Apple Dijon dressing is not listed on Chick-Fil-official A's website. But, comparable dressings contain the following dietary components in every two tablespoons:
2g fat
2g carbs
127 calories
0g protein
4g sugar
Maple Vinaigrette
The maple vinaigrette was created to go with a Chick-Fil-A superfood salad that is no longer available. Maple syrup oil, Apple cider vinegar, and Dijon are present in this dressing. The dressing has a taste of fruity apples with a tang of vinegar.
Every two teaspoons of the dressing have the following nutrients:
14g fat
9g carbs
158g calories
0g proteins
8g sugar
Other than the dressings mentioned above, Chick-Fil-A also offers the following dressings:
Uncovered Lightbulbs May Expose Food to Which Type of Hazard
Fat-free Honey Mustard
This dressing does not have any added fat. It gives a zesty taste and flavor to your salad serving.
Garden Herb Ranch
This dressing has a classic, wholesome flavor that is creamy and fresh.
Light Balsamic Vinaigrette
It is made with premium ingredients including authentic dark balsamic vinegar, spices, and herbs. This dressing goes well with any salad.
Light Italian
A unique blend of spices is used to create the light Italian dressing. It goes well with all salads.
What Chick-Fil-A Salad Dressings Are Good?
The choice of dressing varies on the salad ordered. But Avocado Lime Ranch and Fat-Free Honey Mustard are two of Chick-Fil-A's most well-liked dressings. The avocado creaminess and lime taste in the avocado lime ranch create a distinctive flavor. On the other hand, the fat-free honey mustard offers a lean and healthy alternative while delivering the sharp flavor of genuine mustard.
What Dressing Is Served With the Southwest Salad at Chick-Fil-A?
The Chili Lime Vinaigrette and Creamy Salsa Dressing go well with the Spicy Southwest Salad from Chick-Fil-A's menu.
Are Chick-Fil-A salad dressings available to buy?
Unfortunately, Chick-Fil-A does not sell salad dressing separately. If you go to the restaurant and order a salad, you can ask for an extra dressing packet if you desire it.
Do they provide salads at Chick-fil-A in the morning?
Many restaurants don't mind making lunch and dinner products in the morning. But the wait time will probably be longer. Moreover, Chick-fil-A does not provide salads for breakfast.
Which Chick-Fil-A salad dressing is the best?
At Chick-Fil-A, the Honey Mustard Dressing is the best salad dressing.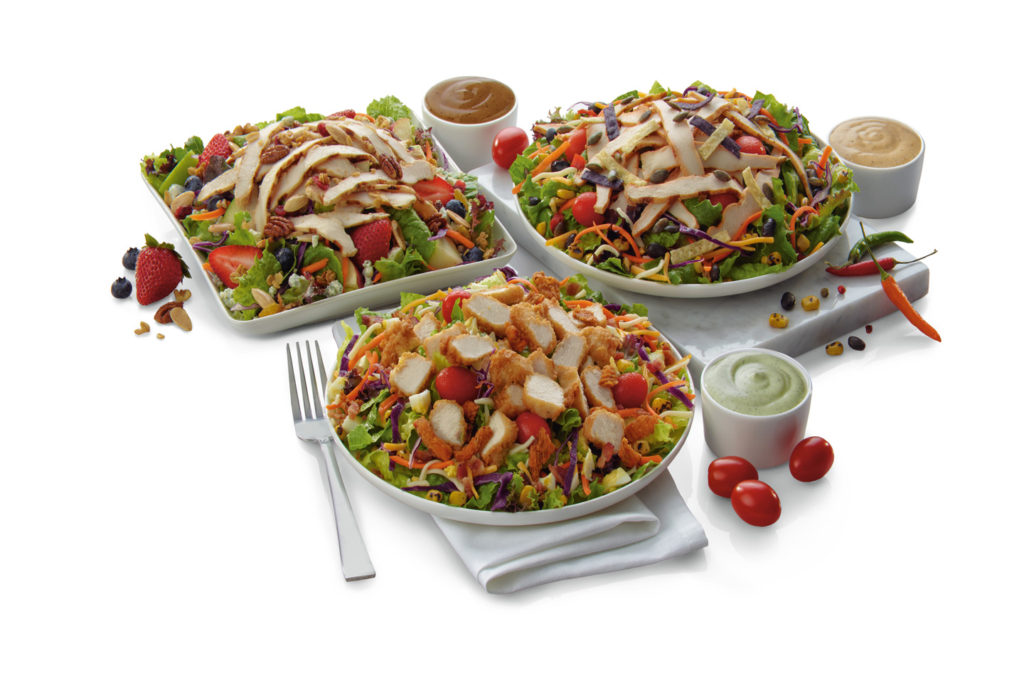 Is Chick-Fil-A salad dressing available to purchase?
No, but you can buy 8-ounce bottled sauces when placing an order.
Conclusion
In conclusion, Chick-Fil-A provides a variety of salad options along with a number of dressings. Fat-Free Honey Mustard and Avocado Lime Ranch are among the two popular dressings. But, the establishment does not sell the dressings separately to consumers.