Amazon is a massive e-commerce company with millions of customers in the United States. It's also one of America's greatest employers, with a growing workforce and many sites.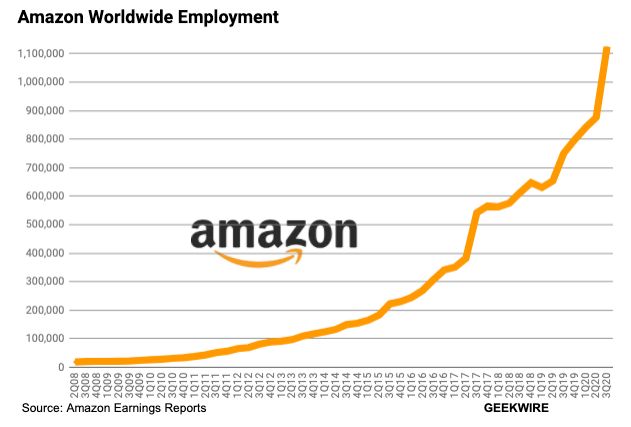 If you or someone you know is thinking about working for Amazon, you might be wondering if they provide raises. Here are the details.
Does Amazon Give Raises In 2022
Every year in May, Amazon raises the pay of a large number of employees.
Amazon offers $15 minimum hourly wages and recently offered raises to nearly half a million of its employees in the United States, ranging from 50 cents to $3 an hour.
How Much Are The Raise?
Amazon is worth $1.7 trillion. As the company grows, so does the chance of more exciting raises in the future for employees. Currently, Amazon raises are between 50 cents and $3 per hour.
The company's most recent pay rise went to 500,000 warehouses, fulfillment, and delivery team. It is $1 billion in total for all loyal Amazon employees.
Amazon team decides on raises depending on the following factors:
Employee performance and experience with the company
Present pay rates compare to the other team members
While Amazon is more generous with raises than most companies, the store still seeks employees dedicated to their jobs and loyal to the company.
Amazon not only gives raises to tens of thousands of employees, but it also pays attractive sign-on incentives in many situations.
These bonuses, which may be as high as $3,000, serve as an incentive to prospective employees since Amazon is always looking to attract new individuals to keep up with its expansion and service demand.
How Often Will They Raise Pay?
Getting a raise at Amazon depends on your department and the duration of service. Many employees receive raises once a year. It is not standard across the board due to Amazon's large workforce.
Amazon employs about one million individuals. We can say one out of every 169 persons in the United States is an Amazon employee, with 30 separate teams covering all parts of the company. These teams manage Amazon Web Services, Fulfillment, and Customer Service. So, there's a lot to learn about operations, transportation and logistics, business and corporate, etc.
As a result, Amazon pays different teams raises based on their performance and present salary. Although most employees receive a yearly raise, it is not guaranteed. Amazon reveals its plans for employee raises at the beginning and middle of the year.
Amazon thinks that more people will apply for its job postings by offering strong beginning salaries and competitive raises.
Do They Do Pay Reviews?
Amazon, like other firms, has a yearly performance review procedure. This review allows both management and employees to reflect on:
The previous year's work
The employee's general performance
Areas of improvement.
Pay raises may be considered during this review process, especially for employees who have received no negative feedback and have consistently met Amazon's high customer service standards. After one year with Amazon, employees may expect a performance/pay evaluation, repeated every year with the proper raises. The higher up an employee's career ladder, the more likely they will receive a larger annual salary boost.
While entry-level warehouse workers may have $0.50 to $3 per hour added to their compensation, Amazon's corporate employees regularly receive hundreds of dollars in raises based on their performance and competence.
Is Amazon's Pay Competitive?
Like the company's appealing starting salaries, Amazon's raises are quite generous. Amazon increased its minimum pay in the United States to $15 per hour in 2018. However, many employees earn more. Amazon has become one of the most popular workplaces in America, with yearly raises and interesting bonuses.
There aren't many other corporations in the United States that pay the same minimum wage and provide as many job possibilities as Amazon.
With a workforce of one million and growing, Amazon is committed to competitive pay and attractive employee benefits to hire and retain employees who can keep the billion-dollar company running smoothly.
Will current Amazon employees get a raise
Yes, Amazon does give raises in 2022. Every year, Amazon offers raises to its staff. It is something that has helped Amazon to become one of the top companies in the world.
What is the salary range for Level 7 at Amazon
Level 7 individuals have "head" in their work titles (for example, Head Product Manager, Principal Software Development Manager, and so forth). The total Compensation for Year 1 is $330,000 and for Year 2 is $345,000.
The base salary is $250000. Employees will also receive a 25% bonus based on annual performance.
What is the level 4 salary grid at Amazon
Every position at Amazon is divided into different pay levels. These levels have a salary range associated with them. Full-time workers entering the workforce start at Level 4 with a salary range of $50,000-$70,000 per year.
Amazon equates years of experience with each level. Level 4 employees should have 1-3 years of experience.
what does amazon new salary bands
Amazon has categorized all job requests into twelve levels. Each level has its own set of pay scales and job descriptions. Let's have a brief introduction to these levels:
Level-12, Jeff Bezos himself is at the twelfth level.
Level-11, recently announced CEOs, Jeff Wilke and Andy Jassy, and all the SVPs (about 20 senior leaders)
Level-10 and Level-9 represent all the VPs (a few hundred)
Level-8 is for Directors (several hundred)
Level-7 is dedicated to Senior Managers (a few thousand)
Level-6, 5 & 4 represent Managers and individual contributors (a few tens of thousands)
Levels 1, 2, and 3 are dedicated to supporting staff, FC workers, and similar roles.
Fresh graduates join at Level-4. MBAs can join at Level-6 or 5.
When Amazon raises wages, nearby firms follow suit
Amazon is now the second-largest employer globally, with almost 1.6 million employees. Due to market competition, when Amazon raises wages, nearby firms follow suit.
Conclusion:
Amazon continues to grow and add new jobs. It is now the country's second-largest employer. Amazon can attract and retain employees by offering competitive pay and benefits. Check out Amazon if you're looking for a career that pays well and provides plenty of opportunities for promotion. Does Amazon Take Afterpay.