Finding the right way to go about the wants and needs of your business can be difficult, especially in this day and age! The world is constantly changing, and the Gen Z population comes with new and efficient ways of doing things that are targeted to them and their interests.
Gen Z marketing agency statuses have grown a lot in the last couple of years since trying to get your point across to such a large audience isn't easy either, which is why you're able to get your point across here with a Gen Z marketing agency, like Nerds Collective, who are there to help.
Continue reading this article to find out some frequently asked questions, tips, and ideas for you to know and to get your knowledge up to speed about the incredible influence of Gen Z.
What Is Unique About Gen Z Marketing Agencies?
First things first. When marketing to Gen Z, you've got to remember that they shouldn't be grouped together with Millennials. Millennials are those born roughly in 1980-1994, they were digital, but that was over time and not at birth. Gen Z on the other hand grew up with technology from the beginning.
Understanding what is important when marketing to the Gen Z population is critical. Reputation and accountability for your business is important.
The youths have no problem doing their own research into your company, websites, and social media accounts, going through comment sections and reviews, to ensure that they know what they're getting into.
That means you need to do research of your own, and make sure that your business and media know what it's talking about. Prioritizing information over advertising is ideal.
Gen Z prefers things that are beneficial to their interests and deem educational to their learning experience. Influencer marketing is key, not something that has only the means to sell.  
How Does A Gen Z Marketing Agency Help Build Brand Loyalty?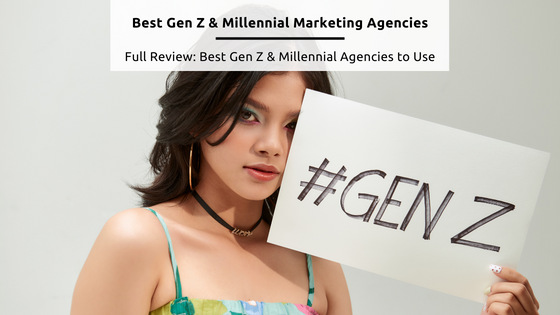 So how do you build brand loyalty dedicated to Gen Z? Younger shoppers are more likely to buy products that are a reflection of their own values, beliefs, and personality. Making sure your services offer things that are designed for Gen Z is important.
Common things they look for are free products, discounts, and promo-codes, free delivery, and being able to access their product or purchase as soon as possible, or instantly accessible.
Free returns and fast delivery matters more to them than any other generation, they're willing to go to the extra lengths needed to both save money and time.
Multiple choices of payment for your service provides a higher chance of millennials actually purchasing your offers.
It's been found that online payment forms are the most common preferred ways of payment in the Gen Z population, using cards is deemed unsafe to them because of inputting their credentials poses a risk of being victims of fraud or scams.
Cost of Branding A Company: What Should You Know?
How Does A Gen Z Marketing Agency Help Your Brand?
The top 5 interests for generation Z as of 2022 include art, music, gaming, sports/dance, and reading. All obviously being right-brained activities, anything deemed as creative you can assume that Gen Z would be interested in.
When looking to attract Gen Z's attention for your service and products, you must also consider challenges that are happening in the world at the moment that is known by them and they're adamant about being a part of.
This includes but is not limited to, diversity in genders, race and etc, environmentalism, sustainability, climate change, and world hunger.
By working with a marketing agency catering to the Gen Z market, you are able to benefit from their resources and expert knowledge about the specific marketing that you want to target, giving you more opportunities to sell to them.
Final Thoughts
Targeting your audience to the population of Gen Z will be tricky unless you know what you're doing, but it is immensely important going forward because they are the future of the world.
You can guarantee your business' success with a Gen Z marketing agency like Nerds Collective, and by catering to their wants and needs, while your company also benefits.