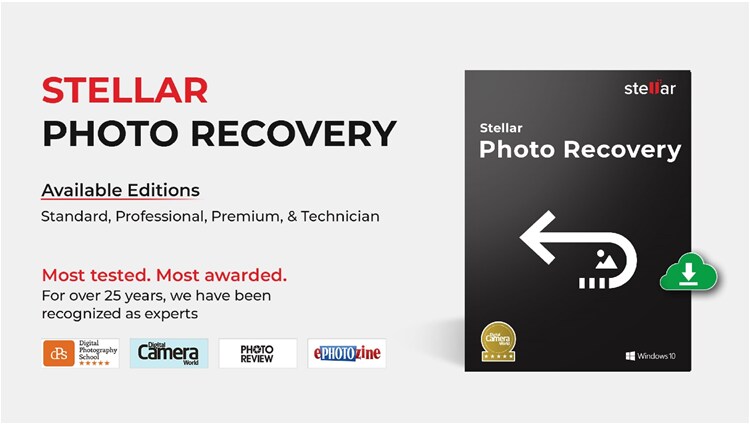 Are you worried about your deleted photos or videos that are very important? Then Stellar Photo Recovery is an excellent option for you.
Stellar Photo Recovery is the world-famous first photo recovery tool that recovers your deleted or lost Photos, Audio, Videos, and all types of storage you accidentally lost with its high quality. Additionally, it will save your mind from worrying about missing data. It is a free and straightforward tool that offers the choice of recovering all or only specific files according to their type. Before saving, you may view the restored file.
Additionally, this photo recovery software works well with substantial storage devices up to 5TB and can recover lost or deleted pictures from HDDs, SSDs, SD cards, USB drives, and more. The software is compatible with images and videos taken with DSLRs, camcorders, drones, security cameras, dashcams, Android phones, iPhones, and iPad, among other devices.
Some mistakes occur, as you know by the users; the software Stellar Photo Recovery is made to help you in these situations. Stellar Photo Recovery can aid in the recovery of both deleted and lost data that is lost during corruption, formatting, deletion, virus, and inaccessible drives.
How To Recover Lost Partition In Windows
Features of Stellar Photo Recovery
Stellar Photo Recovery is the best option for accidentally deleting files. Here you see some features of this program:
1. Recover Deleted Files
Stellar Photo Recovery is reliable software that can restore photos, music, and video files that have been accidentally deleted or formatted from various storage media, including memory cards, digital cameras, and other types of storage.
2. Recover Lost or Partition Drive
Stellar Photo Recovery recovers your lost partition that you accidentally lost during corruption or formatting. In addition, the software will provide an estimated timeframe before you begin recovering your files. Finally, it will help you set priorities to save time restoring files you don't require.
3. Recover Bitlocker Files
You can restore deleted files and lost data at the standard level. Almost all file types may be used to recover photographs, including JPEG and RAW files. Even BitLocker-encrypted device data can be retrieved. It's a helpful feature that allows you to maintain the security of your files. Additionally, if you wish to restore lost images, you don't have to be concerned about locking yourself out.
4. Provides Deep Scanning
This is the best feature ever. This stellar photo recovery software enables you to scan only a specific hard disc or volume area. The region's media files are available for preview and recovery. Additionally, it allows you to scan media specifically for specific file kinds. This option is helpful if you know the location or file type of a deleted or lost image, photograph, or file.
5. Raw Recovery
Raw recovery is an excellent feature of Stellar Photo Recovery. RAW recovery uses a deeper scan to find lost or deleted data and operates on file signature recognition. In addition, an enhanced scanning engine ensures that your files and folders are located fast, allowing the digital picture recovery software to restore all of the data accurately.
6. Supports File Formats
Stellar Photo Recovery supports all file formats, including JPEG, PNG, CR2 /CRW, NEF, NRW, RAF, ORF, ERF, K25 /KDC /DCR, PEF, SR2, ARW, SRF, and many more.
7. Interactive User-Friendly Interface
Stellar Photo Recovery has a user-friendly interface. Any user who comes to this software feels very comfortable with this software. Its interface has well-managed features and a structured desktop. There are also more preview types, more ways to view scan results, and customizable features like zooming in or out on photos, checking or unchecking files and folders for recovery using the spacebar, and more.
8. Secure Digital Card Recovery
If you lose any card data, this software recovers all types of card data. Undelete data from memory cards, Flash drives, SD cards (Mini, Micro, SDHC, and SDXC), Smart Media Cards, secure MMC, and CF cards that have been destroyed, corrupted, or are otherwise unavailable. Sony, Nikon, Canon, Samsung, Pentax, Minolta, Kodak, Sigma, Fuji, Olympus, Epson, Mamiya, and Panasonic have supported cameras.
9. Recover Crash Systems
Data from virtual machines or crashed systems that are unavailable on the virtual machine because of corruption can be recovered using Stellar Data Recovery. The software must also be overcome on the operating system used to build the virtual volume.
10. Supports Different OS
It is suitable for use with Windows 7, 8, Windows 10, Windows 8.1, and 11. Also, with macOS Monterey 12&M1 & T2 chip-enabled Macs.
11. Recovery of Photos from 4K Hard Drives
This is an excellent feature of the stellar photo recovery tool. On 4K hard drives, which store data in 4096-byte sectors, Stellar Photo Recovery can recover damaged or lost images, movies, and music files. In addition, this tool can swiftly scan discs with 4K sectors and the FAT32, ExFAT, HFS+, NTFS, or APFS file system.
12. Professional Thumbnail Recovery
For picture file types, professional software offers thumbnail recovery. Both the original picture and the corresponding thumbnail are restored.
13. Fast Recovery
Speedy file recovery is possible with Stellar Data Recovery. The user interface is really easy to understand. I enjoy how the software's UI allows me to preview the restored data. I can also make disc images with it.
14. Restore Files with Original Quality
This is a great advantage of a stellar recovery tool that restores your pictures, videos, or files with high quality and resolution. This will help you to find out authentic and original images from a lot of redundant photos.
15. Media Files Preview Before Recovery
While scanning the storage media, the software previews any lost or destroyed images, movies, and music in all file kinds, including JPEG, RAW, TIFF, PNG, MP4, MOV, FLV, MKV, MP3, OGG, and other file types. In addition, the videos that can be recovered are shown in the full-screen preview.
16. Recover Metadata
This is an excellent feature of the stellar photo recovery tool. Your data recovery requirements are being taken care of by Stellar Data Recovery. The program includes "Raw" and "Metadata" methods and a few more complex recovery techniques. Your data will be retrieved and returned to normal regardless of state.
17. Save Scanned Information
This helps you to save your recovery scanned information. In addition, it enables you to retain the scan findings and utilize them to continue the recovery later without having to check the drive once again.
18. Supports Image Creation
You may make an image of any storage media drive using Stellar Data Recovery Professional and save it as an IMG file. With the help of this feature, you may restore data from a corrupt or hard disc with faulty sectors. In addition, the IMG file can be utilized later for data recovery since its size will equal the source.
19. Inexpensive Tool
A stellar photo recovery tool is relatively inexpensive. You can restore up to 1GB of data for free. If you want to restore more than this range, you have to select the following tiers:
Standard – £43.99/year
Professional – £64.99/year
Premium – £72.99/year
Technician – £142/year
Toolkit – £215/year
Drawbacks of Stellar Photo Recovery
As there are advantages of using Stellar Photo Recovery tool, there are some drawbacks also which customers complaint about:
Pricing structures depend on subscriptions.
The preview function contains errors.
Deep scanning moves slowly.
Occasionally, data recovery has mixed outcomes.
Users of the free version are limited to recovering 1GB of data.
Problematic multi-monitor support,
no support for ZIP archives
How to install the Stellar Photo Recovery?
The activation key received after completing the application's purchase may be used to activate the Stellar Photo Recovery software.
Start the app Stellar Photo Recovery.
Select the "Activate" option on the main user interface. There will be a dialogue window for online activation.
Type the Activation Key in the Online Activation box and press the Activate button (Please ensure that you have a good Internet connection).
The software would immediately connect to the license server to confirm the entered key.
A notice reading "Stellar Photo Recovery Activated Successfully" is shown when the procedure is finished. Select OK.
What are the system requirements for downloading Stellar Photo Recovery?
Processor: Intel-Compatible (x86, x64)
Operating System: Windows 11, 10, 8 & 7, macOS Big Sur 11, Catalina 10.15, Mojave 10.14, 10.13, 10.12 & 10.11
RAM: 4 GB Minimum
Hard Drive Space: 250 MB
Other: The software must be used with full administrative permissions. The software has to be activated over the Internet. The license for the application is routinely checked at regular intervals.
How to recover the data from stellar photo recovery?
First, choose the type of data you want to recover from the main screen and then press the Next button.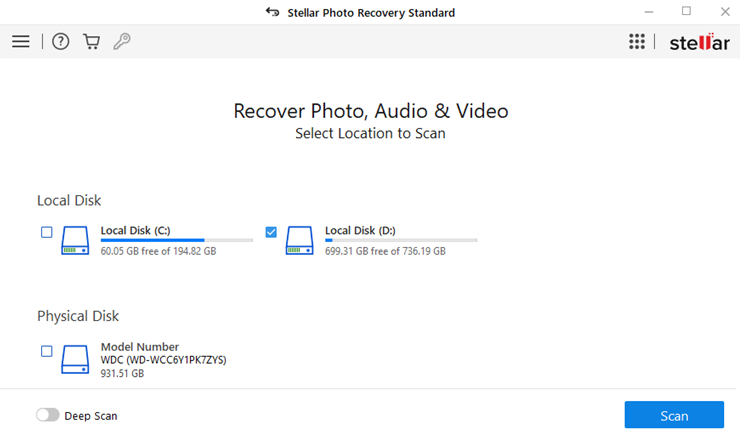 Next, choose the location of the data loss and activate the Deep Scan option to start a thorough search for your missing, damaged, deleted, or corrupted files. Click Scan to begin the procedure!
Be patient and wait for the scanning to be finished. To see the progress, check the Preview window. Click the Recover button after verifying all the necessary files!
Is Stellar Photo Recovery Free?
Stellar Photo Recovery is designed to meet both individual and business needs. Mac and Windows are both compatible with this recovery tool. In addition, users may recover up to 250MB of media files with Stellar Photo Recovery's FREE edition without paying any cost, even a penny.
Stellar Photo Recovery: Is it secure?
Yes, it is very safe and secure. It only interacts with your file system when it scans your storage devices and writes recovered data to the disc; thus, using it is entirely certain. In addition, you can always use it securely because it cannot delete files or modify your file system.
Stellar Photo Recovery: Does it function offline?
The newest version of Stellar Photo Recovery enables program activation offline! The Stellar Photo Recovery Standard, Professional, and Premium software demo/free trial versions are only for analysis purposes. It requires activation to operate at total capacity and save recoverable data.
How can data be retrieved from a disc with corrupted sectors?
You may make a sector-by-sector copy of the disc and save it as an image in a file. Using this procedure, you may swiftly recover the data by creating a picture of readable sectors.
Does Stellar offer In-Lab Recovery?
Yes, it offers lab recovery. You may send your storage device to Stellar's shop if you are not tech smart and are worried whether your images, movies, or music information will be restored. The data client specification will gladly reply to you with the Scan's findings.
How many functions of Stellar Photo Recovery?
There is three primary function or features of Stellar Photo recovery that are following:
Stellar Photo Recovery: Standard Mode
You can restore deleted files and lost data at the standard level. In addition, almost all file types may be used to recover photographs, including JPEG and RAW data.
Even BitLocker-encrypted device data may be recovered. It's a helpful feature that allows you to maintain the security of your files.
Stellar Photo Recovery: Professional Mode
The Stellar data recovery software's professional level was created with photographers in mind. Therefore, you receive all the features offered at the baseline level. However, a specialist may also fix damaged images and recover missing ones.
The photo will be fixed, and the corresponding thumbnails will be restored when you use Stellar to repair damaged files. Reorganizing your work is more straightforward as a result.
Stellar Photo Recovery: Premium Mode
For professionals in multimedia and videography, there is a premium level.
The ability to fix damaged video files makes this membership level special. There is coverage of all the common forms of video files. Additionally, you may simultaneously restore multiple video files. The premium level is more costly than the professional and standard levels.
How to contact the Stellar Photo Recovery team?
Contact Info:
USA: 1-877-778-6087.
UK: +44-203-026-5337.
APAC and Australia: +61-280149899.
+91-124-4326-777, for use worldwide.
Email: Send an email to support@stellarinfo.com. Stellar support is their Skype id.
Or you may reach out to them with a help section.
Final Thoughts
Stellar Photo Recovery is a perfect software tool for recovering lost or deleted photos, videos, or important files. It can support different formats and deep scanning. Just download the Stellar Photo Recovery app from any browser on your pc or laptop and enjoys its features and functions. Have a great day