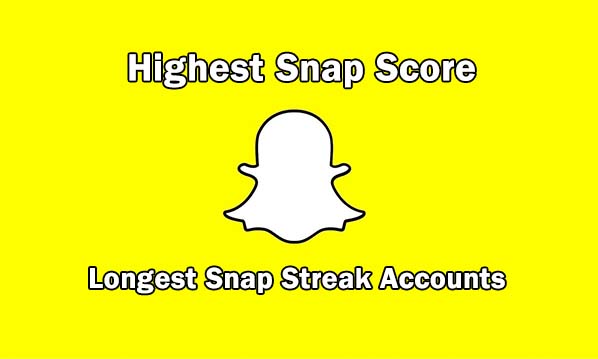 What is the highest snap score? Snapchat has millions of users who use it daily. Most of them have the highest snap scores. dion-19 has over 237 million snap score and its the highest one.
In this post, I've listed the Snapchat accounts with the highest Snapchat scores and highest Snapchat streaks, along with how you can increase both of them.
To accounts with the highest snap score of 2022:
dion-19 has over 237 million snap score
cris_thisguy with more than 100 million
michae86l has over 29.6 million snap score
ciqlo has over 26.6 million snap score
gpierson_20 has over 20 million snap score
daydrunks has over 20 million snap score
Noah Rittle – over 13.6 million
Justevan44 with more than 13.4 million
jade_rush1 has over 10.8 million snap score
Dailybrayden123 – over 7.2 million 
Sillyblackguy – over 6 million 
Jashanzzz – over 2 million
Have a look on fake Snapchat messages generator to create fake snaps chat and prank your friend on social media without installing any app. It will make easy and enhance your snap score more quickly.
What is a Snap Score?
According to Snapchat, the snap score is the number you get depends on how frequently you send a snap and how often you receive your activity on the platform. This is how you can monitor Snapchat activity. It also varies on some other factors. Basically it is the number that comes up next to your snap chat's username as shown in the pic.
You can also achieve a high snap score by actively using all the features of Snapchat. I've explained accounts with the highest Snap score, how can you get the highest Snap score and the longest snap streak.
How Does Snapchat's Score Work?
Well, many people don't get that what is Snapchat's score and how does it work? You can say that Snapchat's score is the points you get in exchange for doing such specific activities on Snapchat like sending streak and receiving streak.
What is the Average Snap Score?
According to some random Snapchat user on Quora, who have 1500+ followers on Snapchat from different counties. All used their Snapchat consistently.
According to him, the average score among them is approximately 50,000–75,000. Your Snapchat depends on how regularly you use your Snapchat account.
You may like: Is A High Snapchat Score a Red Flag?
Accounts with Highest Snap Scores
This list is not perfect because Snapchat users use it more to get the highest Snap score. But after researching the available data online, I'm going to published this list since it is covered from 2017 up to 2022.
dion-19 has over 237 million snap score
cris_thisguy with more than 100 million
michae86l has over 29.6 million snap score
ciqlo has over 26.6 million snap score
gpierson_20 has over 20 million snap score
daydrunks has over 20 million snap score
Noah Rittle – over 13.6 million
Justevan44 with more than 13.4 million
Jade_rush1 has over 10.8 million snap score
dailybrayden123 with over 7.2 million
sillyblackguy with more than 6 million
jashanzzz with more than 2 million
pateldeep3 with more than 1.4 million
In February of 2017, everyone in the world was writing about Snapchat's account with the highest snap score, named sillyblackguy over 6 million snap scores.
He was getting 17,000 to 30,000 snap points per day, which don't seem normal because this is too hard for any person. But in recent, a snap user, dion-19, revealed his snap score of over 237+ million.
Have a look on Dion snap score:
It shows that how much people spend their time on social media platform. It also shows that owning a snap score is not a big deal it's all about the addictiveness of Snapchat.
It is so simple to increase a snap score if you are using Snapchat effectively by sending streaks to others and receiving streaks also. 
What is Snap Streak
Streaks are sending Snaps on Snapchat to each other or a friend, and in exchange, he sends the image back in 24 hours. Whenever this process exceeded three days, a fire emoji appears with a number beside your friend's user name.
Consistently they send a Snap to a Snapchat friend with a white filter or any other temperature filter, and their streak gets longer. Streak gives users a competitive mind that made their friendship fresh every day. It is also considered as a symbol that how close you are with your friend.
Your Snapchat streak score can be seen with a number close to the username along with a fire emoji, as per the number of days you've been sending snaps.
Highest Snap Streak
Whenever you send a Snap streak to anyone, it shows how often you send and receive snaps every day; a fire emoji comes up at the right corner of a friend's name bar and numbers of the streak on it, which is recorded till today.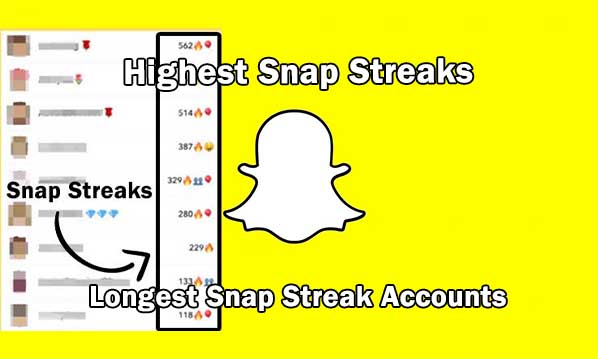 Below I've listed the highest snap streaks list along with their name and streak numbers. This list is not exact because it gets changes day by day, But this is the latest information according to the internet's data the longest Snapchat streak has an exchanged with these users.
Longest Snapchat Streaks
As I told above, about longest Snapchat streaks holder are:
Caitlin O'Mahony, 2,033 (December 3, 2020)
Ryan and Serg, 2,020 (August 31, 2020)
Alex and Raff, 2,000 (October 6, 2020)
Nina and Eva, 2,000 (December 16, 2020)
Joseph and Gabriel, 2,000 (January 22, 2021)
Pierson Gilreath, 1,999 (December 2, 2020)
Daniel and Robin, 1,985 (February 5, 2021)
Jeff and Teresa, 1,983 (December 11, 2020)
Jake and Micah, 1,983 (January 22, 2021)
Jake and Keegan, 1,979 (November 16, 2020)
Matt and Stephen, 1,978 (January 30, 2021)
Andy and Gaige, 1,976 (November 30, 2020)
Kat and Swain, 1,961 (November 2, 2020)
Stephanie and Jessica, 1,957 (June 5, 2020)
Martin and Koen, 1,956 (December 1, 2020)
Ivan and Kitty, 1,954 (February 4, 2021)
Alexa and Kira, 1,947 (November 12, 2020)
Dan P. and Joe M, 1,947 (February 4, 2021)
Ian and friend, 1,946 (December 26, 2020)
Teka and Rissa, 1,943 (October 12th, 2020)
Daniel and Justin, 1,925 (December 19, 2020)
Vismit and Ankita, 1,912 (January 15, 2021)
Abby and Emmy, 1,908 (August 6, 2020)
Casey and Bill, 1,907 (February 12, 2021)
Chad and Amanda, 1,905 (August 14, 2020)
Chas and Elizabeth, 1899 (February 14, 2021)
Micheál Roche, 1,890 (November 8, 2020)
Gabriel and Joseph, 1,876 (September 21, 2020)
Craig and Grant, 1,871 (August 20, 2020)
Angus and Paul, 1,866 (January 20, 2021)
What Exactly is a Snap Score? 
This is depending upon your activity. By sending personal, opening stories and posting a snap on your profile, these are Snapchat points and their increment. As mention its depend upon your activity. 
How to Increase Snap Score?
Snapchat score increases when you send and open picture and video snaps, just as when you post stories. Here I've explained ways to skyrocket your snap score organically.
1. Get Start by Checking your Score
Open Snapchat; at that point, tap the profile symbol in the upper left corner of the screen; you'll see your current score underneath your name on the page.
You can tap the score to see a split of the number of snaps you've sent versus the number of you've gotten.
2. Send Snaps Regularly
Your snap score increases by one for each Snap you send, so make snapping your companions a customary piece of your day.
If you did not use Snapchat for a couple of days, your first Snap would recompense you with 6 points after the break.
3. Snap Multiple Friends at Once
You get the point whenever you send the Snap to your friend. You can send snaps to multiple friends at once because sending a photo to 10 users will bring about 10-11 points.
After taking a snap and tapping the white "Send" arrow, you can tap companions' names to choose them. Every user you select will get your Snap when you tap the "Send" arrow once more.
The more friends to whom you send snaps, the more regularly you'll get pictures that you can open back.
4. Open Unread Snaps
You get the point for every Snap that you open. To open a snap, tap the red (photograph) or purple (video) box close to the sender's name.
5. Send Snap Instead of Direct Messages
Sending a direct message through Snapchat doesn't build your Snapchat score, nor does opening direct messages.
You can get points from sending visit messages by tapping a talk message from a sender and afterwards tapping the round "Catch" button over the console to react with a photograph.
6. Post Stories Consistently
Each Snap that you add to your story gives you another point. To add a snap to your story, tap the "Send" bolt-on a finished snap; at that point, tap the My Story hover in the upper-left corner of the beneficiaries screen.
7. Don't Go for Hacks & Shortcut
Many people claim that they will increase your snap score by hacking Snapchat servers or other methods. They promise that give them money, and you'll see a massive increase in your snap score. Please stay away from these people because they will get your account permanently banned from the Snapchat company.
8. Make Snapchat Often Used App
It isn't easy to see that the best way to improve your Snapchat score is to utilize the application. If you are devoted and try to post snaps and stories consistently, you'll rapidly observe your score increment.
How to get your Snapchat Score up Instantly
The user receives points from the app for sending snaps, and also user gets points for uploading a photo on their account. One thing is clear by app policy that is users don't get points for messaging. At last, you will receive points for opening a snap. By watching the story, user points will not increase.
Is there a limit for how long your Snapchat streak could be?
I have researched this, and as I know that there no limit on how high the user snap streak can go. The phenomena are simple: users can send snap every day to anybody else, and it means longer Snapchat streaks are going. We know that the streak limit is 2,189 days because several days show us how long this specific feature of the app has been released.
The second fact is that as the day going on, the record will be changed. So there no limit on this app. If you want to know more information, visit the official app website and jump on the policy page. Here you can find all answers to your questions. Here you can also read about franchise history, and it looks like a fun time.
When your Snapchat Score isn't Updating?
When somebody uploads the image or send an image app score
increases instantly, but when you look at other people's profile, their score remains the same. Don't worry about it. Sometimes it takes some hours or sometimes even a day, but the good thing is that you can instantly see your points.
How do I start a snap streak? 
has to send snaps to each other for at least three days. After it, a fire emoji will appear. These emoji have a number with them. It also has a user name, and it shows how many days you have been on a snap streak.
How you get points on Snapchat?
The Snapchat score is calculated by how many snaps you've sent and received from your friends. Stories don't provide you with a point. Many people think that stories also provide you with a point, but this is not true. It just shows your activity on the app.
How to find your Snapchat score?
Swipe down your camera screen Snapchat score will be displayed next to your username. You can click and see how many snaps you've sent and received in your account.
Is there a way to get my Snap score higher?
Yes, increasing the snap score or making it higher is not that big deal. You have to send streaks, videos, pictures to your friends in an account to make your snap score higher. Texting someone or posting stories doesn't add up any point in your account.
How To Check The Snapchat Score Of Another User?
Click on a chat with the friend whose score you want to see. After entering a chat, tap on their profile icon; a new window will open with the username and snap score next to it.
Conclusion
For a long time, Snapchat has recorded more than 238 million day-by-day clients, and a portion of these clients dominate in getting the most noteworthy snap scores. Besides the most noteworthy snap scores, Snap streaks are extremely popular too.
Also have a a look on other Snapchat relevant articles:
How accurate is the Snapchat location?
What Is Snapchat Easter Egg Hunt?
How to Get Snapchat Notifications On The Apple Watch?