The need for information among your clients is growing by the day. After all, as a logistics service provider, you handle and deliver products or services.
Thus, you should be able to answer customers' queries. However, it is not easy to answer all inquiries.
To begin, you will need personnel who are accessible to take calls 24 hours a day, seven days a week.
Then, you will also need a system that documents pertinent data for the correct response to be sent via email or phone.
All these issues can be avoided if you opt to build customer portal.
This will make it easier for your customers to reach out to you directly in case of any query.
All of your customers will have access to individual environments to view data in real-time.
Online client portals have become a necessity in the logistics and transportation industry.
Client portals provide transparency, increase user satisfaction, and streamlined ordering.
Logistics customer web portals also assist firms in tracking to improve performance.
What is a Customer Portal?
Essentially, a customer portal is a digital data hub and exchange mechanism between an organization and its consumers.
It is usually secure, confidential, and it requires authentication and Customer information for users to get access.
The logistics customer portal is a web platform that allows customers to easily access and manage orders and related information on their own.
Key Aspects of a Customer Care Portal
Secure sign-in option
One of any portal's fundamental, must-have aspects is simple and secure sign-in choices.
You may present the user with a customizable dashboard and their personalized effects after signing in.
As a basic feature, provide your users with a secure sign-in and then take it further by offering social log-on integrations.
Knowledge base
Consumers and prospects can quickly obtain information from a readily accessible knowledge base.
It offers the ability to troubleshoot service or product issues before contacting customer support.
Customer discussion forum
Client portals include forums, which allow firms to form communities with their consumers.
They enable consumers to communicate and assist one another by answering queries and sharing best practices.
This can save support agents a significant amount of time.
Customers can seek assistance from other community members who have encountered a similar problem and discovered a useful solution.
Feedback section
This client portal feature aims to allow customers to provide feedback to organizations.
It could also be recommendations for future product development or simply an enhancement to a product or service.
Every time a user comments, a new ticket is generated.
Consequently, the agents are immediately notified and have the ability to respond if necessary.
Multilingual support
Allowing clients to converse with you in their preferred language will enable them to articulate their issues more efficiently.
Meanwhile, your native-speaking personnel can chat with them and fluently handle their problems.
At the end of the interaction, your clients will feel heard, understood, and valued by your company.
Digital payment feature
Ensure to include a variety of digital payment choices in your portal. Provide your customers with different payment options.
You may take it a step further and offer customers invoice information, making the payment process simple.
Methods for Enhancing Logistics Performance With a Customer Portal
Focus on the demands of the consumer
Consumers have been leaving information trails that can be collected, analyzed, and centered on discovering their preferences and purchase habits.
All these through the diverse range of systems and software that touch every transaction.
This knowledge has the potential to meet customers' needs and improve sales.
Integrate the IoT into the client portal.
The Internet of Things (IoT) is a network of computer devices that connect and analyze data automatically.
It aids in data collection and exchange. Everything is an application of IoT, from basic home gadgets like calculators to sophisticate and complex industrial instruments.
Organizations may integrate IoT in their online client portal to increase data sharing, security, and inventory management.
Utilize Automated Data Analysis
You should invest in automated data analysis software. Machine learning may assist you in transforming raw data into usable data, allowing you to:
To minimize late delivery, create client portal with more effective routes.
Based on consumer demand, plan assets, and inventories.
Predict cargo problems and handle shipments more efficiently with transportation management systems (TMS).
Your clients will be able to detect obstacles and enhance their workflow if you provide them with this information.
Update your content
Update your knowledge base regularly to prevent delivering obsolete or incorrect information to your customers.
Out-of-date information not only irritates your consumers but also raises complaints, leading unsatisfactory a rush of calls and emails in your customer support department. It also degrades the client experience, harming your brand's reputation.
A custom logistics software development service provider can help you develop and update a client portal.
Creating A Customer Portal for Logistics
Step 1. Research
Do extensive research on what your customer may need. You will figure out your clients' preferences and what you aim to achieve.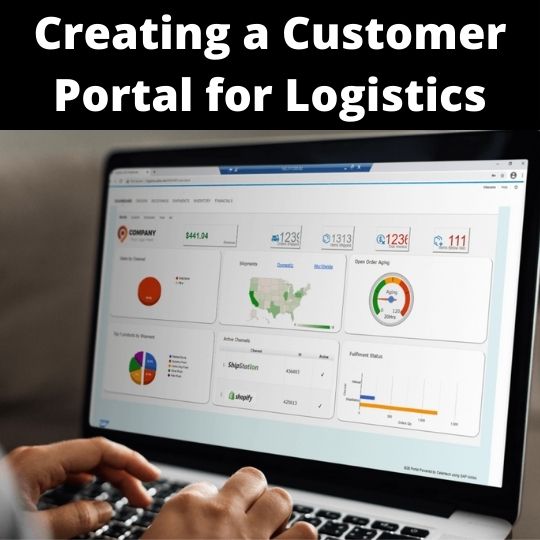 Step 2. Compile a list of requirements
Your team should compile a list of product needs and specifications. This contains the project's technological stack, budget, and schedule.
At this stage, companies often establish a customer portal development strategy with a full technical explanation.
Step 3. Drafting
A portal's design, navigation, and UI components are created during the draft stage.
The platform must be appealing to the customer base. As a result, you should take shade, iconography, and visual aspects seriously.
Step 4. Code
Your crew should design a Minimum Viable Product (MVP) for your website at the coding stage of the development process.
It will provide you with a high-level overview of the most significant aspects of the client's portal and assist you in calculating the total development time and cost.
Step 5. Evaluation
Evaluation takes place before and during the development phase.
The purpose is to ensure that all operations and technological aspects are working properly.
Step 6. Launching
The finished customer web portal can now be released with a properly formulated user manual. However, this is only the beginning.
Step 7. Maintenance
Online client portals have a high level of usability. Therefore, you must always be ready to fix bugs, upgrade performance, or add new features.
Conclusion
With the appropriate technologies and new applications, a customer support portal might become a strong commercial tool that gives firms a competitive advantage.
Your consumer service expertise, in many respects, is built on mutual trust and transparency; a portal expresses that.
It is down to your company to make a customer portal experience effective, even if the software makes it easier.