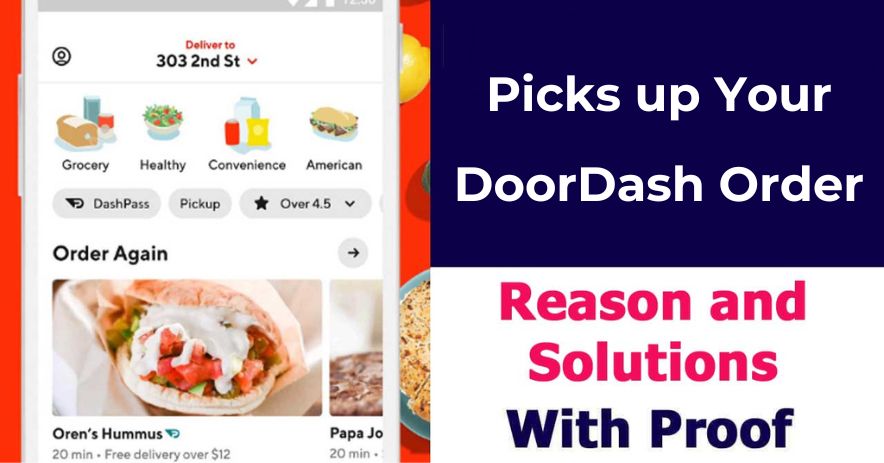 Ordering food from all of your favorite restaurants with DoorDash is fairly simple. But, if you use DoorDash to place your orders, you may experience some issues. For example, what happens if nobody picks up your DoorDash order? Can you do anything and why does this happen? Read on to find out!
What Can I Do When No One Picks up My DoorDash Order in 2022?
As of 2022, you can either pick up your order yourself or cancel it if a DoorDasher doesn't pick it up. If you decide to pick up the order yourself, inform DoorDash. You will get back the the delivery charges and tips. You will receive a full refund if you decide to cancel the order completely.
Why Didn't Anyone Pick up My DoorDash Order?
Several factors could have prevented a DoorDash delivery driver from picking up your order. The following are some of the most often cited reasons DoorDash orders aren't picked up:
The order didn't come with a large enough tip.
The restaurant is crowded.
The DoorDashers are quite busy.
Insufficient DoorDashers are available to pick up the order.
The money from the order didn't make it worthwhile for the DoorDasher.
DoorDash delivery drivers are independent contractors. So, it is impossible to predict whether there will be enough people available to accept orders. But the fact is that DoorDash is the most widely used food delivery service. So, there probably won't be insufficient drivers on the road.
If no one picks up your DoorDash order at first, you can take steps to avoid it in the future.
How to Delete Payment Method on Doordash
Why Did DoorDash Cancel My Order?
If your order is not picked up after 30 minutes, DoorDash will immediately cancel it and issue a refund. However, the amount DoorDash will reimburse you will depend on your strategy for handling the circumstance.
DoorDash will reimburse your delivery cost and any additional tips if you decide to pick up the food yourself or place another order with a different DoorDasher. However, DoorDash will reimburse your entire purchase price if you completely cancel the order.
What Should You Do If Your DoorDash Wasn't Picked Up?
If your DoorDash order is not picked up, you have a few options. First, you have the option of picking up the order yourself from the restaurant. Second, you could decide to place another order for food in the hopes that another DoorDasher will pick it up.
DoorDashers claims that leaving a larger tip motivates delivery drivers to accept the order. But, if you don't tip your DoorDasher generously regularly, that could be the reason why the order wasn't picked up.
Can You Pick up DoorDash Orders Yourself?
Your DoorDash order is available for self-pickup. So, you have the option to pick up your food if a DoorDasher does not pick it up. You must notify DoorDash both before and after you pick up the meal after the first order was canceled.
DoorDash will also return to you the delivery cost and any tips linked with the order. Instead of choosing delivery, you can choose to pick up the order right away if you don't want to take the chance that it would be canceled.
In light of this, while placing your order through the DoorDash app, select "Pick-up." When your order is ready for pickup, the restaurant will let you know. Picking up your item allows you to avoid paying delivery and service fees.
What Happens If Doordash can't Find a Driver
How Does DoorDash Handle Orders That Weren't Picked Up?
DoorDash doesn't let you know that your order wasn't picked up until 30 minutes have passed. The business will then give you a refund for your purchase. After the first order was canceled, DoorDash gives you the choice of picking up the food yourself. DoorDash will only reimburse you for the delivery costs and tips if you choose to pick up the item yourself.
Merchants are recommended to contact DoorDash's support staff by calling (855) 973-1040 or by taking the following actions:
Head up to the DoorDash Merchant Portal.
Tap the "Help" tab.
Select "Account Support."
Choose "Payments"
Give your Order ID and an explanation of what happened.
Can You Track Your DoorDash Order?
Whether you place your DoorDash order using the desktop website or mobile app, you can always see the location of your delivery driver. Your order passes through three phases after you complete the checkout process:
In the process of being confirmed.
The food is ready at the restaurant.
DoorDasher is en route to you with your order.
You won't be able to track your orders if the restaurant delivers your order itself. You will then get a notification that says, "This store delivers its own orders," when this occurs.
There are two different ways to track your orders, so let's examine these in more detail:
Why Does My DoorDash Say "Pickup Only
1. Tracking Orders On the DoorDash Mobile App
Click on the "Orders" page.
Select your order, and then touch "View Status" to see the current status of your DoorDash order.
DoorDash offers a map feature that enables you to view the restaurant, your location, and the current location of your DoorDasher. You can also speak with your DoorDash delivery driver directly by clicking the live chat option that appears beneath your order's status bar.
Last but not least, DoorDash gives you an approximate arrival time for your order. It is updated automatically if anything affects the delivery time.
2. Tracking DoorDash Orders on Your Desktop
You can track an order even if you place it on your PC with DoorDash. To do this, click "Food Status," then follow the on-screen instructions to find out where your DoorDasher is right now and when your order will be delivered.
You can also use the "Help" tab if you face any issues while the delivery is being processed.
Why Is My DoorDash Order Taking Longer Than Expected?
Restaurants and DoorDashers work hard to deliver your order on time. But problems can occur sometimes. There are a few factors that could delay your DoorDash order. The most frequent causes of your DoorDash order taking longer than anticipated are:
Traffic has backed up your DoorDasher.
The restaurant is crowded.
DoorDashers are in short supply in your neighborhood.
Your DoorDasher is far away.
Does Walgreens Sell Flowers
DoorDash advises getting in touch with their customer support number if your order is delayed. If your delivery arrives later than expected, DoorDash will typically give you a business gift card or other discounts.
How does DoorDash work?
DoorDash offers delivery services. Customers may order food or other items from restaurants and have them delivered using this online platform.
How much should I leave as a tip on DoorDash?
You can decide how much you want to tip them because the tip amount varies depending on the DoorDash task. The tip will be the additional compensation for the hard work of DoorDashers.
How Long Before DoorDash Cancels Orders?
DoorDash will wait 30 minutes for a driver to accept a pickup for delivery.
How Can I Get Dashers to Pick Up My Orders?
The best approach to encourage Dashers to accept your order is to leave a generous tip. In this way, drivers will be encouraged to pick up your order.
Conclusion
Sometimes, nobody picks up your DoorDash order. There could be a number of causes for this. It's more likely that no one will pick up your order if the tip on the order is too small or there aren't enough DoorDashers around. You have two options to handle the situation: pick up the order yourself, or cancel it and receive a full refund.