LinkedIn has evolved from a platform primarily used for sharing resumes and professional networking to a comprehensive social network. It is now possible to like and share written and video content on LinkedIn.
Even if you aren't looking to expand your staff at the current moment, your business will still greatly benefit from a presence on the ever-evolving platform that is LinkedIn.
Why LinkedIn Lead Generation Process is the Top Choice
Why LinkedIn Video Content Has Emerged To The Forefront
If you are not yet a member of LinkedIn or rarely scroll through the platform, surf the web over to the site and check out how it has changed in recent years. Spend half an hour jumping from one LinkedIn page to the next and you'll find it has become the go-to social network for sharing content related to business news, professional announcements, and securing clients.
Consequently, many businesses have come to use the platform to communicate with their target audience. And now more than ever they are communicating with those audiences through video content. LinkedIn video service is that much more immersive and engaging than text-based articles.
Though there is still a role for written content that is read and shared between LinkedIn members, more users of the platform are gravitating toward video content as time progresses. Video posts to LinkedIn cater to the rapidly shrinking attention spans spawned by the onset of the tech revolution.
LinkedIn video posts are now used to showcase a business's merits to potential clients and employees. Video content posted to the platform is also used by LinkedIn job-seekers to demonstrate their relevant skills, education, and experience when hunting for new roles.
The little-known truth is most LinkedIn videos receive a 3x engagement when compared to regular text posts. Recognize this unstoppable trend, incorporate video content into your business's LinkedIn page and you'll generate that much more attention.
Where to Start With LinkedIn Videos
If you find the prospect of making a meaningful impact with video on LinkedIn daunting, don't panic. Commit to spreading the word about your business on the platform and you'll gradually build momentum. LinkedIn videos empower businesses such as yours to bolster their message, link up with new audiences and feature your company in action.
Begin with an original video that highlights your business and its merits. If your business has already published videos on YouTube or other platforms, consider repurposing them for use on LinkedIn. What matters most is that you regularly post video content to LinkedIn to keep your company's name and value offering in front of the platform's users. It is this ongoing exposure that develops the rapport necessary for conversions.
LinkedIn Video Length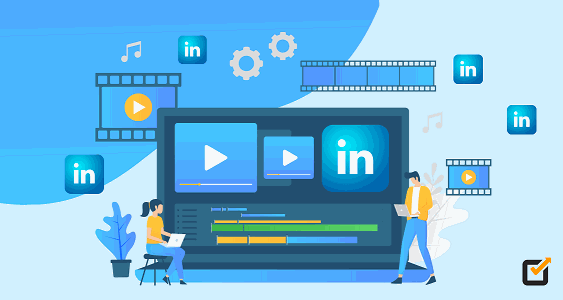 Your professional network on LinkedIn isn't interested in watching videos longer than 10 minutes unless they are particularly insightful. The fact is, the average attention span when looking at a screen is under one minute. 
Resist the temptation to inundate your audience with a 15-minute long video that is an avalanche of information and you'll make the most of the time your audience is willing to invest in watching your content. Ideally, your LinkedIn videos will be two minutes or less in length.
The Different Types of LinkedIn Video Content
Surf LinkedIn video content for yourself and you'll find there are different types of videos. Embedded videos on the platform are brief clips added to other sites including social media platforms such as Facebook and Twitter. 
Native LinkedIn video options were presented to the platform's users in 2017 as a means of engaging:
Target employees
Employers
Clients
Colleagues
Recruiters
Native videos bring the company narrative to life. Upload the video to share the story of your brand on LinkedIn and you'll take control of your business's narrative through compelling video content geared toward your audience.
Though LinkedIn is often stereotyped as a platform designed for professionals to network, it is also highly effective as an advertising platform. Video ads posted to the platform are designed to catalyze leads for conversion. Such video ads play along the side of the page to promote business value offerings such as products, services, deals, and more.
Sweat the Small Stuff of Your LinkedIn Videos
Both form and function matter in the context of LinkedIn videos. The message is important yet it is how that message is presented that often makes the difference between engagement and lack thereof. Optimize your LinkedIn video setup with professional lighting, high-quality microphones, and video editing software. Be sure to use a tripod to keep the shot stable and centered.
Polish the recorded video with high-tech post-production software tools, upload the content, and check in on LinkedIn Metrics after sharing to get a sense of its impact. Continue to analyze your video performance on the network, adjust accordingly and you'll make the most of this essential social platform's video marketing potential.