Do you want to Choose the Best Parental Control App to Track Your Kid's Activity? Here I have the best app for parents to track children's activities. Read the full article below and must click on useful links for more in-depth details.
What Are the Best Parental Control Apps in 2021?
The internet is a world on its own. It bridges the gap between curiosity and knowledge. The 21st-century kid's activity revolves around the day-in-day-out use of the internet. It is a wonderful place with its numerous resources that help children stay up to date, research school work, and communicate with their teachers and friends.
Although the internet comes with great benefits, it also comes with significant risks for kids that we'll discuss in detail.
Why People Want to Monitor Their children's phone
Parents finally understand that the world has completely changed compared to the one they grew up in. It has driven the decision to balance total privacy on the internet and parental supervision of their kids' online activities. But what makes parents do that?
They try to protect their children from numerous dangers that they can face on the web. These include but are not limited to:
● Cyberbullying. With easy access to the internet, especially social media, cyberbullying has risen at an alarmingly disturbing rate. Although it is seldom discussed, children have become vulnerable to bullying on the internet as predators and harassers have geared their online presence.
● Inappropriate Content. There are different types of content on the internet. Some of it was specifically tailored for adults, but now, children have free access to any content without restrictions.
● Addiction. Excessive use of the internet might become addictive over time. It could affect kids' level of productivity and even cause some health problems like poor eyesight or bad posture.
How to Monitor Your Kid's Phone?
Do you wonder why your kids spend so much time on their phones and tuck their gadgets away when you walk into a room? These questions make parents suspect that their children are up to something terrible. But monitoring their online activities may provide a sense of peace.
To do so effectively, you need to make use of the best services like spy apps. They can help you track your kid's location, see who they are communicating with, set limits to the screen time, and block inappropriate websites.
However, a number of these apps cannot deliver some of the services they claim to proffer. It can be tricky to find a parental control app that isn't out to rip people off, so we created this rating to serve as a guide to help you choose the best working app.
Best Parental Control Apps
Some of the best parental control apps that guarantee your kids' safety include:
mSpy
Making first on the list, mSpy reviews is the review of the best parental control app for Android. It is also compatible with iOS devices and is undoubtedly the best bet on your search for parental control apps. 
mSpy has a unique number of features which range from tracking calls, messages, and synced mails.
It also has a GPS tracker, controls internet activity, views search requests and blocks inappropriate websites, and has access to any picture or video downloaded on the child's device.
Installing this app is easy. It doesn't require any technical know-how.


Norton Family Parental Control
Aside from the mSpy app, the next parental control app that comes to mind is Norton Family parental control app. This app protects your kid from online threats and provides them with a seamless internet experience without being vulnerable.
It also allows parents to set a screen time limit and set up a schedule to ensure their kids don't get into other activities. But unlike mSpy, this app is limiting. It isn't compatible with every device, and it cannot access text and instant messages. It is also detectable by the target user.
Qustodio
If you search for a free app to monitor your kids' phones, then Qustodio is a good choice. One of the distinct features of this app is the SOS feature that alerts a trusted contact in an emergency.
It sets a time limit on applications used on your kid's device, blocks inappropriate searches. It also sends you a monthly review of your kid's activities.
Although Qustodio is a great app, it limits some of its features on iOS, runs expensive premium features, and isn't well-hidden.
Our pact
Our pact parental control app is one of the best android parental control apps. It is a user-friendly app with an excellent interface.
It can work undetectably, track calls perfectly, schedule a specific screen time, manually block inappropriate applications and websites, and has a GPS tracker. The only downsides are that it is detectable and allows your target to uninstall the application. It also doesn't operate on iOS and has unresponsive customer care representatives.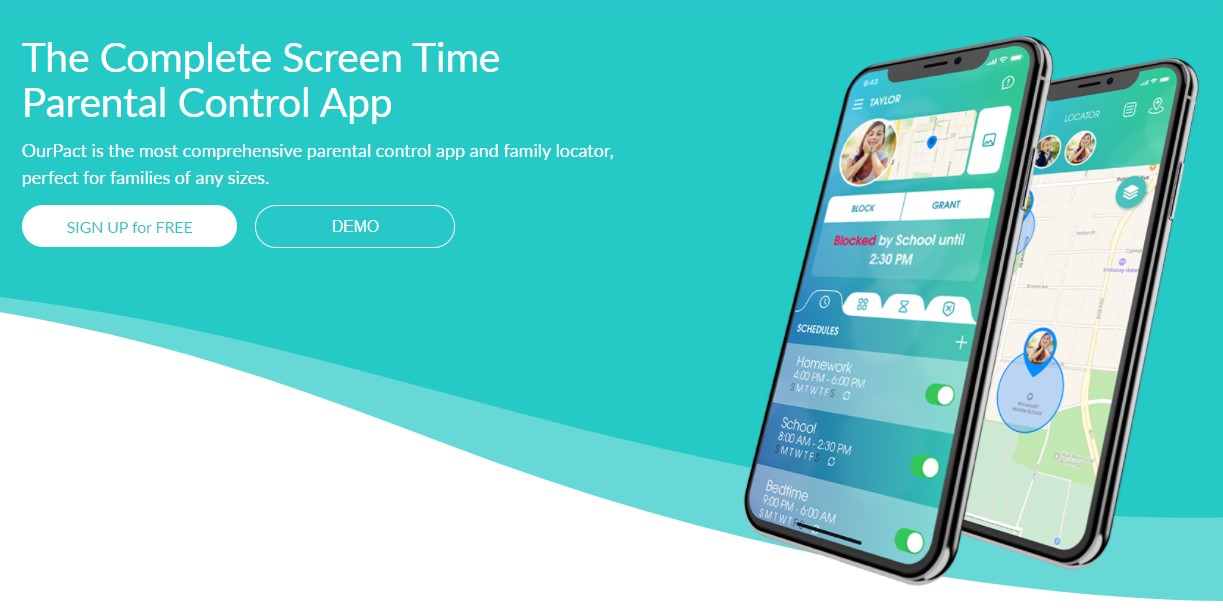 ESET Parental
ESET Parental Control is an Android parental control app that doesn't operate on any other platform except Android.
It is a child-friendly app that helps safeguard your child's interests. Although the texting and calling features are unavailable, and license information may get lost during the updates.
ESET can block and limit applications, ensure web categories are filtered, allow personalized settings, and have a child locator.

Conclusion
Children have a depth of curiosity in them. The internet presents an illusion of answers which can quickly get kids addicted to their smartphones and devices.
If parents want to protect their kiddos from this adverse effect, they must invest in some parental control software like the mSpy app to always be sure that their beloved ones are safe.
How to create an educational app for free? It is the best topic for parents, and teachers must read this.