We know how crucial websites and online applications have just become for startups. When a consumer interacts with a new firm, it is one of the first things they come across. We neglect to mention the difficulty and length of time that can be involved in completing a web project for the market, though.
A user-friendly, dependable, and purpose-appropriate website is a need for every startup. Through a wide range of interactions, it aids businesses in luring clients and visitors by educating them about the company, its offerings, and its advantages.
We support businesses like yours that wish to launch a site or web app to boost sales. Additionally, we'll explain how you can succeed in the procedure if you take our advice. Let's first comprehend the many phases of web development for startups.
Various Phases Of Web Development for startups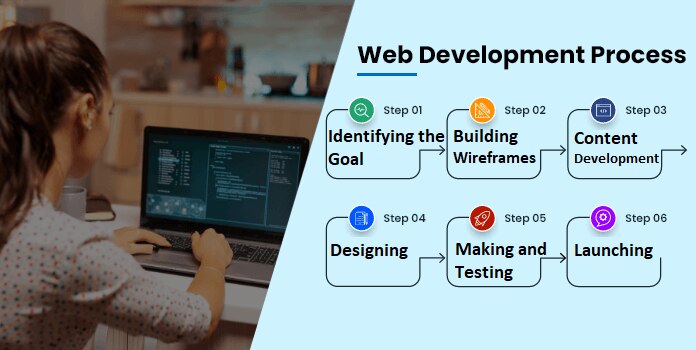 Web Development for startups is a process that includes four different phases, namely: research and planning, design, development, and deployment. One of the essential things in these stages is creating an excellent product roadmap to guide your team and ensure they are on the right track.
Research and planning include defining the product vision as well as understanding who your target customers are. The design stage will help you determine your website's look. This process also includes branding your website with colors, logos, fonts, etc. The development will build the actual website, while deployment will make it live on the internet.
Mobile Games being Shaped by Blockchain-Based game development?
1. Identifying the Goal
Every website and app has a goal, whether it is for customer service, marketing, sales, information, or a combination of these. The goals, scope, and target audience of the website are decided at this phase. It helps the developer plan the following steps in the building of websites.
2. Building Wireframes
The developer now constructs a simple wireframe that depicts the program's appearance. It is a straightforward look with few visual elements and contents. The content and layout are developed based on the wireframe.
3. Content Development 
This stage requires compelling content if your firm wants to establish a brand and draw in customers. There are many other types of content that you may use, such as blogs, landing pages, case studies, and more. By teaching consumers about your product, you could persuade them to buy it or subscribe to it.
App Development Cycle
4. Designing 
Adding colors, symbols, buttons, photographs, and videos entails providing the site with a more appealing visual appearance. A designer can build a unique style guide or utilize a pre-made theme to construct the design.
5. Making and Testing
The app's design and content are finished before its development begins. The developer will create the features and functionalities in line with the specifications using the provided information and the wireframe. Once the development project is complete, a tester is engaged to check for defects and errors. SEO is operating well, according to testing. An error-free, smooth experience for the user is the aim.
6. Launching 
The website or web application is now ready to launch. A specialized crew will be tasked with keeping an eye on the operation and handling any problems. You can upload more materials and features as the company expands.
Pearl Lemon Web is a web design and development company that provides technical, cost-effective, and, most importantly, long-term solutions for small businesses and startups.