What exactly is a Certified Scrum Product Owner? This certification is specifically for Product Owners and covers the entire scope of Agile Product Management.
The course includes several practical exercises as well as theory. If you're a Product Owner looking to gain a certification, it's worth considering.
But you should note that not everyone who wants to become a certified Scrum Master can take the course.
To learn more about this certification, read on!
The Scrum Alliance and CPD accredited the course. It teaches Agile principles and techniques and provides an introduction to Scrum and the tools of the trade.
It also covers Product Ownership, so it's perfect for people interested in gaining a deeper understanding of Scrum and its tools.
However, if you already have extensive experience with Scrum, you may want to take the course anyway.
You can also take it after acquiring the Certified Scrum Product Owner certification if you have the necessary experience and are interested in improving your Scrum knowledge.
A Certified Scrum Product Owner focuses on increasing the value of a product.
They are responsible for identifying and ordering a product backlog.
They work closely with a Scrum Team to ensure that the product they are developing will meet user needs and be a success.
They also collaborate with other team members and Project Stakeholders to ensure a smooth development process.
And since the course is interactive, you will learn best by doing.
Roles of a Product Owner?
If you're unfamiliar with Scrum, you might find the notion of being a Product Owner intimidating.
You've probably read articles and books about it but don't have a clear grasp of it.
Fortunately, there's no reason to be scared – you're not alone!
Here are some of the key roles and responsibilities of a Certified Scrum Product Owner.
A Certified Scrum Product Owner plays a vital role in defining the vision of a new product.
They communicate it to the development team, establish the product's requirements in a backlog, and prioritize those items based on risk and business value.
The product owner also helps to shield the development team by communicating their vision with stakeholders and defining goals and features.
As a Scrum Product Owner, you will be the primary communication link between stakeholders and development teams.
You will be the main person who ensures buy-in from stakeholders for significant decisions and provides clear instructions for the development team.
As a Product Owner, you'll be able to anticipate the needs of your clients and the problems they might encounter.
As a Scrum Product Owner, you'll also understand how to manage the development process, anticipate problems, and find solutions.
The Product Owner is responsible for ensuring that the product provides maximum value to the organization.
A Product Owner collaborates with the development team to ensure that the product requirements are correctly defined and delivered on time.
As a Product Owner, you have to balance these responsibilities with your other roles and ensure that there's no overlap.
You must be a good communicator and effectively communicate with various gatherings.
A Product Owner is a key to the team's success, and wearing many hats makes you feel big!
Is Product Owner Certification Worth it?
If you've ever wondered: "Is Certified Scrum Product Owner certification worth it?" you're not alone.
In fact, many organizations are starting to see a positive return on investment after taking the course.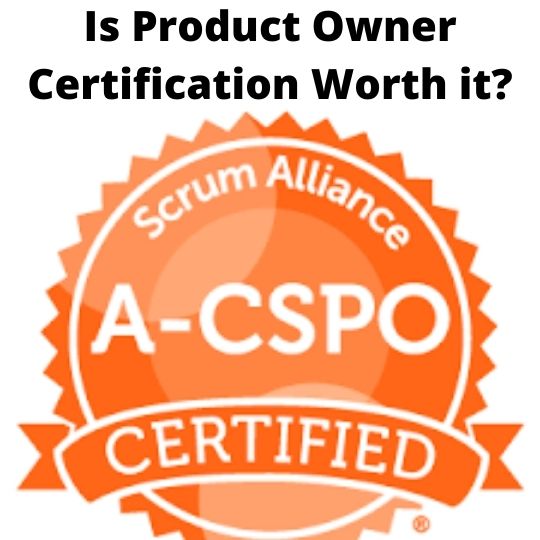 The CSPO certification course can help you become a quality Product Owner, which is an essential skill for any Agile project.
Besides teaching you how to prioritize your work and evaluate it for alignment, the CSPO certification course can help you get in touch with the world of product development.
The CSPO training course begins with a review of the Agile Manifesto, its mindset, and the Scrum Framework.
The course design is highly interactive, allowing students to learn through individual, pair, and team activities.
Aspiring Product Owners will gain valuable skills from these exercises and gain confidence and competence in their role.
This course is ideal for making the most of Scrum projects and applying Agile principles and practices.
CSPO certification teaches how to work effectively with teams.
You can expect your team to have a more productive work schedule if you're CSPO-certified.
In addition, the PSPO test has 80 multiple-choice questions, which makes it difficult to pass without a solid understanding of Agile principles.
Because CSPO certification is available only in English, there's little need to take special classes to earn it.
The CSPO certification teaches you how to interact with developers and create better products.
Working with developers can be challenging if you don't know how to communicate with them.
A CSPO course teaches you how to build relationships with developers and manage issues as they arise.
Learning how to work with developers is essential for maintaining your product.
If you're looking to join the Scrum Alliance, this certification is an excellent choice.
As a Certified Scrum Product Owner, you'll be responsible for defining the Product Backlog, which is the list of tasks for the Development Team.
Creating a Product Backlog is a crucial part of Scrum, but Product Owners rarely interact with the Scrum Master daily.
Clear Product Backlogs are critical for a successful development process and Sprint Planning.
The CSPO course provides real-world examples of how to create a Product Backlog.
The CSPO certification is worth the investment if you plan to become a product owner.
But it's not the only certification you can get if you're new to the world of product management.
If you're new to Scrum, other certifications will help you prepare for the job.
If you're not ready for the CSPO level, there are several different options to become a product owner.
Endnote
A Certified Scrum Product Owner will be an invaluable asset to any company, as it allows you to make crucial decisions that affect the whole team's success.
This person is responsible for the product's success and will guide the development effort.
In addition, the Product Owner must be a team player. This position requires close collaboration with the team.
The Product Owner will be the "champion" of Scrum methodology and will communicate with external stakeholders in the project.
Also, read about How Long does Grout Take to Dry, How Many Watts Does a TV Use? How to Pass a Mouth Swab Drug Test For Amazon? & How to Exactly Tell if Eggs are Good or Bad?