Nowadays, online shopping is trendy, and consumers may purchase almost anything they desire.
When the COVID-19 epidemic broke out, online consumers increased in number.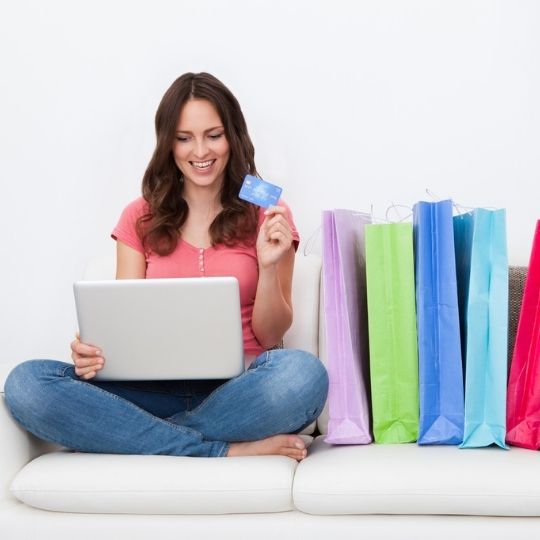 According to a survey of 3,700 buyers in nine emerging and developed economies, the pandemic has permanently altered their online purchasing patterns.
Online shopping has grown exponentially since the development of big internet-based e-commerce firms, with a significant increase in people choosing to buy online rather than in a physical store.
There are a lot of online shops that have emerged, like sites like Craigslist or any famous online websites or applications.
You may be wondering why online shopping is a thing at the moment.
Wonder no more because this list will give you the reasons why you shift to online shopping!
1. It Is Convenient
Of course, number one on the list of why you should switch to online shopping is because online shopping is very convenient.
The most helpful feature of the net is its ability to save time, which makes online shopping ideal for those whose busy schedules stop them from accessing the road on a consistent schedule. But instead of wasting hours searching through numerous stores, you may purchase items online with only a few clicks.
Shoppers prefer shopping online simply because it is more convenient. You may buy an item, verify the payment, and track its shipment status from the comfort of your own home or even in your hand in just a few minutes.
So if this doesn't amaze you, kindly read more.
2. Expect Discounts
This one reason is why online shopping is fun! If you are a huge fan of discounts and vouchers, online shopping is suitable for your shopping habit.
Many e-shop websites give a lot of deals and e-coupons on many items.
Because things are sent straight from the factory or seller, cheaper offers and better prices are accessible online.
It's also simpler to compare costs and locate a better deal.
Physical stores have discounts too, but sometimes it's only on particular items.
Online shopping sites have a considerable amount of offers that you may like!
So, don't you want a shopping life that will make you save money?
3. Enjoy Free Shipping
If you are going to buy an item online, shipping is very required.
But a good thing about online shopping is that online shops don't only give discount vouchers to buyers but also free shipping vouchers, especially when you are a new user on their site. Who doesn't want free shipping, right?
Sometimes, shipping fees are not that expensive, but it saves you money if you have a free shipping voucher.
Free delivery is an increasingly popular way for online purchasing because it eliminates the need for customers to pay a separate shipping fee.
Although buyers know that delivery costs are in the price of the goods they purchase, many shoppers choose free shipping over other discounts.
4. Safer and Contactless
One of the main reasons many people switch to online shopping is the start of the COVID-19 pandemic.
When the pandemic started, it was dangerous to shop physically because the virus might spread to you getting into crowded areas.
Nowadays, despite fewer COVID-19 instances and progress in vaccine releases, more people still buy online to avoid physical stores and reduce their risk of infection.
Even though the vaccines are there, the virus isn't out yet.
So it is safer for you to consider online shopping instead of face-to-face shopping, specifically if you have a health problem and don't want to engage with many people.
5. It Has Multiple Payment Options
The good thing about online shopping is that there are many payment methods you can pick.
It is a massive help for your cashless shopping! Because some physical stores don't offer other payment methods and only cash.
You buyers want experiences that are faster, easier, and more efficient than ever before, make when it relates to online shopping.
It's why it's essential to have a variety of payment choices.
So if you prefer a cash delivery method, a credit card method, or anything you desire, online shopping is perfect for you!
6. Allows You to See Reviews of Customer
When purchasing from an online store, you have access to consumer testimonials that you have not when purchasing from an actual shop.
Not only will you learn more about the products, but you will also learn well about buying from a specific online store.
Shoppers can learn more about your product by reading reviews.
They may browse reviews to see if the product will work for them in their particular situations.
7. It is Easy to Find New Products
Shoppers like you want new products. To learn more about your options, you should turn to online shops.
Shoppers may discover new brands and connect with them faster by researching their product alternatives.
Shoppers do not want to and do not have to refrain from details even when their budgets are low.
Online buying is helpful in many ways, whether to save money, authenticate transactions with social proof, or have things delivered.
Final Thoughts
There are many reasons why online shopping is an excellent way to shop.
Everyone has the right to the most satisfactory purchasing experience as a customer.
Shopping online is a terrific strategy, mainly because it is a pleasant way to purchase and saves time and work.
So, if you are thinking of a better way of shopping, hopefully, this list will help you. Happy shopping!
Also, read about How Long does Grout Take to Dry, How Many Watts Does a TV Use? How to Pass a Mouth Swab Drug Test For Amazon? & How to Exactly Tell if Eggs are Good or Bad?