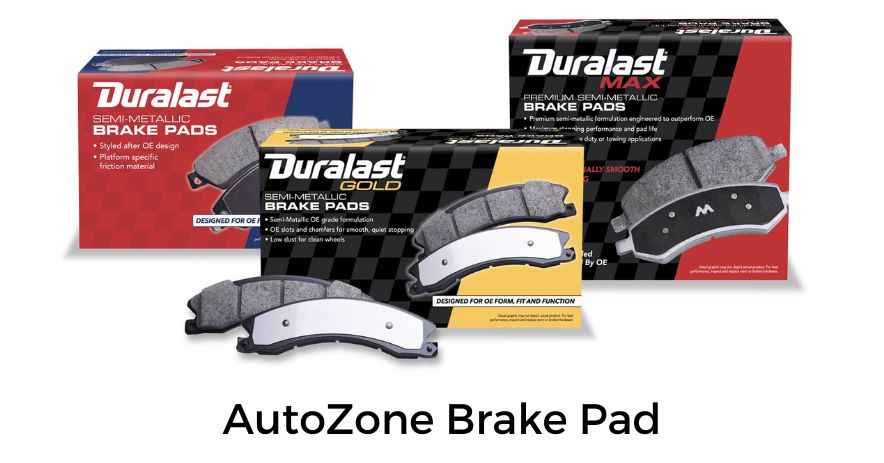 When you buy auto parts for your automobile, such as brake pads, you should know if they come with a guarantee.
A warranty protects you if the parts fail. If you like shopping at AutoZone, you may wonder if there's a warranty on brake pads. Here are the details for you!
AutoZone Brake Pad Warranty in 2022
As of 2022, AutoZone offers a limited lifetime guarantee on brake pads. If the brake pads fail during the guaranteed time, you can get a replacement or a complete refund. When you purchase the brake pads, the receipt will include the length of the warranty time, allowing you to claim them when they need to be replaced.
How Can You Claim Your Brake Pad Warranty at AutoZone?
If the brake pads stop working in between the given warranty time, you must return them to your local AutoZone. Your warranty duration is normally mentioned on the receipt. So, claiming process for your auto parts is simple. In this way, you may get new brake pads or a complete refund.
What Does AutoZone's Brake Pad Warranty Include?
The brake pad from AutoZone gives you a limited lifetime warranty. It means that it only covers the manufacturing issues. AutoZone is not accountable and will not provide a guarantee if your brake pads are destroyed due to:
Abuse
Improper installations
Misuse
Off-road use
Marine use
Other faulty parts
Commercial use
So, it's critical to read the fine print to fully understand what the AutoZone guarantee covers before purchasing your brake pads.
Moreover, the warranty will expire after you sell the car, as described in the AutoZone's warranty policy. It means that your brake pads are only insured for the time period when you own the car. Also, the warranty periods are different in every state. For example, some states do not allow restrictions on how long warranties should last. In this case, if you live in one of these states, you may be ineligible for a brake pad warranty.
How Much Does a Smart Car Weigh
What Kinds of Brake Pads Are Available With An AutoZone Warranty?
If you want to change your brake pads, you may choose between ceramic, carbon, or semi-metallic brake pads. It also depends on your vehicle and preferences. Other than that, AutoZone offers brake pads of different brands including Duralast Gold and Duralast Elite with limited lifetime warranties. So, if your brake pads are not working properly, you may purchase excellent replacements at any AutoZone location.
Why Do You Need to Replace Your Brake Pads?
Changing brake pads is critical since they are delicate components that allow your vehicle to stop. During the maintenance of your vehicle, you should change your brake pads. The reason is that driving with faulty parts will impact your total car movement. But remember, AutoZone will change your brakes as long as they are not damaged through overuse, abuse, or incorrect usage.
Here are the main reasons why you should change your brake pads:
Your Vehicle Won't Stop
When your brake pads are faulty, their effectiveness decreases. So your car does not stop quickly when you apply the brakes.
Mileage Limit
After covering 40,000 miles, you should change your brake pads. Some drivers change brake pads after 60,000 miles.
Dashboard Light will illuminate
When your brake pads fail, your dashboard light, like other car components, will illuminate. This light informs you that your vehicle has some issues. So, you must see a professional to determine whether the brake pads are the source of the problem.
Top 5 Car Insurance Apps & Websites
Pulsing Brake Pedals
When your automobile is in good working order, you won't have any problems with the braking components. But if the vehicle's brake pedal is pulsing or screeching, you should check your brake pads.
Is there a lifetime warranty on brake pads at AutoZone?
If a brake pad or rotor breaks within the warranty time, AutoZone will replace it or refund the purchase price. If the brake pads fail, AutoZone will give you replacement following the limited lifetime guarantee.
How to Make the Most of the AutoZone Brake & Rotor Warranty?
When you buy a warranty-covered component from AutoZone, the system immediately records the information in AutoZone's national warranty database. When your brake pads want a replacement, simple detach them and give them to your local AutoZone store. Similarly, if your rotor breaks within the warranty time, simply bring it to any AutoZone location and you will be given a replacement or a complete refund. If you obtain a replacement, your warranty will cover it for 90 days or the balance of the original warranty time.
Is it possible to return worn brake pads to AutoZone?
You can return an item to an AutoZone store in its original condition and packing, together with the receipt, within 90 days after the purchase date to obtain a refund. Within the warranty time, you can also return a faulty item. 
Who Will Compete With Tractor Supply the Most
What Doesn't AutoZone Warranties Cover?
There are limitations to what AutoZone's warranty covers. You are not compensated in the case of:
Misuse
Other faulty parts
Abuse
Improper installation
Commercial, or marine use
Off-road use
When you sell your car, your warranty also ends.
Can AutoZone retrieve receipts?
AutoZone provides a receipt search service as a courtesy. AutoZone can search receipts from the previous three months' transactions. In addition, if your transaction was accompanied by a warranty, AutoZone maintains your information in its national database.
AutoZone Brake Pads Overview
Conclusion
Fortunately, AutoZone provides a limited lifetime guarantee on brake pads, with the option of replacement or a full refund throughout the warranty time. When you purchase the brake pads, the warranty duration will be specified on the receipt, making it simple to claim if you want a replacement or a refund. However, remember that the guarantee is conditional. If the brake pads are damaged due to misuse, or maritime or commercial usage, AutoZone will not provide a refund or replacement.