Are you running a traveling blog that drives a traffic? If yes, then why not earn by that travel traffic! Here am going to tell the potential of your travel blog, and how you can make a handsome amount from your blog by promoting various travel affiliates programs.
What is an Travel Affiliates ?
Travel Affiliates is just like the Promotions of brands. Travel Affiliate means you display the links of Travel Companies on your website. Whenever a user buys a ticket by using your link, the Travel company pays you a specific amount of commission.
It is the same as the brand promotion on Amazon Affiliate. The commissions on these affiliates are more than the other Affiliates companies.
Some famous PPC Affiliate Programs: Google Adsence, Media.net, Viglinks, Affiliate marketing, Direct ad sales, Merchandise sales etc.
Best Travel Affiliate Programs to Skyrocket Your Blog Income:
1. Amazon Associates
Whenever you go for a niche-based affiliate program, You'll Amazon affiliate programs. As we know, Amazon has a bunch of products to sell. They are a brand new people trust on Amazon and make a purchase, therefore using amazon affiliate associates is the best choice for niche-based sites.
You can choose travel products that are needed during travel because you know your traffic is all about travel lovers. So, they will be interested in travel products as well.
Commission: The commission rates of the Amazon starting from 1% to 10% minus shipping time and fees.
Minimum Payout: The minimum payout of Amazon Associates is 100$. It means that you can withdraw a minimum of 100$ from Amazon. The minimum payout of Amazon Associates is 100$. It means that you can withdraw when you'll reach 100$ from Amazon.
Payout Method: You can withdraw money from PayPal, Payoneer, or you can withdraw cash from the NEFT registered account.
Benefits: It is straightforward to become the Amazon Affiliate. Through easy registration process and you can quickly become an Amazon Affiliate. There are more than 3 billion things that you can advertise in this affiliate program.
2. Airbnb Affiliate Program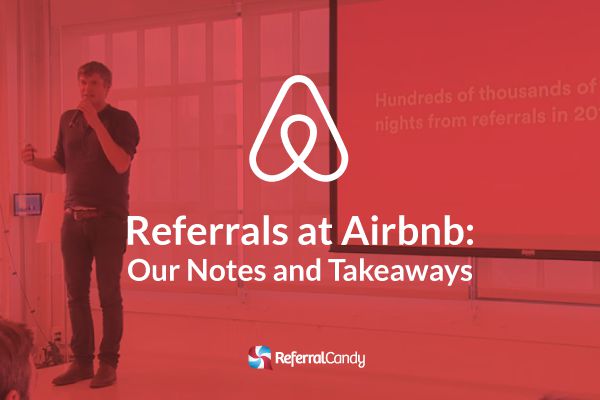 Airbnb is also an affiliate program for the promotion of things. You can become the Airbnb affiliate if you have good traffic and qualify the Airbnb criterion. Airbnb uses a referral program, and You can earn up to 75$ on every successful referral
Commission: An Airbnb Travel agent usually earns a 10% commission on each booking.
Minimum Payout: You can set the Minimum payout for the Airbnb affiliate.
Payment Methods: The payment methods of Airbnb are PayPal, Payoneer, Internation Wire, Western Union.
Benefits: If you have good traffic on your website, you can quickly become an Airbnb affiliate, and you can earn easily. There is no restriction of a minimum threshold. You can set any amount as a threshold, even 1$. The bookings on Airbnb are expensive, and you get a reasonable amount as commission.
3. Booking.com Affiliate Program
Booking.com is another affiliate program and a travel agency. There are numerous hotels registered on Booking.com. You can promote their hotels to travelers as they often needed a hotel to stay in. You can get high commission by making a successful booking.
Commission Rates: 25% of the Booking.com commission. It means that if you are an affiliate of the Booking.com and promote their offers on different sites. Anyone visitor buys any reservation by using your link, and Booking.com only pays you 25% of their commission, which they earn from this reservation from that specific hotel.
Minimum Payout: The minimum payout for the Booking.com is EUR 100. The money transfer will take around about two months.
Payout Methods: Direct bank transfer. Also, transfer money through PayPal, but Booking.com only transfers money in Euros, and you can withdraw these amounts in any currency.
Benefits: You can start your business by promoting any popular Hotel and easily earn money. Also, provide services of train or bus seat reservation. WordPress users can use official plugin of Booking.com for best affiliations delivery to the users.
Trade-in Euros which is also a well-profited currency. Easily earn money as an affiliate as they have a deep connection with millions of popular hotels.
4. FlipKey Affiliate Program
The FlipKey affiliate program is just like other Traveling affiliate programs. It provides services for Rental places. If you have vacations and want to book a resort or a small hotel in any beautiful area of the world, you can use Flipkey for this purpose. You can earn money through Flipkey by promoting there referral links on your site.
Commission Rates: Flipkey charges a 3% commission on each booking.
Minimum Payout: No restriction
Payment Method: Payoneer, Bank Transfer
Benefits: Provide you with the facility to earn commissions of famous places.
5. Agoda Affiliate Program
Agoda is also traveling website. You can get a reservation by using this website. As an affiliate marketer, you can also earn money from Agoda. By promoting the links of Agoda on your website, From whom you'll b get highly paid.
Minimum Commission Rates: Agoda pays you a 5% commission on the booking of 200$. It pays you 7$ for the expensive booking. It means if a person takes a booking of 70000$ by using your link Agoda will pay you a 7% commission.
Payout: You can set any amount as minimum Payout in Agoda.
Payment Methods: Agoda provides you with a credit card for payments. Through this card, you can only withdraw money.
Benefits: An extensive network of Hotels, you quickly earn money through it. Easy integration of promotional tools on Agoda. No restriction of minimum payout. Can promote their services on Multiple apps and websites.
6. Hotels.com Affiliates
Hostels.com is a website that provides services for Hotel bookings. You can also earn money from this site by becoming an affiliate of Hotels.com. You promote their services on your website and earn money as commission.
Commission Rates: 6.4% commission you earn if a user books a Hotel and 3.2% commission you make if a user registers in Welcome Rewards Program.
Minimum Payout: The minimum payout for the Hotles.com is 100$. You must earn 100$ first time.
Payments Methods: You can use a credit or debit card, China UnionPay, PayPal, or Hotels.com gift card for payments.
Benefits: Access to worldwide affiliate programs and global hotel industry. Provide you amazing deals and promotions which you can use on your website. Hotels.com support 40+ languages. Means provide promotions in more than 40 languages.
7. Aviasales Affiliates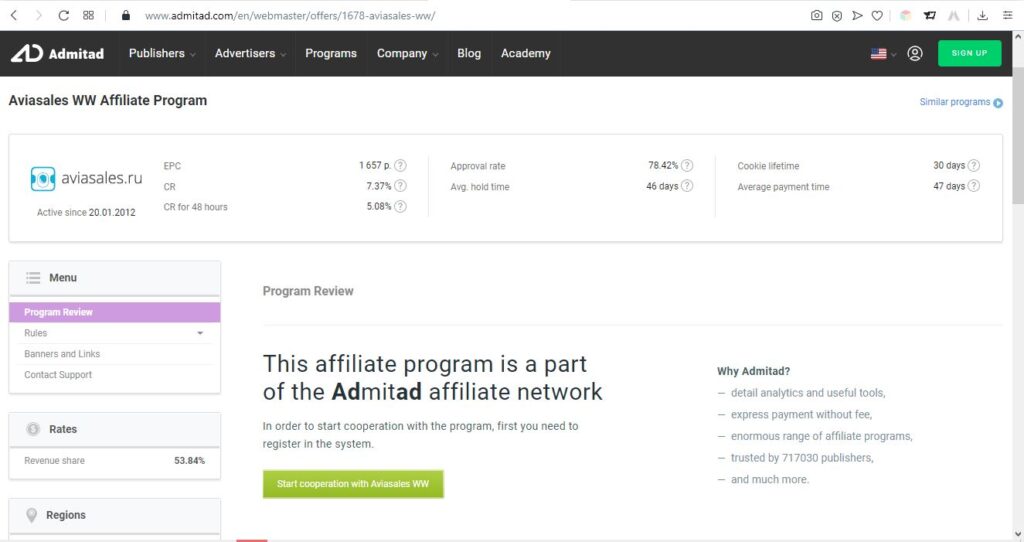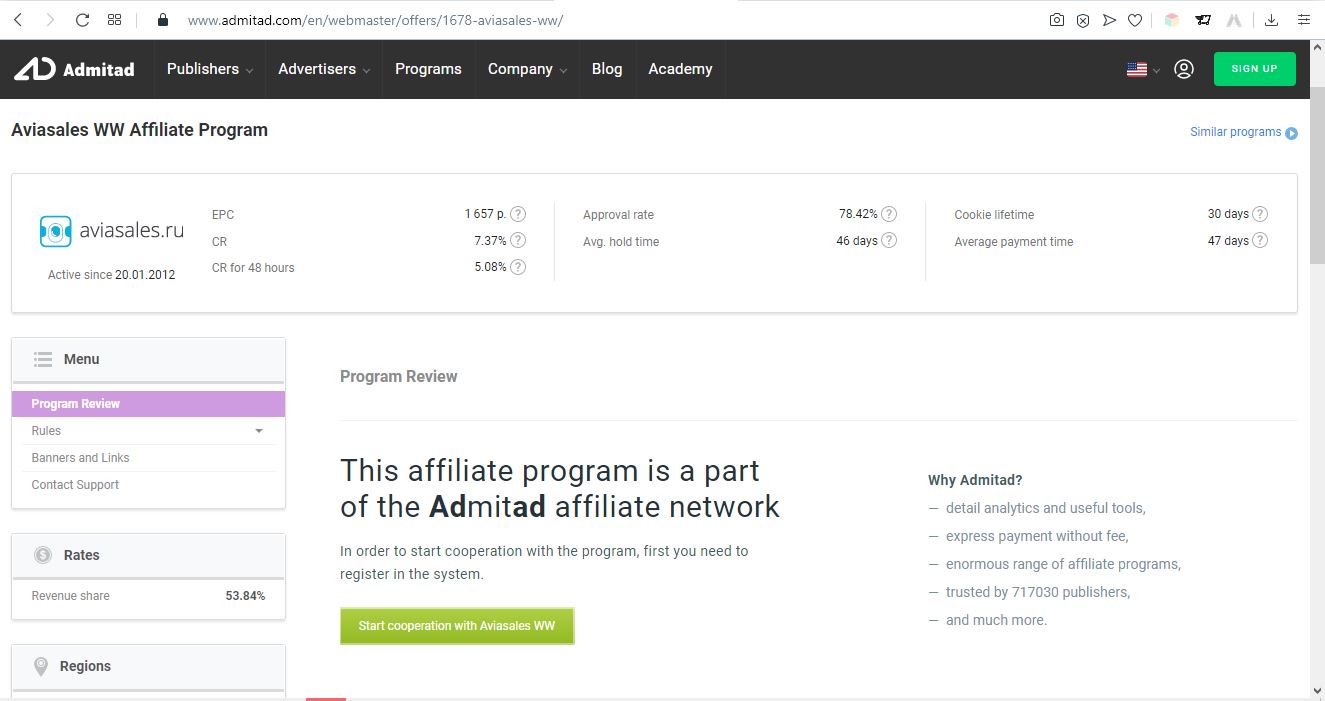 Aviasales help the customers to fund the cheapest airline tickets. As an affiliate marketer, it also provides affiliate links for promotion, and you can get money from promoting these links.
Commission Rates: If you sale, there tickets by using your website they will pay you 1.3%. If you pay more than 50 tickets in one month, they will pay you a 1.4% commission.
Minimum Payout: The minimum threshold for Aviasales is 500 RUB.
Payments Methods: PayPal, e-map ePayents, R/account, Bank transfer
Benefits: Provide the cheapest tickets of Airlines, and you can easily promote them on your site. The system has one of the highest percentages for payment of partner salary. By using Aviasales, you can earn by making successful booking of hotels by your affiliate links and from other travel services as well, i.e. Booking of transfers, Travel insurance, and much more.
Wego is a company which provides the services of online hotel booking and flight booking. By joining the Wego Affiliate Program, you can earn money by displaying the ads and the links of Wego on your website, and you make a commission whenever a user books a flight from your Ads or links.
Commission Rate: Most affiliates earn $0.05 to $0.40 per flight click and $0.20 to $0.80 per hotel click through Wego.
Minimum Payout: The minimum threshold for Wego to proceed with the payout is $100 for PayPal and $500 for bank transfer.
Payment Methods PayPal, Bank Transfer.
Benefits: The affiliates earn money on PPC policy, which is better than other travel Affiliates program. Provide API for the monetization of ads on your website. Provide banners, links, white labels, search forms, API for promotion.
9. Skyscanner Affiliates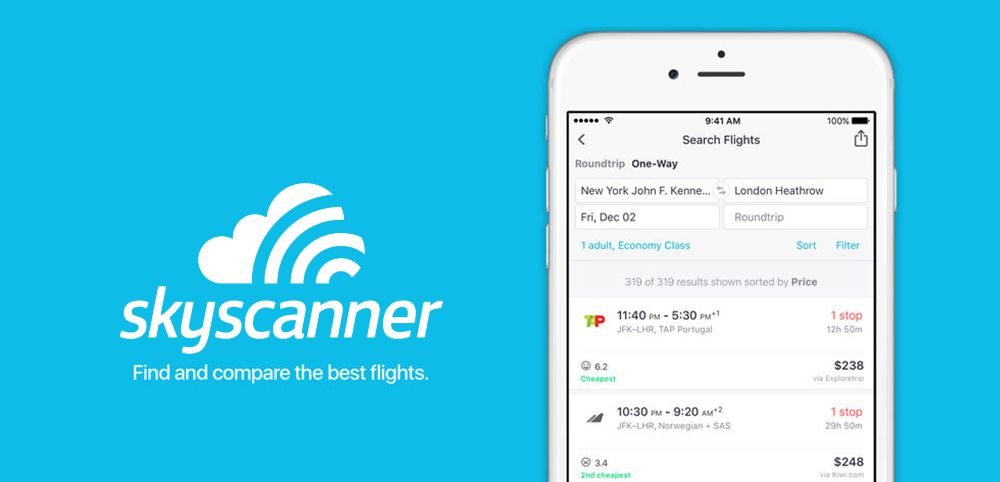 Skyscanner provides services in flight ticket booking. It works on the PPC model and also pays on exit clicks. Moreover, it assists in car hiring and also offers affiliates programs.
Commission Rates: Most of the Skyscanner affiliates earn $0.15 to $0.25 per exit click.
Minimum Payout: You can choose the minimum amount.
Payment Methods: PayPal ,bank transfer.
Benefits: Provides you Travel widgets, Travel links, API for the promotions. Works on the PPC model and exit link. No Restriction of minimum payout
10. Expedia Affiliation
Expedia affiliate program allows you to earn money by the promotion of the links of the Expedia products. You can make a reasonable commission from this Travel Affiliate program.
Commission Rates: Expedia pays you a 2-6% commission for their promotions. And pay $30 for three months EPC.
Minimum Payout: The minimum threshold for Expedia.com is $50.
Payment Methods: Visa, MasterCard, American Express, Discover, Diners Club, and debit cards.
Benefits: Have dynamic packages and Dynamic rates. Provide the facility of EPC. Direct negotiation with suppliers. Increase your income day by day.
11. TripAdvisor Affiliate Program
TripAdvisor is very famous company among travelers who provides you can browse hundreds of millions of traveler reviews and opinions. Compare low prices on hotels, flights, and cruises etc.
TripAdvisor affiliate program allows you to promote the TripAdvisor brand and earn money on the Hotels bookings. It is a Cost per Action CPA affiliate program.
Commission Rates: It shares 50% to 70% of the revenue earned from the customers with affiliate partners.
Minimum Payout: For PayPal, the minimum threshold is $50 for Bank transfer. It is $500, and for ePayments, it is $50.
Payment Method: Bank transfer, PayPal, ePayments.
Benefits: Share 50% to 70% share with partners. (affiliates). Works on the CPA model. Three different payments methods. Nine tools for ads. 59 languages.
What is a Travel Affiliate Program?
Travel affiliates programs are just like other affiliate programs. You only promote the links of Traveling and Bookings sites on your website, and whenever a user purchases a ticket or book a room of hotel using your link, these travel companies pay you something.
Travel Affiliate Marketing on Your Blog is Right Choice?
Yes, Travel Affiliate Marketing for your travel blog is absolutely right. You can promote travel material because if your blog is about travel, your audience would love to get travel-related products or hotels to book.
You can earn more money in a short period by promoting the right travel affiliate companies with the best commission rate on your website.
If you have traffic from the USA, UK, or other countries, it is the best opportunity to improve the earning by Travel Affiliate.
What are the Best Travel Affiliate Programs Platforms?
Booking.com
Agoda
Skyscanner
Airbnb
Wego
TripAdvisor
Hotels.com
How do I Become a Travel Affiliate?
It is straightforward to become a travel affiliate. You should have a travel blog or a travel channel on YouTube or a Facebook page of travelers (You can choose any platform to promote your affiliates links).
You have to sign up on your chosen company. You have to fulfill all the needs of the travel affiliate company. You provide the necessary information about your website, and you've done, You will become a travel affiliate.
Does Airbnb have an Affiliate Program?
Yes, Airbnb has an extensive affiliate program. The people are using it to make money. It has two affiliate programs, The Airbnb Guest Affiliate program and the Airbnb Host Affiliate program.
In Guest, you display the services of Airbnb on your website and earn commission on purchases. The other is Airbnb Host Program, where you present the hosting opportunities for new signups and earn a commission.
How do I Become an Airbnb Affiliate?
You can become an Airbnb Affiliate if you have a website and know how to promote the offers on your website that will be clicked by your users.
Final Words
Travel Affiliates is an effective way to earn money and also to monetize your blog. You can make money in a short period by using travel affiliate programs.
These travel affiliate programs will increase your traffic potential and also give a positive view of your blog. But avoid using low-cost ads or links on your website as it will distort your traffic. Always use active and moneymaking links on your site. Make a comment if you want ask any thing.