DHL shipment on hold means? I will discuss DHL shipment on hold on this platform, which will give you more information about your parcel.
Which you had ordered online, or some of your urgent documents as you need it and about their delivery time and why it's on hold.
DHL Shipment on Hold – What Does this Mean?
Nowadays everyone is busy in their lives. In the old days, people use to send their letters or invitation cards a few months before.
Even if they need some urgent documents, hopefully, it reached in a month. But now there are many shipping companies in which DHL shipment is also included.
DHL shipping is also known as one of the best international shipping companies.
It provides the best customer service to millions of people throughout the world. DHL delivery process is straightforward economy shipping within the shipping time.
Customs Officers are checking the parcels for security purposes for Customer Care.
You can track your shipment if the status of the shipment is on hold, so it means that it will take time to deliver,
Your postal address or contact details are not correct, Or the receiver has closed its deliveries due to some circumstances, or maybe package description will be wrong on your parcel.
The "DHL shipment on hold" phrase is just shipping/logistics and courier business jargon, which means that your package/shipment has stopped moving to its destination due to one reason or the other. As such, you may not receive your package within the given/estimated delivery time.
What to do when you have a delay in the DHL Shipment?
DHL shipment is a shipping company that delivers your parcel at the specified perfect time. They can provide whatever the receiver order from them.
You can track your package online on the DHL tracking website.
If tracking info is not showing any updates, it means that your shipment will take a few days to update or under observation.
DHL shipment Delay your parcel in such ways; there will be some problem with your Delivery Item, Address for Delivery should be perfect, or Customs Clearance issue.
So you can contact the merchant of the company or shipper to verify your shipping number (barcode).
Then you can contact DHL customer service directly. You can quickly get helpline numbers from the DHL Express website.
Should you worry if DHL Shipment gets on hold?
DHL Express is an international shipping company that delivers globally.
Suppose you say it in the simple way that they pick up your ordered online parcel and return it to your correct postal address.
The main thing is that you have to decide to select the best items online and give your correct contact details.
DHL express follows your contact details closely once it reaches your country or city.
Sometimes you get unexpected delivery before the specified time. It is normal, and your right to worry about your shipment if it's a delay.
To take your shipment information, you can contact customer service and take the info about your shipment—no need to worry so much about it.
You can quickly get the helpline number from the website.
Usually, shipments get on hold because of bad weather; incomplete documents are given by the customer, accidents on shipping Routes, or some incidents happen with the delivery boy.
Where will be by nearest delivery point?
There are many courier service companies globally, but DHL express shipping company is an international company.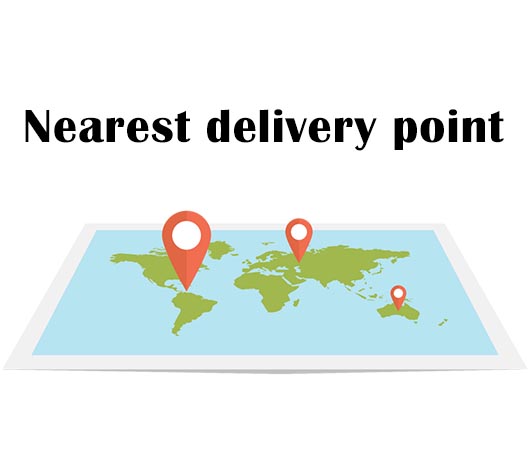 They deliver couriers all over the world. So it has many branches in different countries.
If you want to know about your nearest DHL express shipping delivery point, you can search it online on the DHL website nearest service point according to your postal address or your city zip code number.
Here is the address of the nearest DHL delivery point in my city.
Columbia-CAE- customs brokerage Only
Address- 3245 plat springs route suite 200
West Columbia, south carolina29170.
Telephone- 803-540-8300.
Fax – (803) 540-8412.
What Does Return to Shipper Mean With DHL?
If DHL shipment is on hold so no need to be worried about it.
In case if it's delaying your courier, so it is safe with the company. Return to shipper means undeliverable or resend of the parcels back to the company.
Return to shipper is a standard policy in every shipping company.
Your delivery can be on hold or resend back to the sender's address if there is an issue with your selected/ ordered items.
Your shipment can be returned to the shipper due to not paying the customs fee or your incorrect contact details.
If you didn't collect your shipment within seven days, this act would also return your shipment to the sender's address.
So try to collect your shipment within a time after paying the customs fee or Dockyard charges.
What will happen if no one is at home to collect the DHL shipment package?
There are many shipping companies globally, and every company has its policies the same way DHL express shipping company also has its policies.
If you had ordered your parcel and it is picked up by the company, so its time starts for delivery.
You can track your shipment online and be attentive once it reached your city.
Before delivering your shipment to you, the delivery boy will contact you on your contact details and ask you about your location and fix the time to clear the delivery boy about your timings and location.
Unfortunately, if you are not available at home during the fixed timing, you can inform the delivery boy while contacting him on the exact number.
You can tell him another destination where you are available. You can collect the delivery from your office or any other destination.
But keep patience because after that it will take some time.
So no need to worry about your shipment parcel if you are not at home.
They will contact you first. If you are not at home, the delivery boy will inform DHL express,
And customer service will contact you and tell you about your shipment, Or you can inform your neighbor / relative to collect it.
Reasons Behind DHL Shipment on Hold
DHL shipment delivers your courier within classified time, but your shipment is kept on hold or showing awaiting delivery scan due to some circumstances. Some of the reasons are as below:-
Bad Weather Condition
If your parcel is on hold or delays, it may be due to bad weather conditions.
Because your shipment reached you in different ways and vehicles such as through airplanes, ships or trucks, etc., like its heavy rain, sand storm, heavy waves in seas, etc.
Other Forms of Natural Disasters
If your tracking info shows you that your shipment status is on hold so it might be because of natural disasters such as; thunderstorms, lighting, landslides, hurricanes, tropical storm, etc.,
Which cause naturally its not the shipping companies fault.
So don't worry about your parcel is on hold. You can contact customer services and ask about your parcel why it is on hold.
Port Congestion
One of the reasons why DHL shipment is on hold is port congestion.
When the ship reaches the port and can't load or unload the ship due to the port's capacity is full is known as port congestion. So the ships have to wait in queue for their turn.
Once the ship is a load or unload, your shipment, which was on hold, will continue, and at last, it will reach you, but it will take some extra time.
Changes in Shipping Routes
While delivering the shipment, some companies use the same routes to deliver the couriers.
But sometimes, they have to change the shipping routes because of bad weather,
Another form of natural disaster, or pandemic Quarantine of 14 days.
Inadequate Information Provided by the sender
Actually, inadequate Information provided by the sender is also the reason your shipment is on hold.
The sender should give correct information or contact details of the receiver because the incorrect Information causes your courier to delay or be on hold,
So if it seems that your courier is taking enough time or its tracking status shows that it's on hold, immediately contact to customer service and ask about your parcels updates.
Incomplete Documents Required by Custom
DHL Express shipping company parcels your courier in specified time informed you.
If your shipment is delay or on hold, you can track online about your courier status.
Incomplete documents required by custom also show the status on hold.
The custom department needs some required documentation about your product which you have ordered online, which is compulsory.
So contact them and fulfill incomplete documents required by custom.
You can quickly get the contact details from the DHL Express websites.
Pandemic
DHL Express shipping is an International company that delivers their shipment in classified time globally but,
Nowadays as you know about the pandemic lockdown.
In different countries have different timing of lockdown.
Due to the pandemic situation, most companies had stopped shipping for some moment—no need to worry about your courier contacting the customer care service and taking information about your parcel.
Is it safe for me to receive packages from DHL Express?
As you know about DHL express is a shipping company, which is reliable and delivers the shipment worldwide.
It provides a protection policy and the best advantages to the DHL Express customer in the return of charges.
DHL express can courier medicines, ordered outfits, documents, toys, and many other things safely to your destination. But unfortunately, you cannot send cash via shipment company because it takes legal tender like banknotes, etc.
Yes, it is safe for you to receive packages from DHL Express because its customer service gives security and ensures your shipment.
If you doubt your courier, you can immediately contact customer care service and clear all of your doubts.
If you want to know about physical safety due to Covid-19, in DHL Express company, all the employees are sanitized and wearing gloves and masks.
Your parcel is also being sanitized, while the delivery boy also is instructed to do the same itself as well as his vehicle.
So be relax and keep trust in DHL express shipping company.
How is DHL Express protecting their couriers?
DHL Express is an International shipment company that gives you the best and secure shipping services.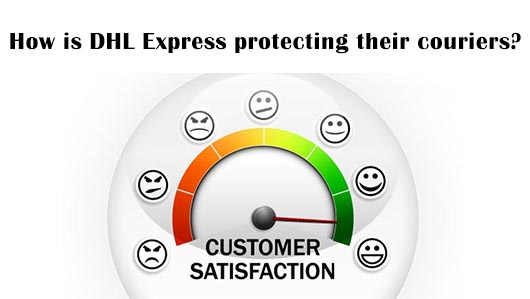 Most people think about their courier's protection and its security.
You can courier your household appliances, office equipment, toys, outfits, medicines, medical apparatus or instruments, personal or official documents, and many other things used in our home or office, etc.
You can parcel the gift to your loved ones because you trust DHL express due to its security and protection policy.
DHL express always give importance to their customer.
Once they receive the products from the sender, they keep your items in the box after wrapping them in the plastic protective bag.
So it would be best if you do not worry about your couriers' protection.
If there is any problem with your parcel, immediately you can contact customer services or check the online status of your courier.
Now, on the other side if you are worried about your health protection due to Covid-19 so keep patience that DHL express advises their employees to keep their hands and thing sanitized,
Compulsory to wear mask and gloves during the process from picking up your parcel from the sender till delivering the parcel to the receiver.
Even delivery boy is also instructed to do the same and keep all the things sanitized used under process until delivering your courier, such as a vehicle. This is how DHL Express is protecting their/your couriers.
Conclusion – DHL shipment on hold
DHL Express shipment parcel your courier from the sender to the receiver globally.
You can track your online courier status where it has reached.
If your shipment delays and the tracking info shows that your shipment is on hold, so no need to worry,
You can contact the customer service. The reason behind the shipment on hold are many as ways may be bad weather,
Incorrect contact and delivery address, changes in shipping routes, company had stopped shipping for some moments due to pandemic or some problem in your product which you had ordered online.
So whenever your shipment gets on hold, keep patience and contact the customer care services and clear all your doubts.
I hope you got the answer of
DHL shipment on hold
If you find this article helpful then provide you valuable feedback in the comment section.
And also have a look at Planet fitness's Lunk alarm that will wonder you.
Uncovered lightbulbs may expose food to which type of hazard? Get the answer.
Do you ever thought about how many bones does a shark have the answer may wonder you.