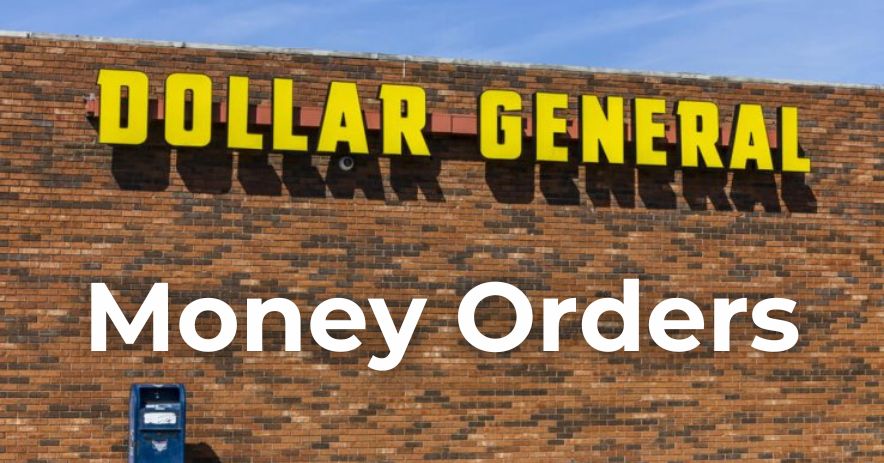 Dollar General shopping is inexpensive and convenient. It has thousands of stores around the US, which provide a wide range of low-priced products. But, here the question is, can you also execute money orders at Dollar General? Here's all you want to know!
Do Dollar General Do Money Orders In 2022?
No, none of the Dollar General stores sell or cash your money orders. But you may utilize Western Union service for money transfers at DG stores. You need to visit the website of Western Union or download its app to make a transaction. 
How Do I Complete a Dollar General Money Transfer?
A money transfer procedure at DG stores is simple and quick. 
Open the website of Western Union or download its app. 
To start the money transfer process, open the application or website. Here, you must go to the "Pay cash in-store," option. 
After that, follow the prompts as given on-screen. Specify the money you want to transfer. 
Once you are done with this process, you must pay the transferred amount at the DG store within 12 hours. Those who utilize the service should be aware that there is an $800 send limit. If you need to send money more than $800, you can do it through another Western Union agent.
Can Customers Receive Money Transfers At Dollar General?
Yes, customers can receive money transfers from DG stores. You need to select "Pick up cash" from the website or mobile application. Then complete this process step-by-step following the prompts on-screen. To receive the cash, you must have: 
A Money Transfer Control Number 
A valid ID
The funds you can pick up through this process are also limited. Usually, you can receive a maximum of $300 from a DG shop.
What is a Walmart Money Order
How Many Dollar General Stores Offer Money Transfers?
Money may be sent and picked up at at least 15,400 Dollar General outlets in 44 states. But the precise figure of Dollar General shops that provide this service is not known yet. You can contact your local Dollar General store to know whether they can transfer money your money. You can use the online Store Locator tool to find your nearest location and call to talk with a customer care representative.
What Retailers Accept Money Orders?
Although Dollar General locations do not provide money order services, some superstores do. These are some examples:
CVS
Walmart
Kroger
Publix
7-Eleven  
Your money orders can also be executed by credit unions, banks, and the US Postal Service.
What Time is Walmart MoneyCard Process Deposits
Other Money Services at Dollar General
Dollar General does not process money orders. But many DG stores can manage Western Union money transfers. 
Money transfer can be considered as an alternative to Money orders. It is safe and secure because it enables you to send or receive funds at DG stores without cashing or writing a money order.
Fees and Rules for Money Transfers
Dollar General store has a sending limit of $800. Its payout limit is $300 for money transfers. If you want to transfer cash beyond this limit, you can contact another Western Union agent.
A Western Union money transfer fee is $10 to $20 at Dollar General. It also depends on the transferred money. But, pick-up is free for the receiver. 
Your age should be at least 18 years, and you need to have a government-issued picture ID to transfer money through a Western Union agent.
Does Dollar General Sell Stamps
Money Transfer Process
Dollar General stores want you to start your transfer process via the Western Union mobile app or on the website WesternUnion.com. Then you can submit the money in-store. Choose "Pay cash in-store" and give the transferred cash with the service fee at the DG store. You will have 12 hours to do that. After giving the sender's identity, the receiver can get the funds from a local Western Union agent.
In general, 100% of the Dollar General locations accept Western Union money transfers. But, availability varies by location. You may use the Western Union agent search tool to identify a Dollar General near you that allows money transfers, or you can phone your local Dollar General to confirm that this service is available.
Conclusion
You cannot process money orders at any Dollar General location. If you still wish to transfer your payment through Dollar General, you can do it via:
Western Union app 
Western Union website 
Some other stores offer money order services. These stores include Walmart and some other supermarkets, credit unions, banks, and the US Postal Service.