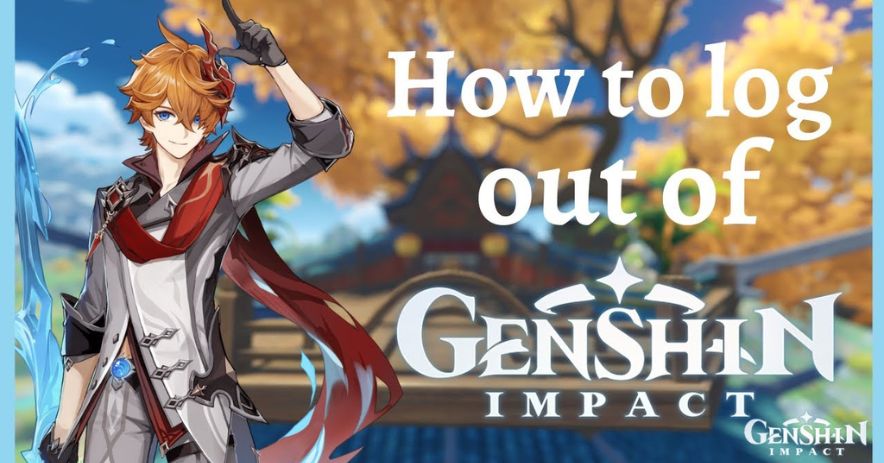 Genshin is a popular and most playable game on each platform. This game allows the game player to control four replaceable characters in a party. Genshin is a cross-platform game that has a vast variety of features. It is Developed and published by miHoYo.
People are very confused about that how you log out of your Genshin impact on ps4. Because you cannot log out directly from this game, you have to log out on ps4. So this is a great place for you. Keep reading to learn more. 
How do you log out of genshin impact on ps4?
To log out of Genshin impact on play station 4, you have to take some steps:
Open the settings menu on play station 4.
Now click on the drop-down menu in the settings. 
Click on Account management in the list of available choices. 
Follow the screen instructions, and Tap on the sign-out. 
A confirmation box will appear, if you want to log out then click "Yes". 
It is over. Your account is logged out from Genshin impact on play station 4.
How to Log in to Genshin Impact on PS4/PS5?
Open the settings menu. Click on your account and choose the user link. After opening the user link, choose link account. Now link your Play station account to an email address. After linking your account, you can easily log in to Genshin impact on play station 4 or 5.
Can I remove my Genshin Impact PlayStation 4 account?
Unfortunately, you cannot easily remove your Genshin Impact on Play station 4 account on your computer or mobile. Because your play station account is tied to your PSN account. So if you want to delete your Genshin account, you have to delete it from the miHoYo account.
How can a PS4 game be restarted?
Choose the Options menu bar. Choose Game Settings The option to Reset Save Data is located at the bottom of the Game Settings screen. After that, your play station 4 game is restarted. 
How Much does Dead by Daylight Cost on PS4
How can I change the settings on my Genshin account on the PS5?
To make changes to your Genshin account, first, go to the Settings menu on your PS5. Select the correct option to manage your PlayStation Network account from there. Now, Enter the details about your Genshin account after clicking the Sign In button that appears below it. Select the Sign In option at the bottom to finish the procedure.
Can I disconnect the email from Genshin impact?
Unfortunately, there is no way to disconnect email from Genshin Impact. If you want to disconnect by yourself then you can go through the following steps: After logging in to your google account, click on the three lines in the upper left corner of the page. Now tap on Mail which is under the profile of your email account. Now select Account Settings to change your account. Mainly, separate your other accounts.
Can I reactivate my Genshin account?
Currently, there is no method to reactivate your Genshin account. By following the instructions on our website, you may reset your password if you lose it. Please get in touch with us if you have any more queries or issues, and we'll do our best to assist you.
Can a PS4 be connected to an existing miHoYo account?
Unfortunately, a miHoYo account already in existence cannot be linked to a PS4 system. To play, you must sign up for a new account and link it to your PlayStation 4.
Can two Genshin Impact accounts be combined?
Yes, It is possible to combine two Genshin Impact accounts. You must accomplish this by getting in touch with Genshin Impact support and giving them your login credentials. The accounts will then be combined for you by them.
How do I delete my Genshin Impact PS5 account?
In order to delete your Genshin Impact on Play station 5. You first sign in to your account and then you can delete it. First Go to "Settings" and then "Account Management" after logging in. To delete your account, select "Delete Account" from the menu that appears.
Is Anthem Cross Platform PS4 Xbox
How to perform a PS4 factory reset
Register with your account. Access Settings.
Initialize PS4 after choosing Initialization. To execute a complete factory reset, select "Full" on the next screen after selecting "Initialize PS4". Sony.
Choose Full, then choose Initialize.
To confirm your selection, select Yes.
Conclusion:
Genshin Impact is the most popular and action-ruling game. You may log out of your Genshin account on PS4 in a few different ways. Some users have discovered that in order to log out, they must perform the "alt f5" keyboard shortcut. Others have discovered they can make use of it. Hopefully, this article gives you the best information ever. If you have any queries then please put your query in the comment box. What Does it mean to Initialize PS4