Walmart is a retailer that runs super markets, discount department stores, and grocery stores. It is one of the world's largest enterprises. Walmart grabbed the top spot on the Fortune Global 500 list for the eighth time in 2021.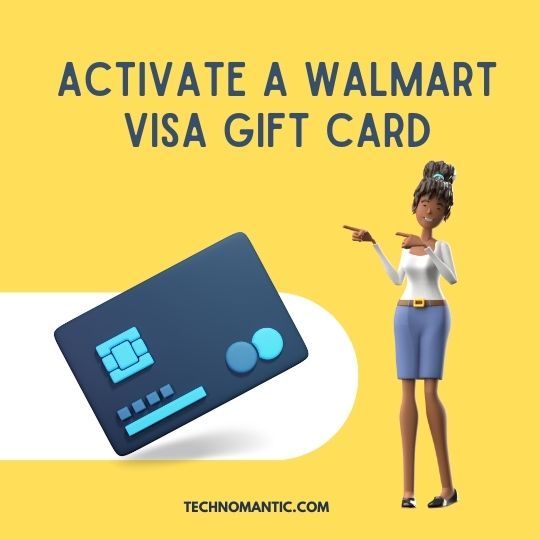 Customers can take advantage of a variety of deals and discounts at Walmart. You can use a visa gift card from Walmart at any store that accepts debit card payments. Your life will be made easier with a Walmart Visa Gift Card.
Except for Puerto Rico and other territories, these gift cards are accepted in all 50 states and the District of Columbia. So, how do you go about activating your card? You can easily activate it over the phone, online, or at a Walmart store. The card can only be used once it has been activated. Keep reading to learn more about the card activation process.
How To Activate A Walmart Visa Gift Card In 2022
As of 2022, the activation or registration process of Walmart gift cards is dependent on the value and card type. Walmart gift cards worth less than $250 do not need to be activated. Walmart's secure Customer Account system makes it simple to retrieve lost e-Gift card and save multiple gift card information for future use.
How Do I Activate My Walmart Prepaid Visa Gift Card?
Customers can load money onto their Walmart Gift Card and use it to purchase gifts at any Walmart location. The card must be activated before use. You can use different activation options for your gift card. They are as follows:
Online Activation
Here is the online gift card activation procedure:
When customers purchase a Visa Gift card from Walmart, they will receive an email verification from the company. Log in to your e-mail account.
You should have gotten an email from Walmart detailing the gift card. After opening the email, go to the URL in the message. If the URL is not clickable, copy it and paste it into your browser's search box.
A page for activation will appear. Enter the user's ID number, activation code, and PIN if prompted. Walmart will send you an email with these facts.
Your card will automatically be activated after completing the form and submitting it.
Register your card at Walmart's official site for added security and online purchases.
Activation at the store
If you don't want to use the online method, try contacting the store where you wish to redeem it. It could be used as store credit to purchase various things from the store.
Load cash into the card at the store and use it to make purchases. The Visa Gift card will be activated after you purchase it in-store. If you have any issues, check in with the store's cashier to ensure your card is correctly activated.
You can also request an Activation confirmation receipt from the retailer. Contact Walmart customer service if you have any problems activating your account.
Activation through phone
You can also activate your gift card by phone. Walmart should have sent you a toll-free number in your email. It will be provided in the email from Walmart with the Visa Gift card details or printed on the gift card itself.
Before calling the phone number, write down the ID number, activation code, and card PIN. If there is no sticker covering these facts on your card, it may have already been activated. While you're on the phone, keep your card close to you.
You can speak with a live customer support representative or use automated audio prompts. If the toll-free number you were given does not work, try calling one of the other Walmart customer support numbers.
Do Walmart Visa Gift Cards Have To Be Activated?
You need to activate Walmart Visa Gift Card worth more than $250 for security reasons. Furthermore, if you purchase bulk cards (more than 25), Walmart requires that they must be activated.
How Long Does It Take For A Walmart Visa Gift Card To Be Activated?
When you buy a Walmart Visa Gift Card, it may be automatically activated. Other Walmart Visa Gift Cards, on the other hand, may require the receiver to activate their cards themselves by following the activation instructions on the cards.
Furthermore, the card can be activated immediately or after a time ranging from 24 to 48 hours.
Why Isn't My Walmart Visa Gift Card Working?
You can check your balance by calling Walmart at 1-866-633-9096 or going to www.walmartgift.com if your Walmart Visa Gift Card isn't working. What time does walmart service desk close.
If you have enough money to complete a purchase, the merchant may have added a credit or something else to your total. In addition, if you don't have enough money to complete your transaction, ask the merchant for a second payment option to cover the partial gift card payment.
Remember that the Walmart Visa Gift Card cannot be used for cash withdrawals, recurring payments, gambling, or gas station purchases.
Why Does My Walmart Visa Gift Card Say Invalid?
Your Walmart Visa Gift Card may appear invalid in the following cases:
the card is not authorized
the merchant is processing an incorrect transaction
the dollar amount charged exceeds the card balance
Sometimes, the credit card processing machine may increase the charge amount to accommodate a gratuity or place a hold on the card.
How Do I Know If My Walmart Visa Gift Card Is Activated?
If the activation code is provided to your email or placed on the card, your Walmart Visa Gift Card is ready to use.
The activation code, ID number, and PIN will be useful when activating the card over the phone. As a result, if this information is not printed on a sticker on the card, the card has likely been activated.
Do Walmart Visa Gift Cards Have To Be Used At Walmart?
Walmart Visa Gift Cards aren't just for shopping at Walmart. You can use your Walmart Visa Gift Card anyplace.
Visa debit cards are accepted in all 50 states of the United States, as well as the District of Columbia, except for Puerto Rico and other US territories.
However, you cannot use the card outside the United States or the District of Columbia.
Furthermore, the Walmart Visa Gift Card isn't accepted at stores that require physical card entry.
Conclusion:
A Walmart Visa Gift card allows customers to make purchases quickly and easily. You can shop online after registering your card at Walmart.com or in a store that accepts this card. Customers who use the card are eligible for special discounts.
Use the above methods for activating your card and gifting items to your loved ones. Using a Walmart Visa Gift card makes shopping simple and convenient. Walmart dress code.