PDF documents have become ubiquitous. However, editing and merging PDF files can be a daunting task, especially when you don't have a dependable and robust editing tool. If you are facing trouble editing your important PDF files, and relentlessly looking for a must-have PDF editor. Look no further, iTop PDF editor is your ultimate PDF editing solution, which allows you to edit, merge, split, and share PDF files with ease.
In this blog post, we will walk you through the process of setting up your ideal PDF editor and show you how a reliable PDF Editor can be a lifesaver. So, without any further ado, let's get started.
What is iTop PDF?
As the name suggests, iTop PDF is a comprehensive, powerful, and easy-to-use PDF document editor designed for Window Users. It is a complete solution for people who work with PDF files and are frustrated with managing a huge number of PDF files.
iTop PDF editor offers a plethora of features that make PDF editing a fun and enjoyable task. This powerful tool enables users to edit, merge, split, convert, and protect documents among the many features, making it a one-stop PDF editing solution for both personal and professional use.
Additionally, iTop PDF has an intuitive and user-friendly interface that ensures a seamless and easy-to-use user experience. It is equally useful for beginners as well as experienced users. Hence, with unique features and a user-friendly interface, iTop PDF editor has emerged as the ultimate choice for PDF editing jobs.
The Best 3 Pdf Compressing Tools For Free Conversion
How to Merge PDFs with iTop PDF? Easiest Way
Now that you have an idea about the functionalities and powerful features of iTop PDF. Let me walk you through the process of merging PDFs with this tool. The process is very simple and straightforward. Let's go step-by-step with no steps skipped.
Step 1: Download The iTop PDF Editor From Its Official Site
Without any delay, head to the official site by following this link to download the setup. Click the "Download Now" button on the top right corner of the official website to start the download process.
The software has high compatibility with different Windows operating systems including Windows 7, 8, 10, and 11. The setup file is extremely lightweight.
Step 2: Install The tool
After downloading the file, go to the relevant folder to locate your setup file. Open the setup file to start the installation process. The installation process will be completed in less than 1 minute.
Step 3: Launch iTop PDF Editor And Start Editing
Once the installation is completed, launch the editor and start working on your PDF files right away. Though merging PDF files using iTop PDF is very easy. Nevertheless, I will demonstrate it for you so that you are not stuck in the process.
Upon opening the iTop PDF editor, you should see this interface. As we can see, iTop PDF editor offers a wide array of options such as convert, edit, merge, protect, etc.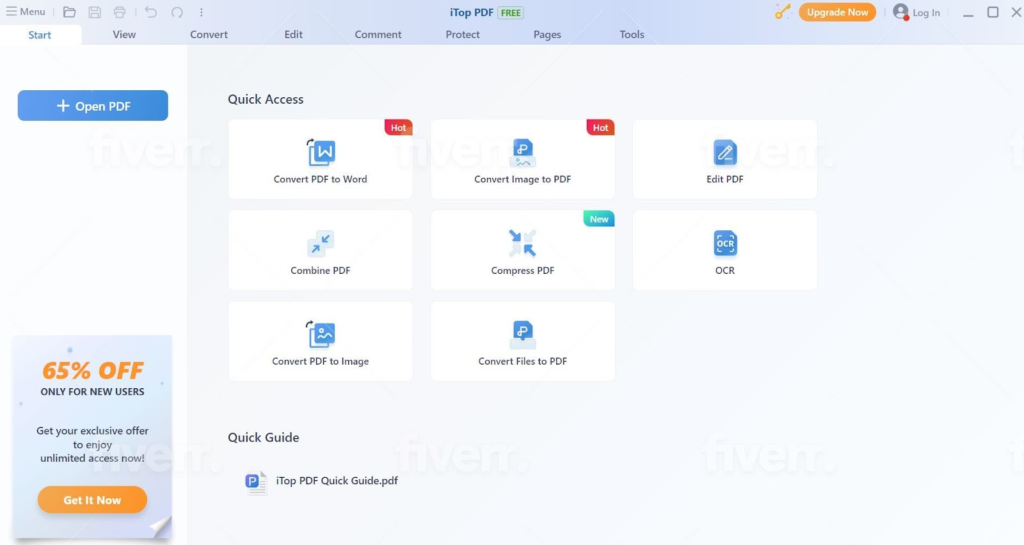 Step 4: Merging PDF File Using iTop PDF
Once you are on the homepage of the software. Click the "Open PDF" button as highlighted in the previous image to open your PDF files to be merged.
After opening your first PDF file, click on the "Pages Option" from the top ribbon.
On the Pages window, click the Combine PDF button to upload your PDF file to be merged with this PDF file. Click your desired PDF file and there you go. You have successfully merged two pdf files.
Now export this newly created PDF file to a desired location on your computer. Merging PDF files using iTop PDF is a breeze, isn't it?
"Auth.service.adobe.com refused to connect" Error [SOLVED]
Additional Features of iTop PDF
In addition to merging PDF files, you can do other feats using iTop PDF file editor. Some of the major features are listed below.
1. Editing PDF Files
iTop PDF offers different editing tools to help you make all the necessary edits to your PDF documents including modifying text, adding and removing images, adding links, annotating, highlighting, and drawing. This tool allows you to edit your PDF files professionally for free.
2. Converting PDF Files
Sometimes, you want your PDF document to be converted in other document formats like Word, Excel, and PowerPoint to name a few. Worry not, because with iTop PDF you can convert your PDF files with minimal effort.
3. Splitting PDFs
Splitting PDF files becomes an absolute necessity when all your data is presented in a single PDF file. But thanks to iTop PDF you can split your PDF file into multiple smaller PDF documents, thus allowing you to extract selected pages from a PDF file and create a new PDF file.
4. Compress PDF Documents
Cumbersome and large PDF files can be hard to manage and store. That's when you need to compress your documents and save space on your computer. With the compress feature of iTop PDF, you can compress the size of your PDF files without losing quality. Adjust the compression levels that suit your needs.
5. Protect PDF files
Privacy and security of data are critical, especially when PDF files contain confidential data. With the help of iTop PDF you can encrypt your documents with a password and protect your sensitive data. You can also add watermarks to protect copyrighted content.
What makes iTop PDF a must-have PDF editing software?
We believe that iTop PDF is a must-have PDF editing software. It is not a vague claim but there are reasons that support the claim.
– iTop PDF is easy-to-use
– It is free software with no-hidden charges
– It loads documents fast with no lag time
– It offers all the necessary functionalities of a PDF editor including view, combine, organize, convert, compress and so on.
User Testimonials
Users love iTop PDF editor for its versatility, ease of use, simplicity, and ease of use. From editing and converting PDF files to organizing pages and filling out forms, iTop PDF has evolved as an essential tool for many users. This tool enables professionals to work with PDF files more efficiently and improve document quality.
Conclusion
To conclude, iTop PDF is a must-have tool for anyone who works with PDF files regularly. As we have demonstrated in this article, merging PDF files using iTop PDF Editor is an easy feat, anyone can do this with no directions. It helps you save time, and effort and makes things more organized.
With iTop PDF, you can merge multiple PDF documents into a single file quickly, effortlessly, and for free. Not only, this tool is fast and efficient, but it also ensures the privacy and security of your confidential data.
Overall, iTop PDF is a reliable and efficient tool for everyone who wants to edit and manage PDF files. So, why not give it a try and see for yourself how effortless merging PDFs can be with iTop PDF?