Running a business in Maine can bring significant wealth and security to your family, but it's not entirely risk-free.
Serving the public means you could be subject to lawsuits, injury in the workplace, property damage, theft, and more.
Therefore, you should take some of these preventative steps to minimize the risk you put on your business.
After all, you wouldn't want your hard work to go to waste by being careless.
Properly Train Your Employees
Your employees may be one of the greatest assets of your business.
So ensuring that they're adequately trained and well-compensated will go a long way in retaining them.
As a result, they'll feel more confident in their work and enjoy doing their job every day.
Plus, you will reduce the risk of costly mistakes that could negatively impact your shop.
Set Clear Policies
When you have clear, accessible policies for employees and customers, you can avoid conflict.
For example, if you don't let your customers know that you don't accept returns on certain products, they might pick a fight when they're denied a refund.
This situation can be uncomfortable for anyone working the floor, and customers like this aren't exactly pleasant to handle.
So you can easily avoid it by printing the return policy on the receipt or putting up signs next to non-returnable products so they know in advance.
Protect Your Business Against Loss
Too many business owners realize they're underinsured when they file a claim and get denied because it's not a covered loss.
Unfortunately, this usually happens when they try to cut costs with bare minimum coverage – assuming that something terrible couldn't possibly happen to them.
Part of keeping your business safe is protecting it from the worst-case scenarios.
That is why proper insurance coverage is a must for all businesses.
An unrecoverable financial loss can very well ruin everything you've worked for, and insurance is a way to avoid closing your doors permanently.
It is best to meet with an insurance professional to take a comprehensive look at potential risk and what coverage will mitigate the aforementioned risks.
Look up "insurance brokers in my area" to get started comparing options
While upping your insurance coverage can seem like a risky maneuver with potentially higher monthly payments, the consequences of inadequate coverage will cost your business much more.
Install a Security System
Even if you feel like you're running a business in a safe neighborhood, you're not immune to break-ins, especially once people realize that your shop isn't secure.
For this reason, you should have a security system installed. It doesn't have to be anything fancy.
Just get standard door sensors with an alarm and motion-sensing security cameras.
Most alarm systems will call the police when there's a break-in, so it'll go the extra mile for you.
Inventory Management
Manually managing your inventory leaves room for human error and can lead to unnecessary accusations of theft toward employees or customers.
Once you realize that the stock was miscounted, you awkwardly apologize for jumping to conclusions and hope they don't leave a negative review about your conduct as a business owner.
However, you can avoid this with proper inventory management systems.
Another critical part of this is avoiding overstock or understock. If you're constantly out of a high-demand product, your customers won't see you as a reliable source for their needs.
So having the right inventory forecasting technology in place can do a great deal in saving money and keeping your customers satisfied.
Keep it Clean
Nobody wants to eat in a dirty cafe, so providing your customers with a safe, clean place to eat (and shop) is essential.
As a result, you'll see more traffic and avoid spreading germs. A simple way to keep your shop clean is to delegate tasks to employees and make sure they keep a log of every time they complete something.
Then, if they have a hard time keeping up, you can switch up the responsibilities every week or incentivize a job well done with a gift card raffle.
Follow Regulations
State and federal regulations aren't something to mess around with, especially when it comes to the health and safety of your customers.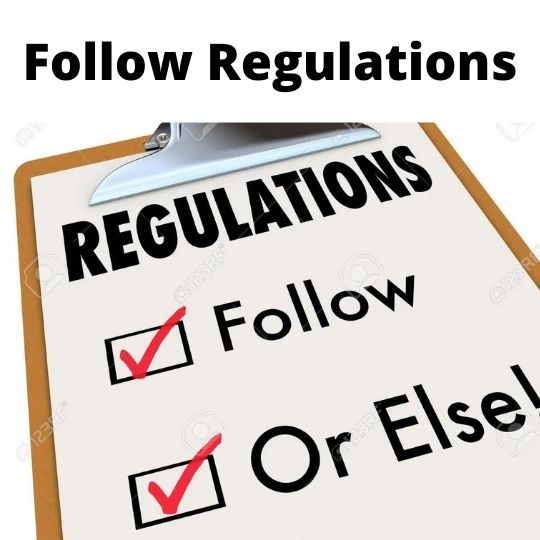 Plus, you're putting the entire operation at risk when you're not keeping your business up to code.
However, with Maine's small-town environment, you can easily get to know the state officials, ask for advice, and ensure you're doing your due diligence to follow all regulations, so you don't get on their bad side down the line.
Hold Large Bags
Theft may be inevitable in some cases, but there are preventative measures you can take to make it difficult for thieves to take your products.
For example, it's becoming widespread for retailers to require customers to hand over large bags and backpacks when they enter the store.
Training employees to recognize the signs of suspicious activity can go a long way.
Just don't treat your customers like they're all criminals, or you'll develop a negative reputation.
Conclusion
Protecting your business should be a priority, especially after everything you've done to turn your dreams into a reality.
By properly training your employees, taking the proper security measures, and following regulations, you'll significantly minimize the risk of costly accidents and theft.
Then, you can operate without worrying about loss.
Also, read about Costco Gas Hours, What is the Dress Code at Starbucks 2022?, 5 Reasons Why Your Business on Instagram & What Time Does Walmart Customer Service Close & Open? 2022.