Expectant parents may get whatever they require at Walmart to get ready to welcome their newborns into the world.
Walmart helps to simplify this process through its online baby registry. Parents can use it to compile a list of everything they'll need for their child. But what is listed on the Walmart baby registry? Keep reading to know!
The benefits of a Walmart baby registry
Welcome Box: Walmart provides a complimentary welcome box with samples of baby-related products (worth roughly $40). Samples can include a pacifier, a sample diaper, a little bottle of lotion, and more. However, these samples differ from box to box.
Walmart App: You can add baby items to your registry from your phone using the Walmart app.
Price Matching: Walmart will match an online competitor's price for the same product. But you may only use this discount once per day.
Free returns: If you return a gift from your registry within 90 days, you'll receive a gift card for the full amount of the item. Some things are also returnable within one year.
How to create a Walmart baby registry
The baby registry is not prominently shown on Walmart's website. But with a little searching, you may easily discover it.
You can create your registry by entering some basic information by clicking the "Registry" option in the drop-down menu on the left of your screen and selecting "Baby."
To begin adding products, enter your username, password, due date, and shipping address.
Additionally, you can sign up via the Walmart app. Go to "Services" on the toolbar at the bottom of the screen after downloading it for free. You will see the "Baby Registry" category. Click this option and create the registry.
Using your Walmart baby Registry
If you decide to use Walmart for your registry, it is suggested to make one account for simplicity and use it for both the app and the website.
The website provides purchase advice for the best things for you and your baby under the "Tips & Ideas" category.
When you don't know where to start, these useful product lists let you peruse top sellers and age-appropriate products.
The website also includes a shopping list that gives mothers a general idea of what to buy for their child's first year.
There are product recommendations for eating, dressing, entertaining, and other uses.
The app categorizes your registry items (Feeding, Baby activities & gear and so on) but lacks the inspiration tab and checklist.
Which items should you skip on the registry?
Following are items you can skip on the baby registry:
Crib bumpers and beddings
Changing tables
Shoes & booties
Newborn clothes
Baby blankets
Infant bathtub
Botte sterilizer
Baby food processor
Diaper disposal system
How to add items to a Walmart baby registry in-store:
A pregnant woman can create her baby registry on her phone, look for products, and add them.
Additionally, she can add items to her registry by simply scanning them with her phone if she wishes to visit a Walmart store first to see the items in-store.
How long does it take to get Walmart Baby Registry box
Once your baby registry is complete, go to Walmart's Baby Registry Welcome Box website to order your free shipping box.
Moms typically report waiting 4 to 6 weeks after signing up before getting their package. However, it is only an average.
Some claim theirs arrived much sooner, while others claim they are still waiting after two or even three months.
Do you get anything for Walmart baby registry
You will receive a welcome baby box from Walmart when creating a baby registry. This box is filled with baby-related product samples worth about $40.
Samples can be anything from a pacifier to a sample diaper to a tiny bottle of lotion, among other things. These samples, however, vary from box to box.
What is in the Walmart welcome baby box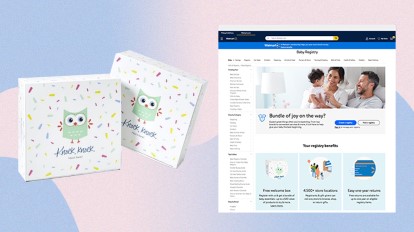 Walmart provides a complimentary welcome box with samples of baby-related products (worth roughly $40).
Samples can include things like a pacifier, a sample diaper, a little bottle of lotion, and more. However, these samples differ from box to box.
Setting up a wedding or baby registry
The steps listed below should be followed to set up a Walmart Baby Registry:
Click the Baby Registry link. A page will appear.
Click "Here we go" to start creating your Walmart baby registry. The login page will appear. Log in with your Walmart account if you already have one. A new account could be made as an alternative.
The pop-up menu will appear after you sign in. Type your expected delivery date (EDD) in the Arrival Date box. Then select a date by clicking.
When you choose a date, the page will automatically scroll. Choose your child's sex if you are aware of it. Or just select Surprise.
Next, decide the nursery style you desire.
Select your state from the Choose State drop-down menu, and then click Select state.
You've made your Walmart Baby Registry.
Now, talk about setting up a wedding registry. First, talk with your partner about the expectation and preferences they have.
Then analyze your wants and needs. Create a list. You can go into little detail. For instance, do you believe three towel sets will be sufficient for each individual, for instance, if you're looking for new ones?
Would you prefer coordinating face and hand towels? How much do you think you need for each item, and how much do you need overall?
Here are a few other things to Take Into Account When Creating Your Wedding Registry:
Kitchen and Dining
Bedding
Bath
Home Decor
Home Appliances
Storage and Organization
Home Improvement
Patio and Gardening
Sports and Outdoor Equipment
Luggage and Travel
Smart Home and Electronics
Charitable Organizations
Honeymoon
Choose the perfect gift
You can share your baby registry with friends and family to get a perfect gift for your little one.
Overview
Using the Walmart app or Walmart.com, you can create your baby registry and share it with friends and family so that they may buy presents from it. By tracking your Wants and Has, you can keep track of what you own. Walmart rewards program.
The list can always be modified by adding or removing products. While some products have a one-year return policy, others are subject to the regular 30-90-day return period. Walmart camera return policy?