Employees of the Walmart Distribution Center (DC) are known as order fillers. They complete and package orders in line with instructions from voice picking devices or the details on sales slip or order forms. In job postings for this role, Walmart frequently utilizes the terms freight handler or team associate. On the Walmart Careers website, you can apply for this job.
If you want to know more about order fillers at Walmart, keep on reading!
What Does an Order Filler at Walmart Do?
Filling customer orders at Walmart requires locating things from inventory and packing them into boxes, bags, or other containers. Order fillers work rapidly to guarantee that clients receive their purchases as soon as possible.
Job Description of an Order Filler
Here is the job description of an order filler at Walmart:
Execute manual duties to load, unload, and move products safely, either by hand or with the use of material handling machinery.
Work in different climates, such as a cooler, freezer, or dryer.
To accept and process orders, use voice-picking terminal systems.
Use material handling tools like wrapping machines, electric pallet jacks, and dollies.
To determine catalog numbers and product quantities, read work orders or listen to spoken instructions from a terminal computer.
Before shipping, label and securely wrap pallet loads.
Job Requirements of an order filler at Walmart
Able to lift 50 pounds' maximum.
Age must be 18 or above.
On your first day, wear boots or safety shoes.
The capacity to endure prolonged standing or walking (up to 12 hours per shift).
Walmart Orientation
Types of Order Filler Jobs at Walmart DCs
At Walmart DCs, there are many order filler roles. The duties in each position vary. Many of these roles include:
Non-Con (Non-conveyable) Order Fillers
Caselot Order Fillers
Breakpack Order Fillers
Shift Hours of Order Filler Jobs at Walmart DCs
Order fillers at Walmart DCs work in various shifts, just like other warehouse workers.
Order fillers can choose to work four 10-hour shifts per day or three 12-hour shifts each day. The most typical shift configurations are:
A1: Tuesday to Friday, 3 PM to 1 AM
A2: Tuesday to Friday. 4 PM to 12 AM
A3: Tuesday to Friday, 8 PM to 6 AM
B1: Saturday to Monday, 5 AM to 5:30 PM
B2: Saturday to Monday, 6 PM to 5 AM
B3: Saturday to Monday, 7 PM to 6 AM
Keep in mind that shift types may vary between distribution centers. Additionally, you can get two twenty-minute breaks, depending on your location. Some places offer a 30-minute unpaid lunch break.
How Old to Work at Walmart? (Age limit, Job-Applications)
Pay and Benefits for Order Fillers at Walmart
Walmart's order fillers make a handsome hourly wage that can range from $20 to $24 based on shift length and region. Order fillers at Walmart DC are also eligible for quarterly bonuses of up to $500.
Additionally, you can receive bonuses based on your productivity rate, or how quickly you complete orders without making mistakes.
Other benefits include:
Paid time off (PTO)
401(k) match
Stock purchase plan
Parental leave
Live Better U education program
Pros of Working as a Walmart Order Filler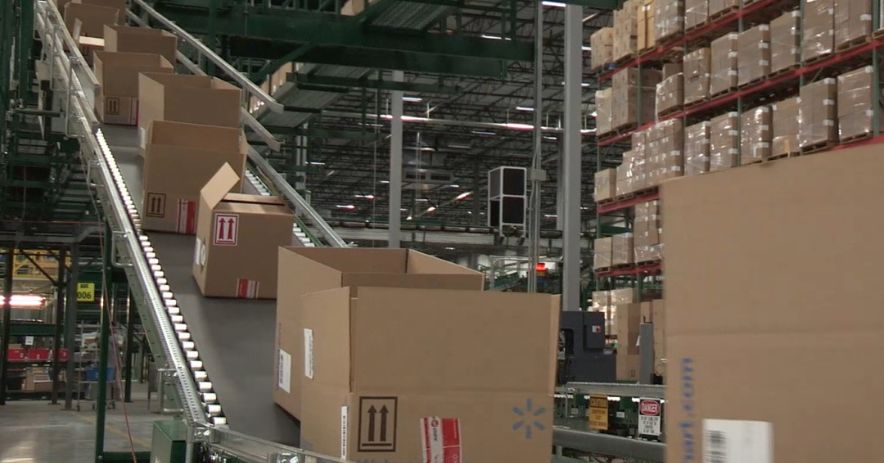 Walmart DCs have a fantastic set of benefits and some of the finest salaries available.
Order filler work will get you in shape. You will regularly be bending, squatting, tugging, and pushing. In contrast to other types of work where it is simple to get bored and for the day to drag on, being constantly busy makes the day pass more quickly.
If you want to go up in the company, it will be simple to transition to other warehouse departments like receiving or quality assurance.
What Does an Order Filler at Walmart
Cons of Working as a DC Order Filler at Walmart
Fulfilling orders will exhaust you. Due to the physical labor, the position is regarded as one of the "hardest" in Walmart DCs.
Caselot order fulfillment requires standing still for extended periods, which can be a mind-numbing job.
If you fill orders for non-cons, you'll probably use a voice-picking headset to listen to instructions while picking. These headsets are notorious for having connectivity problems, not comprehending what you're saying, etc. You might be much slower as a result.
Conclusion
Working as an order filler at Walmart is hard. So, you should be physically and mentally strong enough to handle the workload. In return, you will get handsome hourly pay and other benefits.