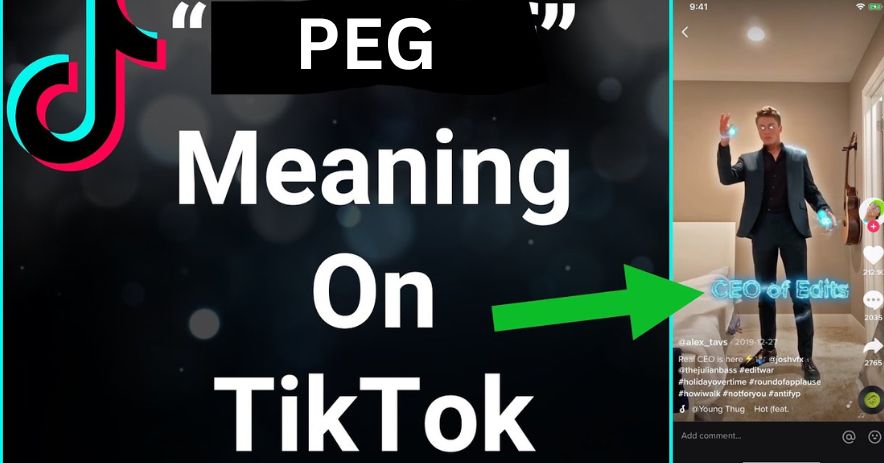 You may pass hours watching many original videos on TikTok. People use it as a platform to express themselves, interact with others, and have fun. If you regularly use the TikTok app, you'll find that it's where many slang terms originate. But, people frequently use slang without actually defining what they mean.
Particularly, numerous users have mentioned the word "peg" in their videos and comments. As a result, you might be wondering what peg implies and whether you should learn more about it. Let's examine peg's definition in more detail and see why TikTok users are talking about it.
What Does Peg Mean?
TikTok is not the only place where this word is used. It is also used in the real world. But not many people were aware of what it signified before.
Peg is essentially the abbreviation for pegging. An intimate sexual activity is referred to by this phrase. It refers to the act of a woman "taking command" of her partner in bed. It has recently become a part of popular culture and has been discussed on television programs.
What does 'peg' mean on TikTok?
Peg has the same significance on TikTok as it does in contexts outside of social media. Pegging, from which the word "peg" derives, is when women "take charge" of men during intimate moments.
Users on TikTok are supporting #PegAllMen2020 to challenge patriarchy and show that women can accomplish anything that men can, whether it be inside or outside of the bedroom. But this movement is not intended to convince all girls to "peg" their partners.
In 2015, television programs like Broad City addressed the issue. By 2020, it will undoubtedly have become commonplace.
What is #PegAllMen2020?
Many hashtags are now popular on TikTok. Even, some of them are trending. For example, #BlacklivesMatter.
The hashtag #PegAllMen2020 is another that is gaining popularity. Many individuals initially believed this to be a prank. Some users made jokes about this hashtag. But, some seek to use this hashtag to criticize patriarchal systems and stereotypes of gender.
Where did #PegAllMen2020 come from?
Finding out where #PegAllMen2020 originated is interesting. It appeared to have begun in April 2020. A user who did not enjoy the direct messages (DMs) that were being sent to them started the hashtag. She responded by saying that she wished to treat them similarly. She specifically stated that they were "within pegging distance." So it would seem that this teen was the driving force behind this cultural trend.
The #PegAllMen2020 campaign aims to expose toxic masculinity on well-known social media sites. On TikTok, there is a lot of content related to this that you could find interesting. Of course, you may participate as well by including #PegAllMen2020 in the video's caption.
Also Read These Articles
Conclusion
Pegging is another name for the verb "peg." It refers to a coerced sexual act that might take place between a man and a woman. Peg implies that the woman will take control of the bedroom and commit an act on her partner or husband.
Many people have shied away from discussing this in public. But it is now getting greater attention after being brought up on TikTok and even television shows. It might be a benefit of social media and apps. They may make you aware of subjects you were previously unaware of.