Regardless of where you reside or your skill level, there's a good chance your local Walmart will have the exact type of job you're looking for.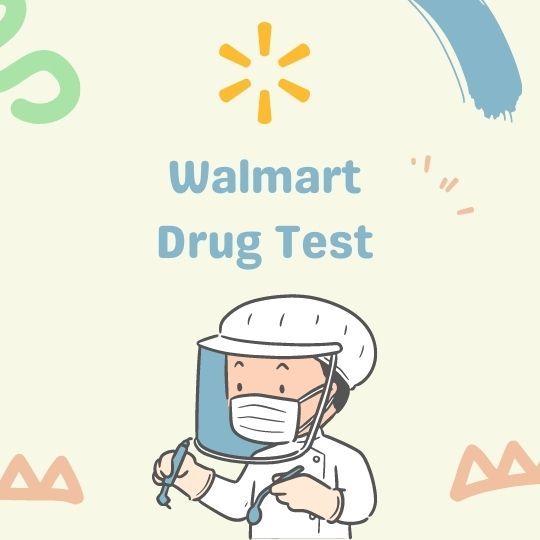 If you're applying for a Walmart job, you might wonder if they drug test. Keep reading to uncover the details of the drug testing policy at Walmart.
Does Walmart Drug Test In 2022?
In 2022, Walmart will rarely conduct pre-employment drug testing for entry-level positions, managerial positions, or senior salary positions. On the other hand, Walmart conducts drug tests for select employees in the Deli, pharmacy, TLE, and Auto Center. These all are subjected to strict safety standards. Walmart can conduct random drug tests and drug screenings following work-related accidents.
When Do Walmart Drug Test Employees?
Before taking a job at Walmart, it's a good idea to find out when, how, and whether the company conducts drug testing on its employees. The four reasons why Walmart would conduct drug testing are listed below.
1. Pre-Employment Testing
You may need to take a drug test before attending your orientation, depending on the position you are applying for. However, many current and former Walmart employees have said that in 2022, drug testing for interviews or orientation will be extremely infrequent.
Furthermore, occupations in Walmart that are highly skilled or need you to operate heavy machines, such as working in the Deli with knives, pharmacy, Auto Center, or guns departments, are more likely to require a drug test before being hired. This information will be sent to you after your interview if you are asked to take a pre-employment drug test. Drug testing will not be done during the actual interview.
2. Random Testing
Walmart conducts random drug tests on its staff regularly. It is to ensure that all employees are safe in the workplace.
Random tests are usually random and are conducted at the discretion of the local managers.
3. Suspicion Testing
If you're suspected of using drugs on the job, your boss or bosses may demand that the corporation conduct a drug test on you.
It is within their rights as an employer, and it can happen at any moment if your behavior suggests you may be impaired.
4. Post-Accident Testing
Workplace accidents may occur, and if you're involved in one, you'll almost certainly be subjected to a drug test, even if you weren't at fault.
It is done to determine the cause of all workplace accidents and keep the workplace safe for all employees.
What Type Of Drug Test Does Walmart Use?
Walmart currently uses a urine test for all of its drug testing. The employee is given drug test cups to collect their urine. It is done in the bathroom, and you are not permitted to bring anything else into the bathroom with you during the test.
A urine sample must meet certain criteria to be considered viable. It will be considered a positive test if it is suspected that you tampered with your test in any way.
What Type Of Drugs Does Walmart Screen For?
Walmart's urine test looks for marijuana, methamphetamines, heroin, cocaine, and PCP.
How Long Does A Walmart Drug Test Take?
You will have twenty-four hours from the time you are told to submit to a drug test if you are asked to do so. It only takes a few minutes to start the initial sample collection process.
The results usually take one or two days to arrive once the specimen is sent to the lab.
What Is The Policy If You Fail A Drug Test?
If you do not show up for a drug test or the results are positive, you will be turned down for the position you interviewed for. You may lose your job if you are a current employee and your drug test results are positive.
Who will be subjected to testing and why?
A drug test is used to determine the presence or absence of illegal substances and the use of prescribed medications. Drug testing in a private business is not prohibited or restricted by federal law unless it violates other legal rules, such as an employee's or applicant's right to privacy, dignity, and reputation.
Employee refusal to submit to a drug test provides grounds for treating them as if they had tested positive. It may serve as justification for the employer to reprimand the employee.
Federal law requires employers in safety-sensitive businesses such as transportation, aviation, and the Department of Defense to conduct testing. A drug test may be administered to an employee for several reasons, including pre-employment, random drug testing, follow-up testing, and post-incident testing.
If you're worried about your impending drug test, you might try to practice a few at home to help you relax before your Employer's Drug Test. Make sure you get the best urine drug test kits on the market.
Is Walmart testing for drugs and substances?
The most common drug test administered at Walmart is a urine test. Drugs and their metabolites are detectable in urine for longer periods of time, extending the detection window significantly. Urine testing is a non-invasive, easy, and low-cost method of drug testing. Under federal law, urine is the only permitted specimen for testing safety-sensitive personnel.
A preliminary immunoassay or Elisa test is performed on the collected urine to identify drugs and their metabolites. The sample is subjected to gas chromatography/mass spectrometry (GC/MS) analysis if a false positive is found. A variety of illicit substances, including amphetamines, opiates, cocaine, and phencyclidine, may also be tested (PCP).
Does Walmart do drug tests for marijuana?
In the United States, medicinal marijuana is legal in 36 states. The legalization of recreational marijuana in 18 states in the United States has complicated occupational drug testing for MMJ.
Businesses are increasingly modifying their drug screening systems to exclude medical marijuana from the list of illegal drugs.
A federal district court in Arizona recently ruled that Walmart was liable for firing an employee who recommended medical marijuana. The court determined in Whitmire v. Walmart General Merchandise.
Walmart that Walmart failed to prove that the employee was impaired at work due to MMJ use. As a result of shifting MMJ regulations, Amazon is the latest corporation to legalize and decriminalize MMJ for positions not controlled by the DOT (Department of Transportation) this year in June.
Because of the competitive labor market, especially in light of the epidemic, businesses have opted for MMJ workplace drug testing. Due to staffing shortages, numerous businesses are going to extremes and skipping pre-employment testing to fill empty positions.
What other types of testing does Walmart perform?
Walmart performs the following types of testing:
Pre-employment Testing: Depending on the position you are applying for, you may be required to submit to a drug test before beginning your orientation.
Moreover, jobs at Walmart that require a higher level of competence or the ability to handle heavy types of machinery, such as those in the Deli with knives, pharmacy, auto center, or guns department, are more likely to require a drug test before hiring.
You will be notified following your interview if a pre-employment drug test is required. Drug testing will not take place during the interview, but it may take place the next day.
Testing after an accident: Even if you were not at fault, you would be subjected to a drug test if you are involved in a workplace accident. It is done to figure out why there are so many workplace accidents and to keep the workplace safe for everyone.
Random Testing: Walmart conducts random drug tests on its employees on occasion. It is done to ensure that the workplace is safe for all employees. Random exams are frequently conducted at the discretion of local management. Employees are not informed in advance about random tests. How to call In sick at Walmart.
Suspicion Testing: If your manager or supervisor suspects you of using drugs on the job, they may order a drug test on you.
Do They Do Drug Tests After Accidents or "Incidents"?
Yes, Walmart, like Amazon, reserves the right to ask you to take a drug test if you are involved in an on-the-job accident or incident if they suspect you are under the influence of drugs or alcohol.
If your test results are positive or you refuse to take the test, your job may be terminated. Does Walmart make keys