Are you a freelancer? If yes, then it goes without saying that you do need a card.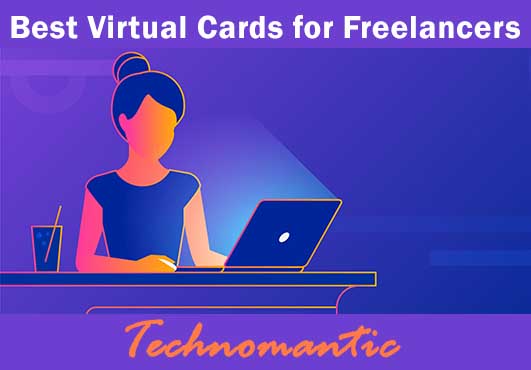 We understand how managing your assets can be a hectic chore, especially after everything is digitized.
Transactions, delivery, finding work all happens in the space of your couch, bed, or computer table.
That's all there is to the office, taking covid scenarios into consideration.
The importance of having a credit card is not something that needs to be talked about, but even those do not come in handy because once in a while, you do require to go to the bank for one or another settlement.
Even worse, when you are a novice and just leveling up to the point where having a credit card/debit card has become necessary.
Still, you cannot go to the bank, as some states have those strict stay-at-home rules going on.
So, what to do? If to learn, then muster along with us on this article on Best Virtual Cards for Freelancers, starting below.
What Are Virtual Cards?
Virtual cards are just as same as physical debit cards or credit cards, except that they are not physical.
They exist only online within a brand-specific entity. However, they work just the same as normal cards.
Talking of late, even those banks which first hesitated to get anything online are now even providing both options.
Simultaneously, if you have a virtual card, you can still opt for its physical version.
Likewise, for any debit/credit card, you get a random and unique card number, CVV, expiry, and credentials as per your identity.
Since we are experiencing digitalization in its youth, we are susceptible to a few wrongs.
Websites like Amazon, eBay, and other popular brands have an image at hand, and to be honest, they have no business stealing your information.
But, still, some hawks and vultures are waiting for the opportuneness for you to fall into the trap.
However, along with the chances to have at it, you can stay safe from any fraud online if you are smart and eventful.
Besides, applying for a virtual card is effortless, time-saving, and comes with many side benefits. We will learn everything in detail below.
What Are the Benefits of Having a Virtual Card?
● With a virtual card, everything is instant and under your control.
● Virtual cards are more secured as they can be turned on or off as per need.
● Rentals and charges are properly notified, so any chances for you to miss an important due is unlikely as compared to a physical debit card.
● You cannot always carry your physical debit card but could you not always carry your phone? So, a virtual card is on you all the time.
● Absolutely zero chances of losing your card when it does not exist physically.
● Sites like NetFlix require card information, and if you do want to avail of the service, you need to have a card. If you cannot ask your dad for it, ask the bank to issue you one.
● Maintenance of virtual cards is easier with their in-app utility.
● You get aware of any offers, cashback, rewards, or referrals on time so that if you have to make any purchase or transaction, you can benefit from it.
● Application and approval are almost instant, and in some cases, it might delay just as late as a day or so. As compared to the paperwork, hassle and rejections added up to the waiting, and virtual cards are much handier.
● They are accepted worldwide, wherever any normal physical cards are, and money transaction management becomes very handy as requesting a statement each time with a physical card is very frustrating.
AirTM
The reason for keeping this virtual card service on top is not one but many.
With AirTM, you can absolutely shop anywhere in any currency. And ask a freelancer how useful this could be.
Now keeping track of your expenses is not an easy task but adding up to currency exchange, imagine the trouble.
Besides, AirTM never asks you to keep any amount in it as a minimum balance. With AirTM, one can have financial freedom in its true sense.
Another attractive feature is which lets you ring their customer service any time of the day.
Moreover, AirTM can be recharged with more than 800 banks.
Is that all? We bet not. If you are a freelancer, it is not believable to hear that you don't carry a crypto balance.
And if you were looking for ways to utilize the saturation, AirTM lets you do the same.
You can recharge your AirTM wallet with cryptocurrency for exchange or expenditure, as the case may be.
There are many packages for the type of card, and if you wish to check their fee, you can proceed to this link.
Privacy.com
Well, as this name suggests, our number one choice for secure payments via a card is no other than virtual Privacy cards.
This is a unique system of recreating a one-time use card number for each transaction under an identity.
So, as we will be discussing the security of virtual cards over physical cards, Privacy takes it a step further.
Privacy works with many American banks like Citibank, Wells Fargo, and also the Bank of America, to name a few.
For this, you have to get a chrome browser extension of the same. The link to it is 'install Chrome Extension for Privacy.com'
There are a few services that would give you a very hard time when you want to cancel some of your subscriptions with them.
Their power is that they have your credit card details, and Privacy snatches such services from misusing their power upon us.
When these subscription status needs to be canceled, you can just do so by Privacy one-click unsubscribe.
Since your credit card number changes for each transaction, companies have no possible way of charging the previously entered credit card number.
And yes, it is a legal way of using your assets.
And most of all, this service is free, but to sustain itself, it does deduct a small commission in each transaction, transparently.
Promo Codes by Privacy.Com
Here we want you to look at these privacy promo codes offered by privacy.com, and we won't take much of your time.
Suppose you feel like you need some discounts, cashback, credits, or even some sign-up credits.
Feel free to click on this link to know how you can avail all of that easily.
Emburse
Emburse is an emerging financial service that is providing some eye-catching features in its virtual card provision.
Emburse also validates physical credit cards. The most eye-catching value of Enburse is that it is very strict with its disbursement.
Each individual is genuinely identity verified, so it is making the online financial world a secure place.
And for the same, with its swift service, you get real-time data and insights into how you are spending your money.
Then you can also have a receipt for the same.
As a freelancer, you have a diverse look-out of expenses, from stationery to online courses, electricity, rents, payments, and internet bills.
The list never seems to end.
Emburse automatically categorizes your expenditure in sections so that when you visit, you can have an organized system to look thoroughly.
For a cleaner and systemic approach to managing your expenditure with virtual cards, we say give it a go.
Airwallex
If you are looking to save some money on international transactions, here comes Airwallex.
Airwallex is an Australian fin-tech that charges no fee for international transactions.
And, surprisingly, there is no monthly fee for it.
We do not know how they make it happen, but here we can see that they are focusing on getting more and more freelancers to their platform.
And while this lasts, we must make sure to benefit from it.
Moreover, if you purchase any software subscription from your Airwallex card, you will get a 3% discount as well.
Altogether, you get the security of Visa or Mastercard depending upon your selection.
Airwallex is a smooth, secure, easy to relocate, swift, and saving-oriented virtual card service, which must be tried for once.
Conclusion
We, ourselves being a team of freelancers working together, know in total what efforts and hard work we have to bring to the table to make it work.
It's a hope that in this article on Best Virtual Cards for Freelancers, you have got some useful insight into the popularity of virtual methods of financial management.
Today or in a year, all the physical cards will be put out of use in an attempt to save the environment from plastic.
Manufacturing a physical card involves a set up which in itself eats up money, so to say.
And, if you still feel anything we missed, mention it to us via the comment box below. We will be happy to help you with your queries.
You may also like to read about the Difference Between First and Second Degree Murders, Text mail subscriber , Highest snap streak, and DHL shipment on hold.