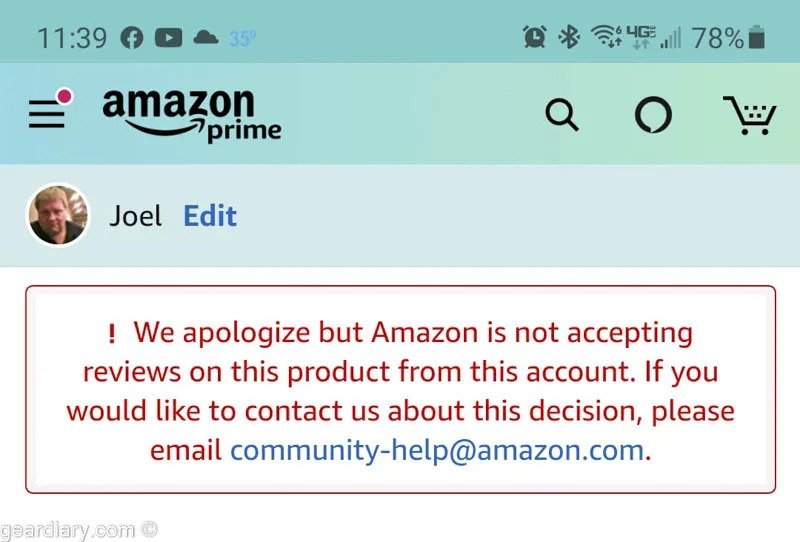 Amazon customers' reviews for products are crucial to the marketplace and sales of Amazon sellers. Even when you are about to make an Amazon purchase, reading a few reviews will give you a fair indication of the quality of that specific item.
It might not be very pleasant when Amazon removes your seller's customer reviews. It can occasionally become one of the key causes of your declining sales.
Even if you write reviews, you won't like it if your sincere feedback or viewpoint is ignored. In some situations, Amazon may remove or prohibit reviews and feedback. This article will explain why this occurs and how you can avoid such circumstances as a vendor or reviewer.
Why doesn't Amazon allow me to submit reviews on products?
Amazon sometimes imposes limitations on product reviews. Or, if you leave a lot of reviews quickly, Amazon may flag them as spam and remove them.
You'll never be able to guess what happened with your review. Or how Amazon operates behind the scenes. No formal statements have been made regarding restricted accounts or removed reviews.
Also read: What does Amazon Pay Raise Chart
But it Appears that People Report the following Situations in Common
Deleted Review
This situation commonly arises for sellers who receive a decent volume of purchases but insufficient reviews despite seeking reviews using Amazon's feedback tool. The question of why Amazon is deleting their own reviews has confused those Amazon vendors.
Blocked Reviews
In some cases, the absence of reviews for products (including those with BSR ratings) indicates that access to reviews has been restricted. Sellers won't know this situation unless a buyer complains about it. And since you are the only person who is reporting to Amazon that your things are being prevented from earning reviews, it won't happen soon.
Limiting Reviews
Amazon limits the number of reviews a product can receive. It is because some sellers use fake reviews to boost their product rankings. You can identify and remove these fake reviews of your products by using a review checker tool.
Your listing gets flagged for unusual activity: You can be detected for an unusual activity if you utilize a review bot to obtain credit on your Amazon listing.
These review bots repeatedly reword the same review for the same product. Your reviews will be deleted or disabled if your listing is reported. When Amazon notices a dramatic increase in the number of reviews or purchases, they limit customer comments because they suspect a review bot. It may be harming your listing.
Is Amazon Deleting or Blocking your Reviews?
Yes, Amazon is removing your reviews. The company has changed its procedures due to the problems with fake reviews. Many sellers claim to have increased sales figures, but declining review counts. It has been particularly confusing for rule-abiding sellers who use Amazon's email feedback function to ask for evaluations from customers.
Buyers have noted that there are fewer reviews than before when looking through their review history.
What We Know (Amazon Deleting Reviews, Blocking Reviews, Limiting Reviews)Finding the details can be challenging. You must seek the community for first-hand accounts of Amazon removing or blocking reviews for a product since it has not released any official information about this.
We have Identified three Typical Scenarios So Far
A product's reviews are blocked.
Reviews are "throttled" or constrained.
Amazon is completely removing reviews.
Customers seeing your listing and discovering they are unable to submit reviews is the first point. The vendor is not informed. You typically know this when a buyer contacts you. The review block is often imposed for a short period of time. It might also be set only to allow unverified reviews. The restriction on reviews is a form of a daily limit. The number of reviews you can receive each day on Amazon may be limited if you've received many of them daily. It will often be 3-5 reviews per day.
Finally, Amazon is completely deleting reviews. The most concerning aspect for sellers to deal with is that this might occur even if you never engaged in any unethical behavior. The initial step is to understand "what." The next is finding out what will help you protect your account and your valuable product reviews.
Why is this Happening?
You want to know why any issues are occurring with your listings. The issue is that Amazon withholds most information to prevent system abuse. Consequently, it's challenging to obtain a precise response. They do leave a trail of breadcrumbs. If you follow it, you might be able to find the problem's origin.
"Amazon has noticed unusual reviewing activity. Due to this activity, we have limited this product to verified purchase reviews."
When reviewers attempt to post a comment on a listing that has a review block, the most typical message they receive is that it is because of their "unusual reviewing behavior." Very vague, but we can infer that the listing has been marked as suspicious by Amazon's algorithms.
Amazon may flag a listing due to a variety of factors.
Here are a few of them:
There are too many reviews that aren't verified (compared to the number of verified reviews).
Your reviews contain suspicious language.
A sudden increase in the rate of sales or reviews.
But it's challenging to define what "unusual reviewing behavior" means.
How can Sellers Protect Themselves?
There are some factors that you can control. While you might not be able to protect yourself completely, keep in mind that your rivals also face danger.
You can still outperform the competition if you take the necessary precautions to reduce risk.
Stay Clean
The first and most crucial step is to follow the regulations. You will get caught using grey or black hat tactics.
These actions are likely to land you in trouble
Paying for reviews (including providing PayPal refunds after purchase).
Attempting to persuade reviewers to change or erase their reviews.
Use suggestive language in your email follow-ups.
Make Use Of The Early Reviewer Program
With the help of the Early Reviewer Program, Amazon encourages customers to post reviews for newly released goods. Amazon will continue to request reviews for a further 12 months, or until you receive five reviews through the program, at a fee of $60. If you receive all five reviews, $12 is a very reasonable fee for your first authentic Amazon reviews.
Space Out Review Requests
Many vendors seek customer reviews via Messenger, email, or Amazon autoresponders. To make it easier for you to ask consumers for reviews after they've used a discount, LandingCube now offers a built-in follow-up email tool.
Avoiding a brief surge in reviews could be advisable since it is thought that increased review velocity will activate Amazon's algorithm for an odd review activity.
Video Guide on "You are no Longer Permitted to Review Products on Amazon Content"
How do you become Eligible to review on Amazon
You must have made a minimum $50 purchase on Amazon.com within the last 12 months using a legitimate credit or debit card to review a product.
Why would Amazon not let me review a product
Product reviews on Amazon are occasionally subject to restrictions. Or, if you post several reviews quickly, Amazon can mark them as spam and take them down.
You can never predict what will happen with your review. There have been no official announcements regarding banned accounts or erased reviews.
Is there a review limit on Amazon?
The review limit is based on how many product reviews a customer can submit daily. The restriction varies for verified and unverified reviews. But most users report that it begins to apply for around 3-5 reviews each day.
How do I get my Amazon account unbanned?
You can get permanent bans lifted if you make a complaint. You can speak with the representatives and attempt to persuade them to unban your account.
After being barred, there are two ways to rejoin the e-commerce platform:
Create a new profile
Appeal the ban decision
Do you get anything for Amazon reviews?
The greatest Amazon reviewers are invited to test out products and leave reviews as part of the Amazon Vine program. Customers who have posted positive product reviews on Amazon and received high star ratings from other users may be invited to the program. Participants in the program are given free products to review.
How many reviews can you do on Amazon a day?
The number of reviews that customers can submit on the online marketplace Amazon is restricted. People can now only review five things not purchased from the online store per week to stop posting fraudulent feedback.
You may also like to know more about Amazon