In this article, we will talk about how Captcha Work and available jobs related to Captcha out there. But before all of that first I,m going to tell you that;
What is Captcha?
Most of us want to know why CAPTCHA is the most critical internet element these days. Firstly what is CAPTCHA stands for? And the answer is " Completely Automated Public Turing test to tell Computers and Humans Apart."
There are many types of captchas tools, and all have the same purpose: to differentiate between human users and automated users such as bot.
CAPTCHA is a challenge/task that is easy to perform by humans but not for the bot: For example, audio captcha and image recognition CAPTCHAs some time series of letters.
How Does Captcha Work?
The working of Captcha is fascinating. Mostly CAPTCHA works by providing questing to the user for an answer.
Some Website still uses classic Web Captchas, which Provides the disarranged random letters and number to a user, then has to arrange it in the right way. The false arrangement of letters or numbers made it very difficult for auto bots to prevent the bot from entering the website.
The thoughtful thing is that CAPTCHA is base on the human ability to recognize life incidents by generalizing the novel pattern. On the other side, auto bot or CAPTCHA breaker follows built-in instruction. Therefore modern CAPTCHA is very difficult, and the percent success rate depends upon the real user.
The traditional captchas are easy to break because the bot uses machine language. The bot has an algorithm that CAPTCHA is also using; it follows the pattern and breaks the CAPTCHA. Due to this problem, modern CAPTCHA is base on a challenging test.
What is the Purpose of Captcha?
Captchas invented to use by any website that wants to block or restrict spammy bot from posting images or spam comment on the website. CAPTCHAs have many forms, but pictures with distorted letters are ordinary.
As most of us know, the internet and computer made up different machine languages. Therefore it's tough for the computer to understand human language. Captchas are simple security for providing challenges to prevents scammers from entering to website.
What Are Captcha Entry Jobs?
There are several definitions or explanations about CAPTCHA entry job but simple: "Solving any type of Captcha is know as Captcha Entry Job." Many Online Companies are providing lots of Captcha Solving Job people often called it data entry job.
You can earn some extra money by solving these CAPTCHAs. Mosley Captchas Are in English, and it's easy to solve. Simple type word in fields as shown in the image. Both alphabet and number are part of CAPTCHA, and font forget that Captcha is case sensitive, so be careful about upper and lower case characters.
Online Captcha Typing Jobs
In third-world countries, almost everyone wants a part-time job for the sake of money. Many people face problems in other internet fields, but this is an easy job for those who don't want to make an effort.
For work you need quality internet to connect, computer and soft keyboard for typing. Online companies have many clients who need people to do their work as like solving google captchas. As we know that it's a headache for many business people. Therefore they pay a fair amount for solving CAPTCHAs.
It has Some Rules:
You will not get money if you make an error during work. But you can correct your mistake by entering CAPTCHA again.
You will get money after completing your tack. There is no time limit for working, and you can take your time to complete the task.
If you're a student you must read: online jobs for teen and online tutoring jobs for teens.
Types of CAPTCHAs
There are many types of CAPTCHAs, but Few are very popular.
Text-Based CAPTCHAs
This Captcha is known as classic/traditional Captcha. These captchas use words or phrases with a random combination. Its most common Captcha used by many websites.
Audio CAPTCHAs
The Forum base site uses this Captcha to prevent bots for comments. Mostly these comments are attached with a link for getting do-follow/no-follow links.
Images CAPTCHAs
This Captcha is very famous and uses by Google. This Captcha has many memes on social media, and I don't think that I need to explain this type.
Top Sites that Offers Captcha Entry Jobs:
Here I've done research on best captcha entry jobs companies where you'll get highly paid.
2Captcha
You can earn up to $1 for solving 1000 Captcha and get a reward for solving confused Captchas. You can likewise earn more by referring more users to 2Captcha.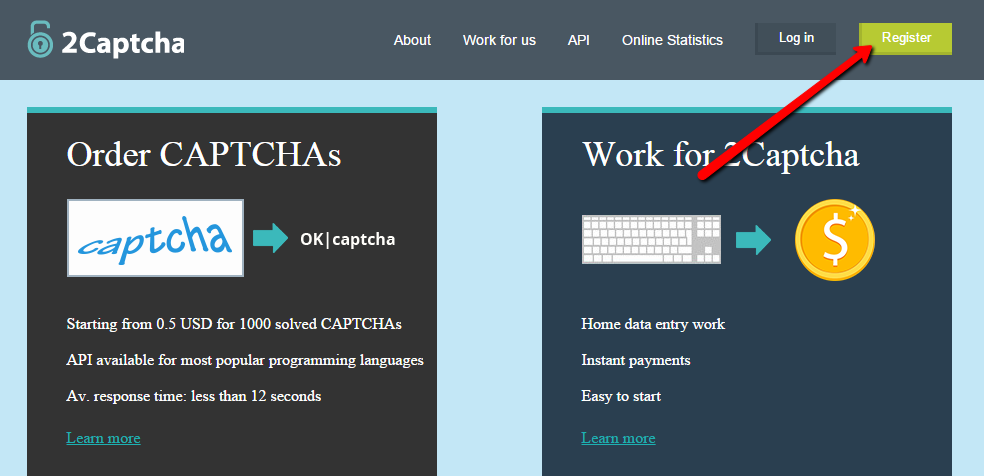 2captcha is an international site that provides jobs about Captcha filling. Many Asian users use it for earning online. The registration is effortless on this site. You can easily register yourself. Working and paying are effortless. You can quickly get 1 dollar after 1000 captcha filling.
You can quickly start earning once you login to the site. You can get paid by PayPal, Payza, and WebMoney. Least Payout for WebMoney is $0.5, for PayPal is $5 and min. Pay for Payza is $1.
MegaTypers
MegaTypers is also a know captcha typing job site. You can easily register yourself here for this job. The beginners paid 0.45 dollars to 1.5 dollars.
The experienced can earn 1 dollar to 2 dollars per hour. The method of their paying is quick. They can pay by debit card, credit card, master card, PayPal, and western union.
Kolotibablo
Kolotibablo is best for those who are finding a CAPTCHA entry job; this is one of the worldwide sites. Company policy is simple they will pay 0.35 dollars to 1 dollar per 1000 of image CAPTCHA filling.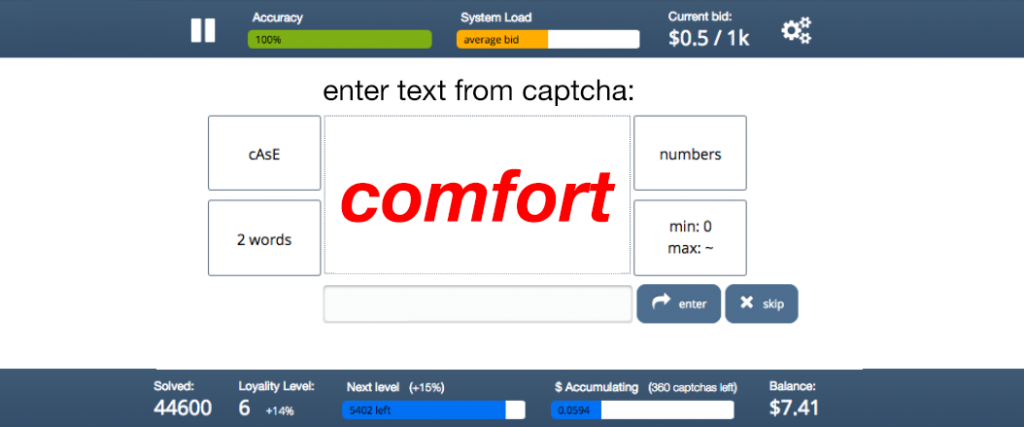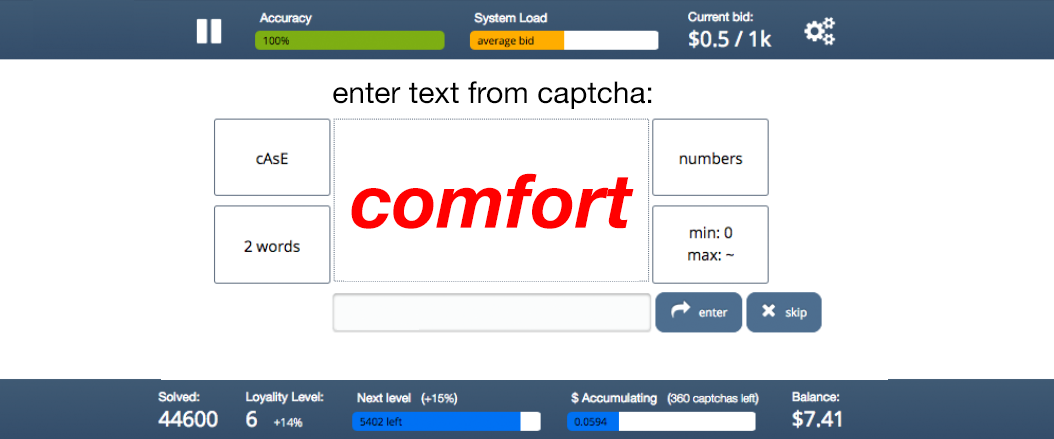 If you work more than it, they will pay above then. I know many people that they earn 200 dollars per month on this site. Generally Kolotibablo is one of the top worldwide Captcha section work suppliers.
There are some strict rules for them. If you continuously make mistakes to solve a CAPTCHA, they will ban your account. You will get the sack. You will get a job on this site after creating an account on it.
CaptchaTypers
CAPTCHA typer is also a website that provides captcha-filling jobs. I experienced that this is one of the best sites ever seen.
The method of earning is that you will get paid 08 to 1.5 dollars per thousand images. This job will be from 9 am to 9 pm.
The way of their payment is straightforward. You can quickly get your payment by PayPal.
PixProfit
Pixprofit is one of the best sites that provide captcha jobs, but now their registration is closed, it will be open soon.
You can fill CAPTCHA for earning money; they will pay you about how you work here on this site. If you fill thousands of CAPTCHA in an hour, they will pay you according to this.
Some Frequently Questions about Captcha Work
How CAPTCHA Prevents Scammers
If you know something about CAPTCHA, then you have to ask this how Captcha prevents scammer? The answer is: Captcha has many applications, virtual machines, and thousands of websites that work behind it and need to secure you from scammers. There are many ways to protect you here some of them:
Its prohibited scammer to scam with real personal email addresses.
CAPTCHA systems Protecting your website registrations
captcha application Protecting online scamming.
CAPTCHA technology Protecting junks against your email.
How do reCAPTCHA tests with a single checkbox work?
When Captcha opened on the page, it takes the user on a simple message like this "I'm not a robot." if you click on this message, it will take you to another form of CAPTCHA that is actual Captcha.

This reCAPTCHA test takes the user to another page. There are some pictures that users have to recognize. It's also keeping an eye on users to check that the users are a human or bot. If the user clicked on the right pictures and made not a single mistake, it will lead users to an accurate page that they wanted, then it dost not take him additional challenges.

If users continuously made mistakes, it also continually changes the pictures to solve them. This test is beneficial for distinguished humans and auto bots. There are also many cookies in the brewers with the user's history that tell Captcha that the user is human or bot.
So what is Online CAPTCHA solving Jobs & how to earn from this?
It's a common question raised on every person who uses the internet and wants to earn money. If you use your social account, i.e., Facebook or Gmail account, you must face many time reCAPTCHA.

There are many companies who are offering captcha solving job, After proper research, I've created the list of top companies who provides you the Captcha Solving at best rates.
Final Words About Captcha Work
Captcha work isn't something where you can make some large pay. Here you work hard, and the cash you make is not enough. You can get paid around $100 to $300 every month on the off chance that you work in any event 4 hrs day by day.
Indeed, some legitimate sites pay, yet we can't earn much as we do the direct activity. There is no reason to contribute your time to carry out these responsibilities. Regardless of whether you do, a few organizations are trick, and some will send you the recordings of how to win cash.
It requires patience, yet I feel there is no need to be quiet and carry out this job. As our life is brief, we can accomplish something necessary for the circumstance and the spot you exits. There are many others ways to earn money online like: sell amazon gift card for cash and android apps that pay you real money etc.