Having created the image of a person, you can find and implement a successful marketing strategy.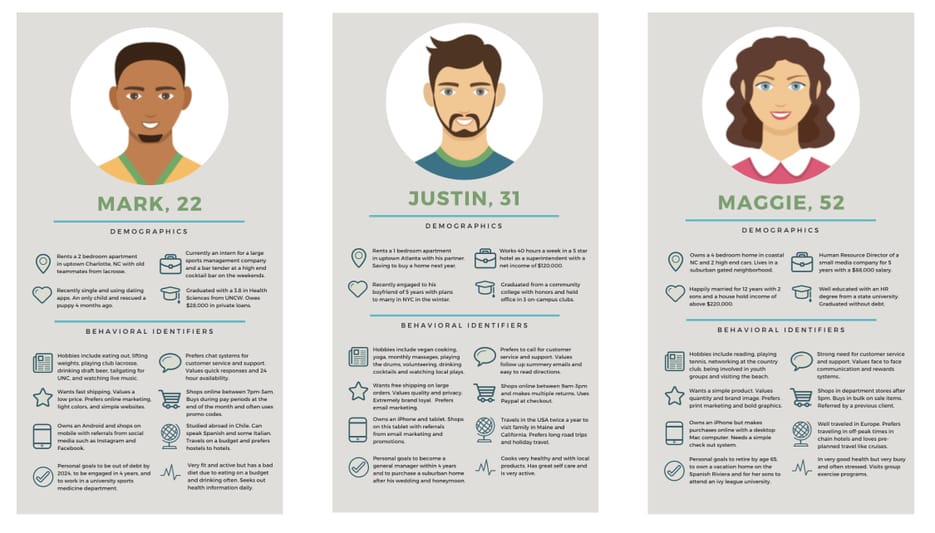 In this article, we will answer the most important questions: what is the image of a person, what types there are, and how to create it.
5 Tips On Digital Marketing Persona Improving Your Business
Do you know who your client is? Like people, shopper personalities change depending on the market, time, new and old products or services.
If you notice that your sales are down or stand still, you probably want to turn to a marketing strategy consultant to improve your business.
Any agent will suggest to you an idea for a "marketing persona" that you can handle yourself. How? Below are five actionable tips to take your business to the next level. For now, let's find out what a "marketing persona" is.
Definition of Marketing Persona
The marketing persona is the ideal client for your business. The following criteria can identify the perfect client:
Shopping habits.
Demographic characteristics.
Location.
Place of work or hobby.
Interest in the product.
The need for a product.
A marketing persona is a fictional representation of a real customer that prestigious companies use to develop or redesign a product. These personas are essential for the product, as they determine what the product should look like for successful sales. Thanks to the marketing person, you can determine his needs and desires in advance when designing without wasting money on unnecessary layouts.
You can create an effective marketing strategy to attract even more of this type of person by knowing your ideal customer. A buyer persona represents his problems, goals, life history based on market data or data about your existing customers. Without understanding who your ideal client is, income can go downhill.
A marketing persona is an essential element of the business because knowing the ideal client will allow you to offer the best design and product that will resonate with the hearts of many people. In addition, the marketing persona helps define strategies for making efficient decisions and investments.
Types of Marketing Persona
Marketing persons may differ:
From industry vertical to vertical.
From B2B to B2C.
From country to country.
As you can see, the difference between marketing persons depends on many variables, and their distribution depends on how you track the behavior of a potential client and store data. Today there are online courses and tools to improve your marketing person's vision. Therefore, use your autonomous tools or your thinking to determine how your customers are different.
Guidelines for Building the Perfect Marketing Persona
Now that you have a general idea of the marketing persona, its benefits, and goals, you can start creating this element. We note in advance that creating a random character without taking into account the data of the market or your customer base is not the best strategy. Yes, you are making a fictional character, but he should be as close as possible to the behavior of the real buyer. In addition, several aspects also need to be considered – here are five tips for creating the perfect marketing persona.
Download Sales Data and Classify It In Excel
If you have retained sales data over many years, this is an excellent treasure trove of customers with quantitative characteristics. Acting levers here are people who bought something from you.
Your task is to understand why they did it. You can do this by evaluating the following aspects:
● Expense thresholds. There are three thresholds for consumption – low, medium, and high. Determine which products people buy most often – cheap, somewhere between cheap and expensive, or expensive. Based on this data, you can design rewards for those who buy expensive products and develop great deals or discounts for people with low costs.
● Job responsibilities. Based on this criterion, you will be able to understand who your potential buyer is – top managers, managers, or ordinary workers.
● Location. Determine which neighborhoods or cities people buy your groceries the most.
● Gender and age. This criterion is typical for any business because it allows you to determine how many women and men buy your product; how many young people and adults are buying it. People of the same age have similar shopping habits. For example, young students who search Google for "my assignment help" will go to writing services more often than 30-year-olds.
● Days of the week. There is a group of people who buy groceries on certain days of the week. For example, sales peak most often comes on weekends. Your peak sales can be on Monday or other days, depending on the product. Your task is to define buying behavior.
● The number of purchases. This criterion will allow you to understand if people can afford to buy multiple products. If so, you can launch targeted advertising with a good offer to buy two or more products.
● Country. Did you know that Americans are more likely to shop than Europeans? If your product is popular in all countries, you need to understand the consumer behavior of the countries that shop the least and develop promotions for that group.
You don't have to evaluate all of these aspects, as some of them may not apply to your business. Choose only those that will help you identify your ideal client, and you can build brand awareness and sales. You can fill out the answers for these criteria in the Excel table for better clarity.
Evaluate Customer Behavior On The Website
Surely, you have developed a web platform for selling goods and created forms that customers can click and maximize your profits. You can evaluate the actions taken by the client on the website in balls to understand which one brings the most benefit to the business. You can evaluate the following aspects:
Downloading documents, pictures, or something else.
Filling out the order form – if you have an order form that allows you to select a product based on customer data.
Page visiting.
Viewing product overview.
Newsletter Subscription – It is important to track both subscriptions and subscriptions to understand what the problem is.
After you define what actions you want to rate, you can create a scale. On the scale, you will distribute which website functions induce the visitor to make a purchase. Typically, a rating scale looks like this:
Cold lead – less than 100 points. Most likely, the person is not interested in buying after performing a certain action.
Warm lead – from 100 to 200 points. A person is interested in buying after performing a certain action or needs a little push to purchase – discounts or other advantageous offers.
Hot lead – more than 200 points. A person without hesitation is ready to make a purchase.
Based on this data, you can understand how the ideal buyer works.
Conduct an Interview
Using the feedback form or questionnaires, interview existing customers:
Why did they make the purchase?
What helped them make a purchase decision?
What products do they like?
You can also contact the sales department. Sales department employees are closest to customers because they talk to them day in and day out. They know best the customer's needs, wants, reasons for buying, and buying behavior. The sales department will be able to tell you in a matter of minutes which is the most frequent customer, which groups of people are more active and which trends people need.
The interview will provide you with quality data. The interview is also the cheapest tool for analyzing the target audience. Yes, an interview may not suit the entire spectrum of clients because many are not ready to share their opinions.
However, the feedback you get will be valuable to the business. Why? It's simple – you will learn about the company's features from the client's side and implement them to attract even more buyers.
Study the Ideal Marketing Persona Every Three Months
Customer behavior can change rapidly. Therefore, ideally, you want to research your marketing persona every three months. You can carry out the analysis of the client yourself or with the help of the sales department (we described the analysis method above). If you want to study the marketing persona and identify changes independently, it is enough to answer these questions:
Through what channels does the customer learn about the product and make a purchase?
What is social media most likely to encourage a customer to go to a website and make a purchase?
Does the website content grab the customer's attention?
Does the client like the values ​​and advantages of the company?
If, after answering these questions, the indicators coincide with the analyzes of previous months, then you are on the right track. If some criteria have become less beneficial for the business or have little effect on customer behavior, you should change the approach to attracting customers.
Highlight Marketing Persona Features That Every Buyer Will Love
Unfortunately, the portrait of the ideal marketing persona can be very different from most potential buyers. Therefore, your business should be unique and cater to all types of clients. To do this, you should highlight the characteristics of an ideal marketing persona that match the preferences of most buyers and incorporate them into your content.
For example, you can highlight the problems that most people care about and solve them with the help of products. You can also highlight the company's features that attract all customers, regardless of gender and age: low price, guarantees, discounts, etc. By using a language that suits all types of people, you can make them your regular customer in the future.