What is a Snapchat Score?
Snap scores are the points you earn when you send and receive snaps, according to Snapchat app. Each snap gives you 1 point if you send anyone a snap and 1 point if you receive a snap. However, Snapchat stories do not earn you points.
Do you know what Snapchat score reflects?
Your Snap Score reflects your social status and shows how you use Snapchat on a regular daily basis. It's good to notice which of your friends are more active on Snapchat. So, here's how the factors for Snapchat Score is determined:
 Pictures that you send and receive or video snaps (streaks you do)
 The stories you share and see show how active you stay on Snapchat.
 The number of people you know at snapchat.
If you want to earn bonus points, try to send snaps to multiple or mutual friends on your friend list. To increase or maintain your Snapchat score, you need to keep sending streaks, not only one streak but multiple streaks daily.
Snapchat does not give specifics options on how we can calculate Snap Scores. So, there may exist some assumptions. The snap scores depend upon your activity.
According to Indiatoday.in
Snap Score indicates how active and social you are on Snapchat. Though it can't be used for anything, it's fun to see who's more active on Snapchat from your friend list. So what makes up the Snap Score: – Snaps you've sent and received. – Stories you've viewed and posted.
What is the Snapchat score breakdown?
Sending a Snap earns you 1 point, as does viewing a Snap, but if you only text your friends on Snapchat, there won't be an increase in Snapchat score.
Click on the top-left corner to increase your snap score points and add to your Snapchat story. Sadly, watching a story does not increase your Snapchat score.
Snapchat breakdown occurs when you don't use Snapchat for some time or stop using Snapchat. If you are new to the Snapchat app, sending your first snap will earn you 6 points. Snapchat score is highly affected if you take a break from Snapchat, but you still can increase your score by coming back!
But what if my Snaps don't add up?
Are you worried because your snaps are not adding up? There's no need to panic! You can fix this matter. Individuals take adding snaps as competition, and when their snaps don't add up, they get annoyed. In the friend's circle, if you own the highest snap score, you can flex about it.
If your snaps are not adding up, check the server of Snapchat. Sometimes the Snapchat server goes down. If there's no problem with the server, the other option is to restart the app; restarting your app might help you.
When you update your Snapchat app, it does not work accurately sometimes because of glitches. It could be the reason that your snaps don't add up. In this situation, reinstall your Snapchat app.
Last but not least, you can report a problem to Snapchat support or help the community. We know that you are active users but be patient! Adding up snaps takes a little time.  Read it to get what didn't you know about Snapchat.
How can I Increase my Snapchat Score?
The best way to increase your Snapchat is score is to send multiple Snapchat streaks and get understand Snapchat algorithm. Getting a high Snapchat score asks more than just sending one snap. You need to maintain consistency.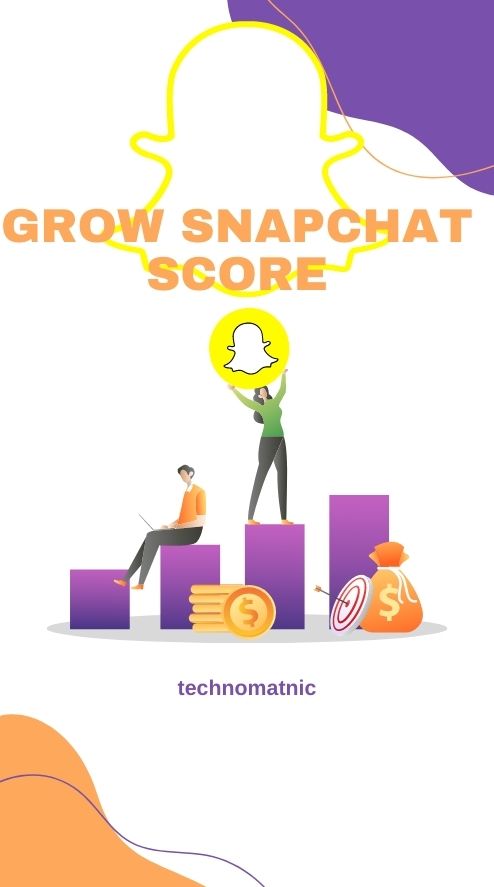 If you send the same snap to everyone on your friend list, Snapchat will not increase. However, if you send unique snaps every day, your snap score increases. The algorithm of Snapchat is not like the algorithm of the other social media platforms. A few are the following tips to increase your score. 
Sending more Snaps
Choose some friends who are pursuing the same aim as yours. It is a superb option for swiftly increasing your score. Snap them multiple times in a day, and your score will surprisingly go up.
Make Friends
Boosting Snapchat score by making friends may seem ridiculous to you. But in reality, it boosts your score. Snapchat score increases by sending and receiving some snaps. So, more friends on Snapchat mean more streaks which will quickly boost your score.
Be Sure to Open Snaps Regularly
Keep yourself updated regularly with your friend's snap streaks. The more you receive and send the snaps, the more chances you have to increase your snap score.
How to Find Your Friend's Snapscore
You can see someone else's score, but you have to be friends with them to see it. You can see your profile icon in the top-left corner. Go to My Friends and scroll down. You can find your friends list on Snapchat. You can see the profile icon of the friend you want to see. You can find it under their name and avatar.
Where To Find Your Friend's Snap Score?
Here is the exact answer to this question;
1) Open Snapchat and tap the top-left area of your screen to access your profile symbol, or you can directly click on the chat tab to see the friend's score.
2) The option for my Friends is located at the bottom of the page.
3) Scroll down and tap it.
4) Select a buddy whose Snap Score you'd want to see by tapping on their icon.
5) And finally, you will find your friend's snap score. It is present below their name and avatar.
Why can't I see my Friends' Snapscore?
Adding someone as a friend will allow you to see someone else's snap score, but only if you accept them as your friend. Neither user will see the other if they haven't hit the add button. Go ahead and snap. If someone removed or blocked you, or if you do the same, the two of you are no longer friends on the app, so you cannot see each other's snap scores.
How is a Snap Score Calculated?
Snapchat has mastered the art of allowing more interaction among its users. They've made their app gamified by including the Snapchat score, a cryptic number that indicates how active you are on the social media platform. Snapchat, on the other hand, isn't saying how you can compute the score. The number of snaps you send and receive from your friends determines the score.
Snapchat Score Calculator
Everything is taken into account when calculating the snap score. It doesn't matter how much you were into using Snapchat or took a long break. Want to know some snapchat games to increase score.
Bonus Points for Coming Back!
It is related to everyone who uses the app and those who rarely use it. You will get some bonus points if you start using the app even after a long break. It is a welcome gift. The points are ideal for being a score calculator.
Length of Streaks
It is easy for you to increase your score if you make streaks. You are interacting with your friends in the best possible way. The higher the number of streaks, the higher your snap score.
Number of friends on Snapchat
Good luck if you don't have a lot of friends on social media. It would be best if you made as many friends as you could (by accepting a friend request) you can to get a good number of scores. If you care about the snap score, you need to make friends with other people on the app.
Discover Videos in the Discover Section
You can increase your snap score by exploring more videos on the platform. Why? Even if you aren't sending snaps, you're still interacting with the Discover feature. That is important.
Number of Stories You Post and You View
The snap score reflects your interaction on the app. Using the story feature, you can still increase your snap score even if you aren't sending and receiving snaps. Even if you only watch stories, posting snaps on your story will increase your snap score.
Number of Snaps Sent and Received
The number of snaps you receive and send is related to your snap score. Your snap score is affected by the frequencies with which both numbers increase.
FAQ – What is a Snapchat Score
How does Snap Score Work?

Snapchat snap scores work on the score feature mentioned above. The notable achievements make you can earn Snapchat trophies based on your total.

T-shirts with a user's photograph are displayed when they score specific achievements on the app. That can result from having your story published on Live Story, using filters like sending creative snaps or earning a specific score.

What is the app's score, and how does it work? You can say that the score is the number of points you receive in exchange for joining particular Snapchat activities. Highest snap score of 2022.
Does Texting increase SNAP Score?

Sending photo and video snaps will increase your score. Text messages do not count. You cannot get the extra points for sending the same snap to multiple users. To get the point, you need to send a unique snap. 
What is the highest Snap Score?

For a frequent Snapchat user, the average score should be between 50,000 and 75,000. A good snap score is when your number is over 100,000. It is the best platform for having fun with friends.

The highest score of 61 million by the account Dion-19 is the highest snap score in the world in 2021, which will be visible to viewers.

Now, young people want streaks to compete with their friends to show their friendship with a specific person. If they believe that others have friends, they may feel pressured to react daily, affecting their self-esteem.
How much does the snap score go upper snap?

The user gets points for sending snaps and uploading a photo to their account. As mentioned before, users do not consider points for texting, according to the app's policies. You will be rewarded with points if you successfully open a snap. If you view the story, your points will not go up.
Can your snap score go down?

Snap scores never go down. That means that you will not lose points. Sometimes, users' snaps points get low, and you can report that glitch in that situation. If your score goes down, you can use the 'Report a problem' link in Snapchat to contact someone. 


Can your Snapchat score go up without opening snaps?

Yes, your Snapchat score can go up if you open the snaps or not. The Snapchat score increases based on how many snaps are received and sent.
How many points is 1 snap on Snapchat?
Each snap gives you 1 point if you send your friend a snap and 1 point if you receive a snap from anybody.
What is a good snap score?
A Snapscore between 40,000-80,000 is average. So, if your number is around 100,000 then it will be considered a great snap score.
What raises your snap score?

Sending photos and videos to Snapchat will only increase your Snap Score. Messages sent through the Snapchat app don't count. You don't get any extra points for sending the exact same Snap to multiple people. You need to send an individual snap to get a point.
Does your snap score go up if you receive a snap but don't open it?
You get one point for sending a Snap and another point for opening a Snap. There are no points for just sending messages on Snapchat. You also get points for posting a Snap to a story. Unfortunately, Snapchat scores don't increase if you watch a video.
What's a good snap score per day?
According to a Snapchat insider, the most active Snapchat users receive hundreds of Snaps each day. When asked for a better estimate, the insider suggested that ~150 might be a good approximation.
How long does it take for your snap score to go up?
According to a Snapchat source, the most active Snapchatters receive hundreds of Snaps per day. When asked for a more accurate estimate, the insider suggested 150 as a reasonable approximation.
Does your Snap score increase with chats?
Most of the time, sending and opening snaps is related to changes in the score. However, chatting on SnapChat doesn't increase your score. But perhaps you can use it to convince some of your friends to open up more snapchats they receive from you.
Overview – What is a Snapchat Score
Every user of the app has a number that tracks how active they are. It is easy to find a snap score but hard to understand. Your performance on the app can display your overall activity with the number of snaps you send and receive to calculate your snap score.
The best way to raise your snap score is by keeping up streaks. On your profile page, you can find your snap score. Your snap score counts. It includes how many times have you seen and posted stories? How many friends do you have? You will get bonus points for sending snaps to multiple people simultaneously and keeping up with the Streaks.
There are 0 points for just messaging on the platform. You get 1 point for posting a snap to your story. If you watch a story, you will not see an increase in the score. It may take a while to register for the remaining points to your score. Users can increase the snap score by sending a snap.
Also read:
Why Do People Unfollow Someone On Instagram
The Best Social Media Images Size