Search engine optimization and pay-per-click advertising are the two most viable forms of digital marketing in this current business environment.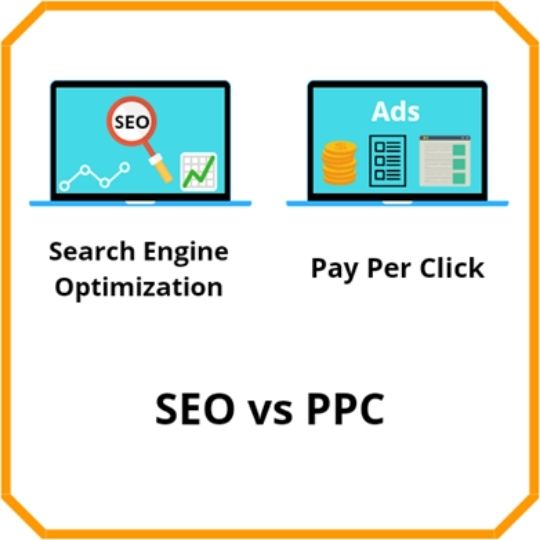 They are both ideal for growing businesses, and are ideal for staying ahead of the rest in the game.
But the question many ask is which one is better?
Before we go deeper into which is right for your company or business, it is important that you know a PPC and seo agency that you can trust.
Our best pick is the marketing agency.ca.
If you're stuck in between SEO and PPC, you're in the right place.
We will analyse both of them and help you discover the one that'll serve the needs of your business best.
What is the Difference between SEO and PPC?
First off, it would be important to know what differences the two have.
There are two main differences that you need to note when analysing the two options – pricing and positioning.
PPC ads typically appear at the top of search results. They are normally right over the organic listings.
Also, note that you don't pay until someone clicks on your ad. Hence the name pay-per-click.
On the other hand, organic traffic from SEO is free, you don't pay the search engine for it.
The only catch is how to structure your content to meet SEO guidelines and threshold. This is where a seo agency comes into picture.
What You Need to Know About PPC
PPC is an effective strategy to use if you want immediate clicks and traffic.
It's more like a sprint rather than a marathon. You immediately start appearing on the first page of the search engine.
How you rank with PPC will depend on how much you bid on keywords.
It will also depend on the landing pages that the ads link to, and the quality score of your advertisements.
The main factor that you need to consider is the budget that you're willing to work with.
PPC Pros
Some of the advantages of using PPC include the following:
Maximum Visibility in Search Results
PPC allows your ad to rank ahead of the organic results when users search the internet.
This can help you stay ahead of the competition quite easily. How do you ensure that PPC works for you in this way?
Well, you can bid on keywords that are closely related to your business or industry.
Immediate Results
When you've just launched a new company or business, you want to spread its name quite quickly.
And what better way to do this than to use PPC marketing?
Even though PPC works fast, it doesn't guarantee long-term sustainability like SEO.
Therefore, PPC can be a strategic marketing tool for short-term events or special promotions.
Complete Control
Using PPC grants you the choice of where the client will go when clicking on the sponsored link.
This ensures that the customer sees only the relevant landing page you need them to see.
You can test to see which landing page is best, then maintain it for PPC marketing.
Flexibility
You can decide on which keywords to bid on using PPC.
Also, you can decide how much you're willing to stretch your budget daily, and pause the ad when you're running low.
In addition, you have the authority to choose the placement or exact location for your ad.
PPC Cons
Some of the disadvantages of using PPC marketing include the following:
Needs a Constant Investment
You need some good amount of investment in PPC marketing.
This is because once the money stops, your ad eventually comes to an end too.
As a startup or small business, you may not have the capital for PPC.
Deters Some Users
In all honesty, many people detest ads. They'd skip them on YouTube, avoid them on social media, and even on search engines.
You might be lucky to find those very interested parties who end up clicking on the ads.
What You Need to Know About SEO
SEO is now more like a marathon, where it takes some considerable time to get to the finish line.
It helps to rank your website higher on the search engine listings.
How you rank will depend on the relevancy of your content and the popularity of your links.
This is why it might be a wise decision to work with a seo agency to help you get everything right.
SEO Pros
Here are some of the advantages of using SEO:
It's Free
With free targeted advertising, you can leverage the power of SEO to help your site rank higher on search engines.
The more pages and content that you create, the more chances you have at engaging or attracting new clients.
And this is basically the part where you might need to hire a seo agency for content creation.
Long-term
SEO is a long-term form of marketing your business when compared to PPC. The results normally last more than the efforts you put in.
Relevant and Targeted Traffic
When you let a seo agency create content using the right keywords, you can target the exact customers you wish to.
The use of long-tail keywords can help target customers deep down the buying process.
Creates a User-friendly Website
SEO might take a lot of time and effort, but it will definitely improve your website in the end. And a seo agency can help you do this gradually.
SEO Cons
Some of the disadvantages of using SEO include the following:
Ever-changing Google Algorithms
Google keeps on changing its algorithms at a rate of 1.2 changes every day. Thus, there's a chance that all the effort you put in may be affected.
Requires Constant Maintenance
You need to get keyword research right, and do so regularly. In addition, you need content updates and link building.
All of these and more will help your site rank higher on search engines. Hence, there's the need to hire a seo agency to help you.
Takes Time
Let's face it, a marathon takes more time than a sprint. Therefore, you need to be ready to spend a little more time with SEO.
This is why you need a dedicated seo agency that can do this constantly so that you can focus on other areas of your business.
Also, read about How to Locate Your Phone in Case of Theft or Loss?, Advantages of Blockchain Technology & The Best 3 Pdf Compressing Tools For Free Conversion.
Final Thoughts
Both PPC and SEO have their distinct advantages and disadvantages.
If you have to go with one, and don't have a personal choice, most marketers will tell you to go with SEO.
Hiring a seo agency can help you lessen the burden of time and effort.
Furthermore, it is more cost-effective and result-oriented.